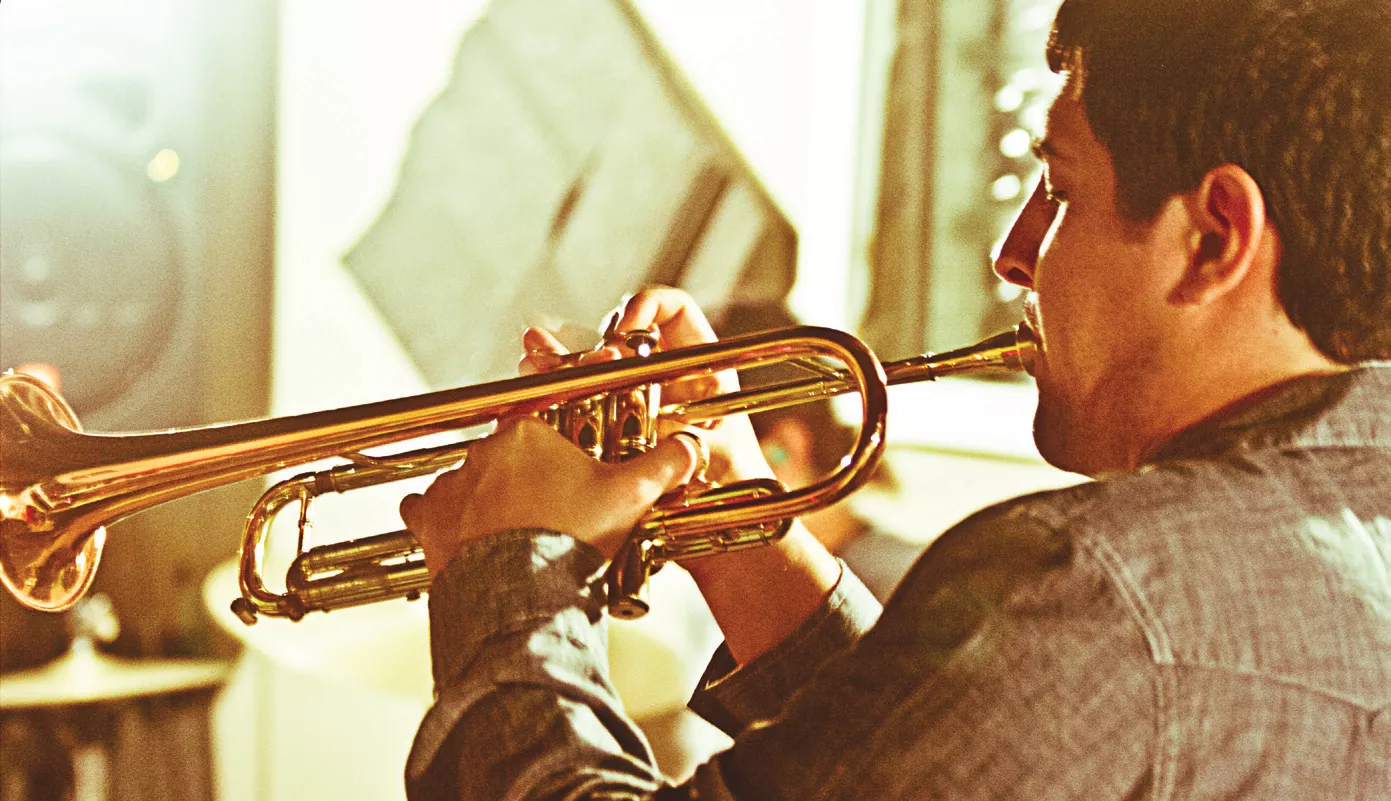 Crammed into the basement of an unassuming bungalow in a suburb just north of Detroit, five members of the eight-piece funk and jazz outfit Will Sessions are plugging in, tapping sticks and tuning strings. They have a long, hot night ahead of them. Not present this evening are Matt Martinez (trombone), Tom Parks (trumpet) and (Justin Jozwiak) Sax. That's only because the band is rehearsing their latest record, Elmatic — a re-creation of Nas' 1994 breakout Illmatic — that features rapper Elzhi. It's not a horn-heavy album. Bryan Arnold is a stoic, hard-hitting drummer. The mellow mood of Ryan Gimpert translates to his tasteful guitar. Percussionist Eric Kacir plays with spark and precision. Tim Shellabarger is as nimble as he is nasty on bass. They all look to keyboardist and trumpeter Sam Beaubien for cues.
The band got together in 2007. Most of the guys met while studying music at Wayne State University. In the past few years, they've made a name for themselves playing deep funk at the Motor City Funk Night monthly, throwing ferocious Fela Kuti tribute concerts, and backing rappers such as Black Milk, Guilty Simpson and Phat Kat at concerts. They've also released a fusion tribute record entitled Kindred, played on Mayer Hawthorne's debut soul album A Strange Arrangement, and tour with Motown funk guitar legend Dennis Coffey. But they're finding an international audience for their work on Elmatic, which has already been downloaded more than 100,000 times.
Naturally, Elzhi and Will Sessions are taking the record to the stage. Their first show is only 24 hours away and they've only rehearsed twice. But no one looks nervous.
"I had heard Elzhi was going to do Elmatic," says Beaubien before practice begins. "There was buzz on the Internet for two years. After I heard his version of "The World Is Yours" online somewhere, I went to the studio to do some work with Black Milk one day, and Elzhi was already in the studio, recording a verse for the song 'Genesis,' which was sounding pretty tight."
Shortly thereafter, Elzhi himself or his manager Jae Barber, no one seems to remember, approached Beaubien to collaborate on Elamtic.
"The only negative I've ever heard about Elmatic, if you can even call it that, is, 'You can't re-create a classic like Illmatic.' You know, some people put it up there with Michael Jackson's Thriller and Marvin Gaye's What's Going On?" Beaubien says. "My initial reaction wasn't much different." The very thought of attaching his name to the project made him nervous. "I didn't know how we were going to do it, but I knew it was a great opportunity, plus I'd wanted to work with Elzhi at some point, so the opportunity to do a whole record was something I couldn't pass on. I hadn't produced a whole record before. I was nervous."
Attacking two songs at a time, the record took a month-and-a-half to finish. But each song had its own set of obstacles.
"The music on the original comes from samples that the producer tweaked somehow," Beaubien says. "Sometimes two samples are thrown together, one is sped up a little bit and the other slowed down a little bit. And sometimes those don't work together musically, because they're in different keys, which creates some color on the track but is really hard to re-create." He points to the saxophone on Illmatic's "Hard to Tell." "It's totally off-key to the rest of the song," Beaubien says. "When played in-tune it sounds sorta cheesy and when played off-key live it just doesn't sound right." The result? "I left it off Elmatic. We only went with what sounded right."
And while Beaubien admits that he didn't know how the record would turn out, he says he knew how he didn't want the album to sound. "It just couldn't sound like a live, in-studio jazz or funk band playing arrangements of classic songs," he says. "I wanted it to sound like a hip-hop record made with live instruments. There's a big difference." To make that happen, they recorded Elmatic as a hip-hop producer would. "When we're in the studio with Black Milk, it's not like he has us all in there playing at the same time," Beaubien says. "He brings us in one at a time to record single parts, then he cuts it all up, reassembles, and when it's sounding right, he loops it. That's what gives it the hip-hop feel. That's what we did."
Elzhi makes it to the rehearsal and the band launches into "Detroit State of Mind," the first song they finished. No one would know this is only the second-ever practice. And no one would know that the band's repertoire extends far beyond the realm of rap. This presents a problem: Will Sessions doesn't want to be known solely as Detroit's hip-hop backing band.
"I think we put as much as we can into each project we do, and I'd like to think they can each stand on their own," Beaubien says during a break. "In Detroit, I hope people see that. We play whatever we want. We can do Fela, we can do Miles, or we can do Black Milk. But for people not from Detroit who get Elmatic and see Will Sessions, they might think this is all we do."
And they also might think Will Sessions is a lone producer.
"At first, we wanted people to know Will Sessions was a band," he says. "But now there's some sort of mystery to it. One reviewer wrote that Will Sessions is this huge band, another said we're small, like a jazz combo or something, and another referred to Will Sessions as just one guy. We like that."
Will Sessions — the eight-piece Detroit band — is currently recording its first full-length for Funk Night Records. Beaubien calls it "Raw, old-school, 45s funk." Fat Beats Records is putting out an Elmatic instrumentals record later this year. In the meantime, the band is set to play a few Elmatic shows with Elzhi, and a tour with Dennis Coffey that includes a shared set with the Dirtbombs and an appearance at the Bonnaroo music festival.

You can download Elmatic for free at elzhi.com. More info on Will Sessions at facebook.com/willsessionsdetroit.