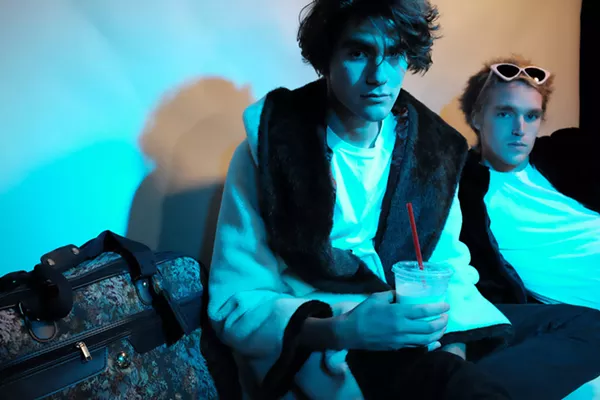 Mango Lane is a groovy four-piece based out of Detroit, and this Friday, June 16, they're having a record release show at the Loving Touch. Admission is free and it will totally be worth the trip. Austin Carpenter and Jack Engwall have been writing and recording tunes for seven years, and now their live jams will be extra funky thanks to their talented additions to the band, Ian
Ruhala
and Anthony
Spak
.
We spoke with the local groove masters about how Mango Lane started, their new album, and other ins-and-outs that showcase the characters that make up the band.
Metro Times
: So, what is Mango Lane and what's the new album going to be like in comparison to your EP,
TV Feelings
?
Austin Carpenter
: Mango Lane is the idea of being happy and positive the way you are, and helping other people embrace that. And this sound [their new self-titled album] is a culmination of TV Feelings and a couple EPs we dropped before. TV Feelings kind of had a soulful vibe, and kind of like indie psychedelic elements per se — we just mixed that together to make a good pop record, I guess.
MT
: How did Mango Lane start?
Jack Engwall
: Well
me
and Austin have been playing music together for seven years in a couple different bands.
Carpenter
: But, then we started writing songs together... and we realized our songwriting style is similar, so we just started doing songwriting together and thought "oh, this is sick," so it just started happening I guess.
Engwall
: We're kinda like brothers in a way; we have very similar minds so we just gel naturally.

MT
: So how did you guys [Ian Ruhala and Anthony Spak] get into Mango Lane?
Ian Ruhala
: I met Austin Carpenter at Dally in the Ally, I was playing a set for the Hala band, my group, and I met Mr. Carpet, thought he was Jack at first. We had a little thing and then hung out a little bit, but prior to that, I knew Mr. Spak. We all knew Mr. Spak from other bands like Pines/Greet Death and it grew into this.
Engwall
:
Spak
is the OG
Anthony Spak
: So, I play in a band previously called Pines. We just changed our name to Greet Death. We played with these guys [a different band composed of Engwall and Carpenter, not the current Mango Lane] at the Pike Room...and I was really into their old band and we kept in touch. They play a totally different brand of music that I'm used to playing, but I always stayed in touch with these guys because I like the music they put out. I put something online like "Hey I want to start playing with new people," and these guys were the first to respond. That turned into "Hey do you want to hangout?", then "Hey do you want to play these songs?" then "Hey do you want to play this show?" And now we've been doing this for like a month and it's really fun. I live an hour away and I don't mind driving at all to come here.
Carpenter
: I could kiss you right now, Anthony.

MT
: What are some of your favorite bands?
Spak
: Well it's always been the Grateful Dead, since high school. These guys showed
me Chicano Batman
the other day.
Engwall
: Yeah Chicano Batman is the SHIT.
Ruhala
: See, I have a guy who likes to wear jeans and listen to William Nelson's Shotgun Willie, and Bob Seger. I got my darker side that likes to fuck with The Cure and 80s stuff my mother showed me. I've got the indie-hippie vibe with some real estate.
Engwall
: We're kinda suckers for that typical Indie Shit. You know like Beach Fossils and Phoenix.
Carpenter
: Can't go wrong with Phoenix. Can't go wrong with some '80s Madonna either. We love hip hop too — Quasimoto and Thundercat.
Engwall
: We pretty much say Lord Quasi's name like every interview that we've ever done, which is like 5.
Ruhala
: All music has its time and place.

MT
: What kind of music do you think is for this time and this place?
Engwall
: That's what we're trying to do, that's the goal of this band. We want to make modern music. We want to make music for this generation. 2017, right now.

MT
: So, what else do you do besides music?
Engwall
: Skateboard.
Carpenter
: School, work, skateboard.
Ruhala
: Clean my apartment
Engwall
:
Spak's
a cook. He's a great cook.
Spak
: I'm a college graduate and I make $10.50 an hour as a line-cook. Basically, I graduated and gave myself a year to play music.
[Everyone claps.]

MT
: What do you want people to know about?
Carpenter
: We come in peace, man.
[Everyone repeats Carpenter.]
Engwall
: Bright colors are always good. Skateboarding is fun.
Ruhala
: Respect your elders.
Engwall
: Respect your elders. Live your life. Have fun. Come on out, we're gonna play a cool show.
Ruhala
: Smoke weed every day, except when your moms around.
Engwall
: Only if you like it.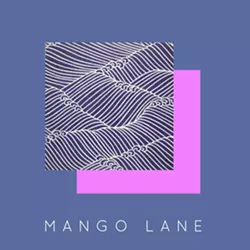 MT
: How did you each know that music was what you wanted to do?
Spak
: I went to church when I was a kid and I hated church. I was six, and what I took away from church is they would let me play these handbells. This was the first time I had ever played music. I was with all these kids who were wimps about it, and I would get up there and I would fucking rock. All of the parents came up to me and my mom and told her she needed to get me into something with music. I played in band all through middle school and high school. I started playing in bands when I was 14, 15. I just know if I go a couple of weeks without playing the drums or playing with people, I just get sad. So, for me, it's like "Anthony you need to play music a couple times a week just to be happy."
Ruhala
: I was in orchestra and jazz band all throughout school, but I was never classically trained because
me
and my parents felt the same way: it just beats music into you to a point where you don't enjoy it anymore. Andrew Bird and Annie Clark have said similar things. They went to college to studied music and they hated it. Music became too much of a theory and a scientific fact. It's losing its luster and it's losing its magic. It's chasing that magic when you find a chord change where it's like "Oh shit this is some magic, this is some fucking voodoo." When you have that magic still there, it's better than any drug, better than any drink.
Carpenter
: My dad has been playing music forever. He's the man, he rips. So, ever since I was little I was like "Man I want to be ripping that guitar." I think around 12 years old I started playing a bunch...as soon as I started realizing I could write my own songs music became a lot more interesting...As soon as Jack showed me this one Beach Fossils riff, it super changed me. It was "The Horse" and ever since he showed me that song...It was like damn, you can make music sound weird and all your own, and that's what I've been chasing. Going against what Ian said, I go to school for music. I understand where he's coming from with it being all scientific. I want to learn all of the science behind it and then break the rules. That's kind of thing with jazz; you learn the rules to break them.
Engwall
: I always liked music, my parents liked music. They got me into music, but I never played music until I was like 13. I was watching School of Rock and stuff and Zach Mooney was playing guitar and I was like "Man I want to do that." Then I met Austin and started learning how to play the guitar and I started learning how to play songs and I started putting time into it. I learned like three chords and I was like man, this is just as fun as skateboarding. That's why I wanted to do it — just say that skateboarding's rad.