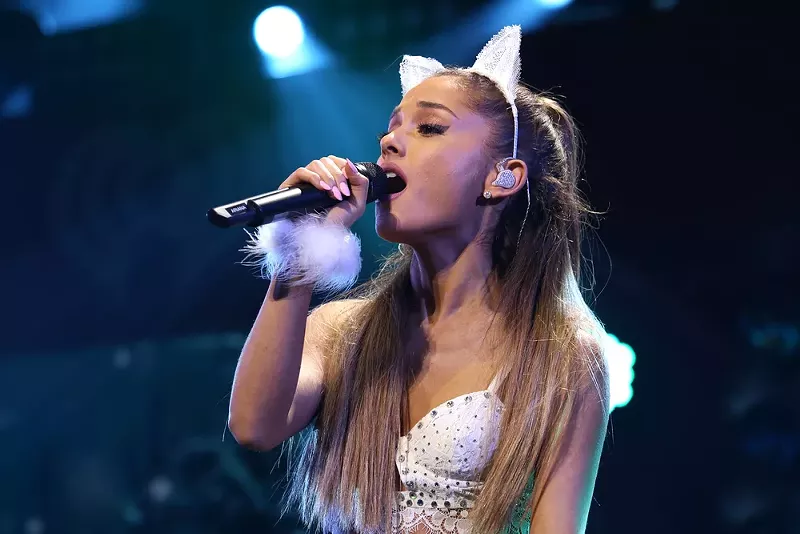 While Cardi B might be inching her way to acquiring a shit ton of red bottoms by trademarking her signature pigeon-purr, "Okurrr," the ponytailed, doe-eyed diva Ariana Grande is putting money in the pockets of Michigan pensioners with her latest chart-topper, "7 Rings."

Wait, what?

For those who may have escaped the incredibly catchy and strangely familiar pop bop "7 Rings," Grande borrows from "My Favorite Things," the classic song from 1959's The Sound of Music. But instead of preaching the blessings of kittens, mittens, and schnitzel with noodles from a mountain top, Grande flexes her self-sufficiency and expensive tastes (lashes, diamonds, ATM machines, and spoiling her bitches with riches.)

The connection between Grande's flossy jam, which is currently at No. 4 on the Billboard Hot 100 Chart, and Michigan pension funds involves the songwriting duo, Richard Rodgers and Oscar Hammerstein II.

Pitchfork reported last month that 90 percent of "7 Rings" royalties go toward Rodgers and Hammerstein, even though the song itself has 10 writing credits. And Rodgers and Hammerstein's catalog is owned by Concord Music. Michigan owns most of Concord Music, which hold copyrights to close to 400,000 songs, including music from post-Beatles Paul McCartney and George Harrison as well as Kidz Bop and Ray Charles, the Lansing State Journal reports. What does this mean for the 530,000 folks who are blanketed by Michigan's pension fund? Lashes, diamonds, and ATM machines? OK, not quite.

The State Treasury Department is tasked with making investments, including the $1.1 billion investment — of the state's $72 billion pension funds — into Concord, the Lansing State Journal reports.

"Every time you hear a song, somebody's getting paid," Michigan Deputy Treasurer Jon Braeutigam told the Lansing State Journal. "Whether it's in a commercial or in a restaurant or on Spotify, Apple Music, YouTube, you get paid."

This isn't the only curious acquisition the state's Treasury Department has made to support pension funds. Michigan's investments, which range from Facebook stock to real estate, medical technology, and television shows (Friends, and Big Bang Theory), all feed into the four retirement systems that pay state worker pensions.

In the words of Ms. Grande: "Whoever said money can't solve your problems/ Must not have had enough money to solve 'em."

Help support Michigan pension funds by listening to "7 Rings" below.



Stay on top of Detroit news and views. Sign up for our weekly issue newsletter delivered each Wednesday.