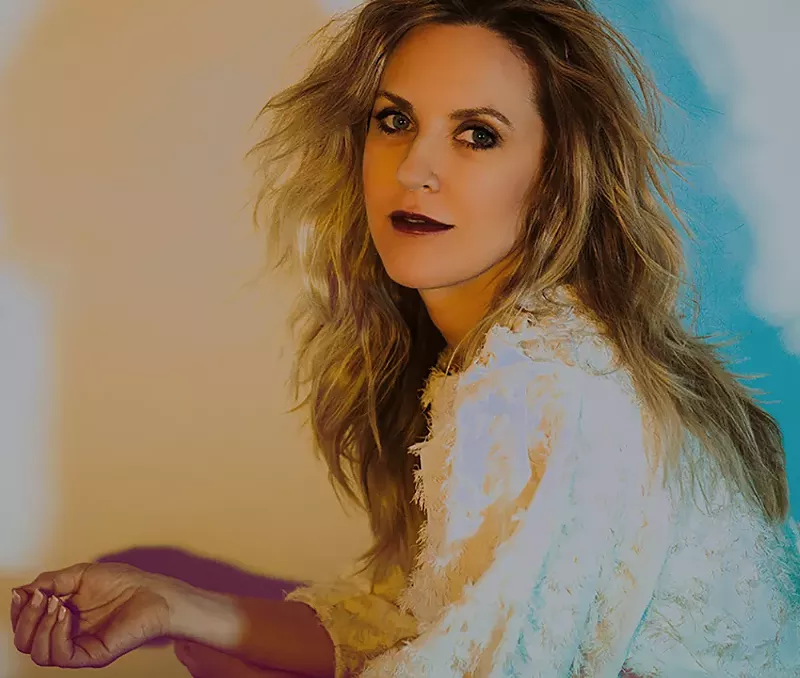 In 1993, a 25-year-old Liz Phair was dismantling the patriarchy — long before the term entered our present-day hashtagged lexicon.
On the surface a song-to-song response to the Rolling Stones' Exile on Mainstreet, Phair's debut record Exile in Guyville was a lo-fi deep dive into a young woman's sexual agency. Guyville was laden with female taboo — from frustration, one-night stands, and explicit arousal. More than a revolt against a male-dominated industry that was fueled by shock value, Phair rewrote the coming-of-age narrative.
Since chipping the glass ceiling 25 years ago, Phair has released five records — some underrated (1998's whitechocolatespaceegg), others completely mind-boggling (Funstyle). And who can forget her self-titled 2003 major-label release that launched the earworm "Why Can't I?" into romantic comedy fame?
Now 51, Phair is as tenacious as ever. When we speak with her, she is eager to talk about the reissue of her seminal record, her early project Girly-Sound, her female music disciples, and how her double album with Ryan Adams was thwarted by President Donald Trump.
Metro Times: Tonight is the first night of your tour. You've often spoke to your early experiences with stage fright. Are you at all nervous?
Liz Phair: I'm very excited. I don't know yet. I haven't done a real bus tour but this band is so smoking. I've been telling all my friends to bring earplugs. The last day of rehearsal was very exciting. I have to say I'm nervous, though, because I feel inadequate to the band. I'm not nervous about the music because the band is so good. I'm very lucky.
MT: This is also your first romp around the country in Trump's America.
Phair: Ugh. Well, there better be more people like me out there sort of changing the narrative, keeping us in touch with what we love about this country. I think, honestly, from the news I have hope. That op-ed in The New York Times? I mean, there's no point in getting excited about something that isn't real or isn't going to happen. Like the op-ed said it's like the adults are somewhere nearby.
MT: There's been such a huge resurgence of youth involvement in politics, which has been crucial.
Phair: Which is so exciting. It feels relieving to those of us in the Gen X. I think all of us who find what's happening upsetting and deeply disturbing, we all want to know are we all still here? It's almost like the lights have gone out in the room and it takes a while to figure out like, "Are you over there? I'm over here. Is that you? Is so and so with you?" That's what it feels like.
MT: I read that Trump's presidency actually derailed your planned double album with Ryan Adams.
Phair: That's true. We were going to do my response to the [Beatles] White Album, which is a phenomenal album. We weren't going to try to bash it. We were going to play with it and have an interaction with it. We were being saucy and funny, instead of "Birthday" we did "R.I.P." All of a sudden nothing felt playful anymore. Nothing felt funny. And it just sucked the life out of it. All of those songs are so great, but it just didn't feel like the right time to put it out. We went dark and my project died.
MT: What has the reimagining process been like for that record? Having to start over?
Phair: Hard. It's really hard. Trying to write songs from this place is interesting. I think I'm kind of there. I've been writing so many songs, we're playing some live and getting good responses. But it took a while. I mean, I felt traumatized.
MT: And probably heartbreaking, too, because you cared about the material.
Phair: It was. We were so excited about it and it just felt, you can imagine, trivial. It didn't have the gravitas that it needed.
MT: We've been able to talk to some of your musical disciples, if you will, Lindsay Jordan of Snail Mail, Phoebe Bridgers. They have all expressed how tired they are of being asked about being a woman in music. Is that a question that plagues you?

Phair: I love how rebellious my disciples are. And no, not at all. I think it's the generational gap. I come at it from a perspective of, they're just hitting it. They're just hitting the patriarchy. They're like what the fuck? And I'm like, yeah. They don't know how few and far between we were. So, to me it's a very positive question because I see a tremendous change. I can spend all day Googling and every day there's a new female artist whose a visionary and doing her own thing. It feels like heaven to me. I wish I could tell myself back then what it was going to be like now.
MT: How would that have changed you?
Phair: The hardest part about being in music was that you had to go into guy world. Now, I'm used to it and I can appreciate it. I found my peace with having a ravel of boys around me. But if I would have known back then, I wouldn't have felt so lonely and ambivalent in my career.
MT: What was your response when the topic of reissuing Exile to Guyville came up, 25 years later?
Phair: First, hats off to Matador. They did such a careful and thoughtful job with the reissue. We worked together on it for almost a year. It was so funny trying to find old tapes in somebody's storage locker. We were scraping the backs of the closets to find these pictures and get everyone wrangled. It's such a labor of love. I'm so proud of how it came out and it exceeded my expectations. It's almost heavenly to know that no matter what happens in my future, all of this stuff from the past is like a little museum.
'Fake news? Well, here's some real shit. Here's some really, really real shit.'

tweet this
MT: Your last record, Funstyle, was released in 2010. You had labeled it a concept album and it baffled most critics. Do you think that there's any truth to male musicians being granted permission to experiment, whereas women are criticized from straying?
Phair: It really was fun. It was supposed to be fun, which is why I called it Funstyle. I wasn't seeing it as a full-fledged Liz Phair album and unfortunately, that's how it was taken. I couldn't ask them to divorce the fact that Liz Phair put out a record. It was born from being in the studio as I was composing for television and all the goofy stuff we would do. But I don't agree with that. I think a lot of guys get trashed for switching styles. Artists get trashed for experimenting and changing. I think people who are not artists see it like, "You've planted your flag and I've stood behind you and now you're abandoning in the middle of the war." If you look at Girly-Sound compared to Guyville, you see how much more seriously I took Guyville. I was just messing around with Girly-Sound, and with Funstyle I was just messing around. Artists have to carve that out for each other otherwise you turn us into non-artists. That right to fail is what makes us different.
MT: You've been working on a book on and off for the past 10 years. With Horror Stories did you initially set out to write a memoir?
Phair: I set out to write horror stories. I felt like after Trump World, I was in touch with that feeling. I was in touch with the feeling of looking at the television and shrieking at it. Every day, how can this be? What is happening? It made me feel much more intimately connected to people I don't even know and it made me want to fight for non-superficiality. Fake news? Well, here's some real shit. Here's some really, really real shit. I thought about what was being lost. We were painting in broad strokes and I thought we need to slow this down and look at the intimate moments that make up your life because they have so much impact. I wanted people to get in touch with intimacy with themselves and each other.
MT: Has the process been different from your songwriting?
Phair: Not really, no. It's just expanding. Songwriting is a haiku to a short story. To me, I find them to be very much the same. I can go deeper and take tangents. I don't just get one bridge, I get 50.
MT: Have you discovered something about yourself while writing?
Phair: The weird way I keep track of memories. Like, how I hold on to them and where I file them and how certain memories become sticky and I add other memories that are related to those memories. It makes me think when you react out of insecurity or fear, it's because you have like 20 memories stuck to it.
MT: Did you have any idea that "Why Can't I?" would be your most successful song, commercially speaking?
Phair: Well, not to pull the curtain back, but to some extent yes I did know because I wrote it with the Matrix which was like a big pop songwriting team at the time, so I knew it was going to be promoted. What I didn't know was how meaningful it would be that they would hear into my lyrics, because I really tried to put my own story inside the sort of pop matrix, if you will. I didn't realize how many people would hear me and catch the nuance. That really shocked me. It's been very affirming. It makes me feel connected to people.
Liz Phair will perform at the Majestic Theater with Speedy Ortiz on Thursday, Sept. 13; 4140 Woodward Ave., Detroit; 313-833-9700; majesticdetroit.com; Doors at 8 p.m.; Tickets are $25-$30.
Get our top picks for the best events in Detroit every Thursday morning. Sign up for our events newsletter.