Update: Since this story was written, allegations of ties between Death From Above bassist Jesse Keeler and an alt-right group have surfaced, which Keeler vehemently denies. Read his statement here.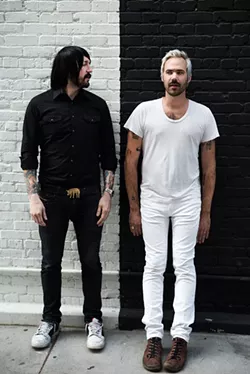 Canadian rock duo Death From Above has quite a storied history on the books in their 16-year, on-again, off-again existence. Vocalist and drummer Sebastien Grainger and bassist Jesse F. Keeler burst onto the dance-punk scene of the early '00s with speed, distorted bass, and bratty youthful swagger, spending only a handful of years tearing around the land before they had toured so hard and so much they could no longer stand each other.
Grainger and Keeler formed as Death From Above in 2001, releasing their debut EP Heads Up! in 2002. In 2004, when James Murphy of LCD Soundsystem's Death From Above Records sent them a cease-and-desist order, they added "1979" to the name. They also notoriously released a statement in response "FUCK DFA RECORDS FUCK JAMES MURPHY WE DECLARE JIHAD ON THEM HOLY WAR ENDING IN THEIR DEATH AND DISMEMBERMENT." (Cooler heads did eventually prevail when they discovered it was more record labels and lawyers behind the cease and desist than Murphy himself and, recently, the band dropped the "1979" and returned to its original name.)
In 2004 they released their debut full-length, album You're a Woman, I'm a Machine before calling a hiatus. In 2006, Keeler posted on the band's official message board that they were disbanding. In the years that followed, Grainger released solo albums and Keeler made electronic dance music as half of the duo behind MSTRKRFT.
It was after a tentative reconnecting in 2010 that Keeler and Grainger began to explore the possibility of their old band coming back into existence. A widely anticipated main stage show at Coachella in 2011 was preceded by a gig at South by Southwest that caused a riot and was shut down by the police.
Their second full-length album, The Physical World, was released in 2014, a full decade after their debut. That same year, they released the documentary Life After Death from Above 1979, which chronicled their history and reunion.
Their new album, Outrage! Is Now was released on Sept. 8 and produced by Eric Valentine. It's as heavy and vital as its predecessors, yet also contains the hooks that elevate Death From Above to a more realized version of themselves.
In anticipation of Death From Above's show at St. Andrew's Hall on Friday, Nov. 3, Metro Times spoke to Keeler about the importance of not being tied down by previous work, his friendship with Grainger, and why writing about the present moment matters.
Metro Times: What's Death From Above's relationship with Detroit? I know you were playing here from very early on.
Jesse Keeler: My relationship with the Detroit area and Michigan in general goes back to the early '90s. There used to be a hardcore festival that happened every year. I'm not sure if it was in Romulus, but somewhere out that way. I had a band where we had a split record with a band from Detroit called This Robot Kills. I still have This Robot Kills stickers on all my gear. I had a band called Femme Fatale and on Sept. 12, 2001, we were supposed to play in Detroit with our friends the Blood Brothers. That didn't happen, but that was the day I started writing songs for Death From Above. We had all the gear in the living room waiting to get loaded up, and I needed to do something with my hands, so I plugged some things in a way I never had before and I ended up creating this band.
MT: How was your approach to making Outrage! Is Now different than your last album, The Physical World?
JK: After we made The Physical World, it kind of felt like there was a load lifted off of us, because it was the first record in almost a decade; there was a lot of pressure. And the weird thing is, you make something, and then it exists without you for a long time, and you sort of end up respecting it like it's a person. Seb and I had a lot of — I don't know if I want to say reverence — but we were kind of being led around by the nose musically by what we'd done in 2004. So it was being creatively bound by the content of your ideas from a decade earlier. So that record, I'm not going to say it was really hard to make, but it was hard to really stretch out with it. Sort of like how some fish don't get any bigger until you move them into a bigger tank. With this record, I never thought for a second about, "Well, is this true to the third entity that is the band?" I wasn't thinking about what our band had done in the past, I was just writing songs that I liked.
Initially, with this record, our plan was to record it ourselves. But once we had this body of songs together, it just seemed like, "You know what? This is not the way to do this. We've got to bring somebody else in." And so I looked at Eric (Valentine)'s catalog and he's so varied in the things that he's done really well. And I thought, "You know what, this guy isn't going to try to put us in a box. He's going to deal with us as we are." That's the thing that I didn't understand about producers. You do something and it works out well, then there's the temptation when you're working on the next thing to try to force it into some of the forms that you know work. And that probably works for a lot of people. I'm not an example of who to look at to be rich and famous. I don't know how to do that. [I can pay bills, but] I was excited about the idea of someone who could make an awesome Queens of the Stone Age record and Dwarves record, and also Smash Mouth and Third Eye Blind. Which, I don't care about those records, but you can't deny that they sound good and obviously did well for those bands.
MT: Well, that sounds like a big deal that you were able to let someone into the creative process. In my mind your band's sound is just so... the two of you.
JK: He was helpful in that, he would push us, at times. Like, we would have a song that was 90 percent done and he would like, stick one minute of blank space in the arrangement. And he'd be like, "Well what are you going to put there?" My initial reaction in these moments was like, "Well fuck, I thought this song was done." The piano-bass thing that happens at the end of "Holy Books," that was that exact type of moment, where he was like, "Where does it go from here?" And I was like, "Oh, shit. I didn't intend on it going anywhere else. But wait a second, now that you say that, I do have this other idea." I wanted the music of the song to be sad. That part became one of my favorite parts of the record, and it was a blank space where he knew we could do something there. He just needed to tell us that we needed to do it. Doing that is kind of genius.
MT: Speaking of favorite parts of the album, do you have a favorite song, or songs?
JK: I don't know if I have a favorite song. I'm partial to "Never Swim Alone." It's so simple and fun to play. One of my daughters was in the studio when I was writing it and she was bored, so I gave her a snare drum and just put her on the floor, and she was playing along with me, because she's got really good rhythm, unsurprisingly. And after I'd finished the demo, she'd ask me to put it on in the car. She'd be like, "Dad, can you put on that song that I did the drums for?" So I ended up listening to the instrumental a lot, to and from school. But the lyrics that Seb wrote are so — it sounds lame to say — but that song is so us. Oh my god. It's the most us of all of the songs.
MT: The history of your band is really interesting. In your documentary you say that the band broke up because you just stopped being friends. How's your friendship now?
JK: I'm pretty sure it's better than ever. I don't have a biological brother, but I do in Sebastien. There's an unspoken language between us that exists onstage and off, and it's wonderful. And the big thing that we've come to understand was that so much of our issues together were circumstantial. We were so ignorant as to how the music world really worked. We were just playing shows and writing songs and doing everything ourselves. I look back now and I'm like, "Why the hell were we making our own T-shirts on the road with spray paint and a stencil?" We would headline some club and sell it out and not have a sound man. We didn't even have a monitor person for Coachella. And while we were playing the first song, that's when I realized, "Oh yeah, I forgot about the monitors." In so many ways we were just left to our own devices. And that creates all manner of opportunities for amateur fuck-ups.
MT: Do you think your new album is different in terms of themes?
JK: I think it is different. Sebastien and I are not afraid to allow the moment to affect us. I know Seb has said before that some people worry about referencing the present in their music because they think that will keep it from being timeless. It's such a stupid idea. "Oh, they're not afraid to address their modern world." Like, of course. I'll just pretend that none of this is happening, just in case people decide to listen to our record in 50 years. Fuck off. Don't you understand that music is a record of the time the music was made in? It's like saying "Sky Pilot" by the Animals is irrelevant since we're not in Vietnam anymore, or that no one listens to the Crosby, Stills, Nash, & Young records that were made during that time either.
MT: What are you supposed to write about? Clouds? Trees?
JK: Love and relationships. Because those things are timeless. And if that's all we're going to talk about, fuck.
MT: There's a lot of other things going on.
JK: I think for us, it would be irresponsible to write a record about just your fucking personal problems right now. That's not to say the personal isn't important. It just seems like, you've got this opportunity. You can take advantage of it and do something that at the very least is meaningful to you.
Death from Above perform with the Beaches on Friday, Nov. 3 at St. Andrew's Hall; 431 E. Congress St., Detroit; 313-961-8961; saintandrewsdetroit.com; Doors at 7 p.m.; Tickets start at $30.50.