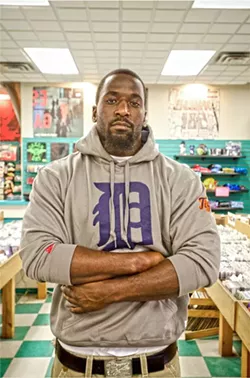 OK, OK, OK, I'm sorry. My most sincere apologies for slacking over the past month but I've been busy trying to make a little history in Detroit. I'm almost positive you would rather see me making tackles than writing blogs lol. I also celebrated the birth of my first child, a girl, and have been contemplating jail time when she starts talking to boys (I'm serious). My normally iron-clad exterior has been penetrated by my baby girl and my heart has become tender. It's crazy out here. Tender tunes have filled my playlists religiously, it's cool though. TM:103 just dropped to save me but that's another story for another day. Today I'm giving you a quick rundown of 15 songs that have been in constant rotation for the past month or so. Don't judge me, I'm letting you guys in on something that is G14 classified.

1. Shai "Tender Love"

2. R. Kelly "Having A Baby"

3. Whitney Houston "I Will Always Love You"

4. Jodeci "Forever My Lady"

5. The O'Jays "Darlin' Darlin' Baby (Sweet, Tender, Love)

6. Toni Braxton "You Mean The World To Me"

7. Teddy P (yeah P): "When Somebody Loves You Back"

8. Isley Brothers "Living For The Love Of You"

9. The Impressions "I'm So Proud"

10. The Stylistics "You Make Me Feel Brand New"

11. LTD ft. Jeffrey Osborne "Love Ballad"


12. D'Angelo "Lady"

13. Hi-Five "I Like the Way (the Kissing Game)"

14. Jagged Edge "Promise" (original and remix)

15. Chante Moore "Love's Taken Over"

*Bonus Track
Ghostface Killah "All That I Got Is You"
Just a deep song about his struggles growing up without a father, and living with a large family. "Two shared the same spoon watching Saturday cartoons" was a line that I always had a mental picture of. Real Music. Had to put a brief description of this joint.

So there you have it. Just a couple megabytes worth of songs that I've been vibing to. They were apart of my playlist entitled "Coolin." Feel free to add these tracks to whatever playlist you see fit; everybody's different lol. Football fans be sure to continue to support your Lions, we are on a mission! Happy Holidays to you all. I'm out.
Justin Durant is a linebacker for the Detroit Lions. Follow him on twitter at @JDurant52. Send comments to [email protected]