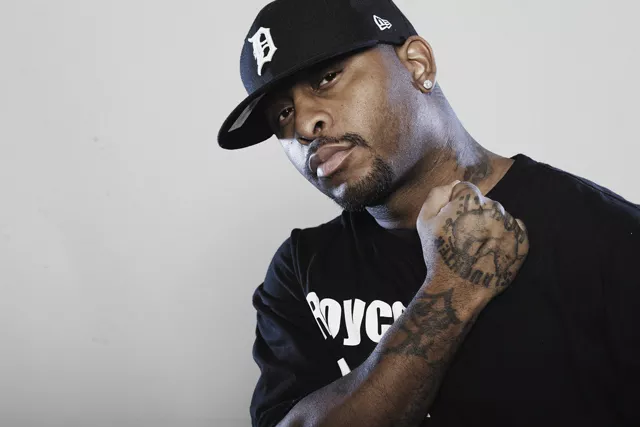 Royce da 5'9" is a man who should be celebrated around these parts for many reasons. First of all, he's pioneered the concept of including his height in his name. You really have to be a confident motherfucker to pull that off. Brett 6'2", for example, does not work. No, you have to carry yourself with the right balance of swagger and'tude, and it helps if you can rap with the best of them. Royce da 5'9" is all that. 
Royce (as he likes to be called for ease) is well known outside the 313 thanks to his work with Dr. Dre, P. Diddy, DJ Premier and, above all, Eminem, with whom, you'll note, Royce forms the rap duo Bad Meets Evil. Nobody is quite sure which of the rappers is bad, and which is evil. We've written about Royce over the years, particularly his feud with D12, which led to a bunch of diss tracks from either side. The songs started off with such lovely titles as "Shit on You" — yes, puerile, third-grade stuff. They'd get a little more threatening as time went on though, with D12 putting out a track called "Smack Down" and Royce responding with the emphatic-sounding "Death Day." The whole thing came to a head when Royce and D12's now-departed Proof pulled guns on each other in the streets of Detroit. They were both arrested, jailed together for the night and, obviously, they didn't kill other. Nah, they put aside their differences from their cell, so the story goes.
Royce won't thank me for telling that story. He winced when I asked him about it. For one thing, that story has been told a gazillion times. Also though, Royce just isn't that dude anymore. The man I'm talking to is an artist, a respected musician, and a responsible father. He leaves the posturing to the kids. Plus, he has a working relationship and friendship with Eminem to maintain.
"Grown men get past those things," Royce says. "It's just about realizing the immature mistakes that we both made, everybody involved in the equation, and just moving past it. Part of moving past it is not to keep talking about it. We're past it."
Point made. 
Let's go back a little further though. Royce was born Ryan Montgomery and spent the first decade of his life in Detroit's west side. He moved to Oak Park at 10. He soon picked up the nickname Royce thanks to the Rolls Royce-style "R" pendant he wore around the neighborhood. Perhaps surprisingly, he doesn't remember the transition from the D to the suburbs as a particularly big deal, not culturally anyway. 
"It wasn't that big of a change," Royce says. "It wasn't really that big of a difference, but I was able to see a little bit of a mixture. Living in Oak Park broadened my horizons and gave me an opportunity to see both sides of the tracks. But it wasn't that drastically different."
Royce discovered hip-hop culture through his older brother, which led to his underground involvement with the Detroit rap scene. 
"I had a big brother and I had a TV, and hip-hop culture pretty much rules the world at this point," he says. "All you gotta do is tune in the TV or listen to the radio. I've always been into music, period. Around '95 or '96, I started going to the open mics in Detroit, the Hip-Hop Shop, mainly. I kept going and kept going, and eventually I started getting the microphone and meeting people. Next thing you knew, maybe a year or two later, I was actually involved in the Detroit hip-hop underground rap scene and I started meeting people that way."
In '98, he signed a deal with Tommy Boy Records thanks to his working relationship with Eminem. 
"I met Marshall in '97," Royce says. "I know that, because I met him the same day my son was born. We got together and did music that same year. He signed his deal with Dre, and he wanted to use the same songs that we had recorded for his album. Once he had recorded that, that was my segue into the music business. Once Tommy Boy found out that I was a) on the album and b) writing my own album, they were interested. I didn't care when Tommy Boy went out of business. By the time they shut down I wasn't on the label anymore, I was already on Sony. When they shut down, I couldn't care less. I'm just being honest."
After the closure of Tommy Boy, Royce signed with Sony/Columbia and started work on an album called Rock City. When songs from that record started showing up on bootlegs though, Royce left the label for Koch Records and started again. 
What happened?
"Maybe around that time I felt slighted, and I was looking to blame everybody else but myself, but when I look back, in retrospect, it all comes down to the kind of record that you turn in," he says. "I still don't think that I was all the way sharp enough with my songwriting, my beat selection and just learning how to put albums together. I was still developing and growing, and I wasn't doing the best job I could do as an artist to provide that. They certainly weren't doing the best job they could do as a label to develop me, so it just didn't work out. Sometimes it's like that."
He doesn't need to hold any grudges anyway. As well as a successful solo career, he's a member of the rap group Slaughterhouse and the aforementioned Bad Meets Evil duo with Eminem. The man works constantly and consistently. 
Besides the different voices, how do the three projects differ? "Success is Certain is a lot different," Royce says. "I was working on the Slaughterhouse album, the EP and my solo album at the same time. I was actually recording ideas not knowing what it was for. I make the determination on what should go on what. So it's not that much different. The process isn't that different with any of them. [Recording with Eminem] is a simple process. It's actually kinda scary because, when we get in the studio, oftentimes we feel like we're the same person. The way we approach our solo shit is very similar. We kind of just fuse that together. We both obviously move off the music. If we hear something that we think is good, even if the beat's not hitting me the same way it's hitting him or vice versa, let's say it's hitting me but not him, then I'll write something and lay it down, and that will inspire him to write something. It's like we utilize everything in a situation and go from there."
On Aug. 26, Royce da 5'9" plays the Majestic Theatre in Detroit, followed by a show at the Blind Pig in Ann Arbor on Sept. 6. Both are important to the artist, for different reasons. 
"The Majestic show is gonna be some other shit," he says. "That shit is gonna be phenomenal. I'm pulling out all the stops. The reason that I'm treating that show that way is because, 1) it's a big venue, and 2) it's an opportunity for me to perform in the city, not outside of the city but in the city, as a solo artist. It's the first time I've done that in a very long time so obviously I'm trying to make it an event. It's epic. Stuff that Detroit hasn't seen in a very long time on a hip-hop level. As far as the Blind Pig, it's a very historic venue. It's a small venue, but it means a lot to Detroit so I'm going there to treat it like so. I'll go there and rap my ass off, the same way I always try to do."
Royce da 5'9" isn't the rap clichéd immature punk anymore. He's no more likely to pull a gun on somebody today than he is to sprout wings out of his butt cheeks and fly. He's a father, a responsible working man. He's grown as a man too, and as a musician. He's now beginning to be rewarded.
"I know I've grown because I can see it," he says. "I'm pushing myself a lot more because I'm inspired by the people that I'm around. I didn't have those outside influences around me for a very long time. Now that I'm around Em all the time when he's doing his music, and others too, they're pushing me. They're making me want to be better. A lot of artists don't have that — just to keep up with artists who are great. Just trying to keep up with them automatically grows you up a lot faster. I don't know if it changes you but it definitely makes you grow."
Don't mistake his maturity for tediousness though. He's a grown-up dude, to be sure, but he's not dull. His rhymes are as biting and tight as they ever were. Tighter even, and there's a sharp wit in there reserved only for the best rappers. Eminem is on top of his game right now, and on the Bad Meets Evil EP Hell: The Sequel, the two dudes sound like equals. 
Success is Certain is the title of Royce's new solo album. Maybe not, but it's deserved.
Royce da 5'9" plays Friday, Aug. 26, at the Majestic Theatre, 4140 Woodward Ave., Detroit; 313-833-8700; and at the Blind Pig on Tuesday, Sept. 6, 208 S. First St., Ann Arbor; 734-996-8555.