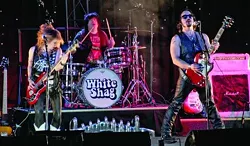 White Shag is on a mission. A crusade, if you will. You see, White Shag believes that there aren't enough bands in Detroit carrying the raucous rock 'n' roll torch originally lit by the likes of the MC5 and the Stooges, and they believe they're the guys to carry on that grand tradition of filth and fury. You might heartily agree with them or you might disagree with them entirely. After all, this isn't a city lacking in quality rock bands. But whether this band, led by singer-bassist Laura Mendoza and guitarist Jorge Cortez, is right or wrong isn't really the issue.
The intent is admirable. These guys sincerely state an ambition to become one of the best rock bands of all time. Now, it would usually be difficult to contain laughter if a band said that but, when it is uttered from these mouths, it's hard not to get carried away with the complete and absolute passion for their music. No fronting, no cockiness, White Shag wants to make Detroit rock 'n' roll the way they want to hear Detroit rock 'n' roll.
The band, completed by drummer Joe Leone (also of Amy Gore & Her Valentines), originally formed in the fall of 2009, a love for Queens of the Stone Age, the Eagles of Death Metal and the aforementioned Detroit rockers lighting the path. "We started jamming and we have our influences, of course, but we never sat down and said, 'We need to sound like this or that,'" Mendoza says. "Your influences are there no matter what. When you pick up your instruments and start playing, the sound that comes out is what it is. You have to let it be. You need to be yourself and let that be what it is. Be true to yourself and let people feel that, and if they dig it they dig it. If they don't, they don't."
Before Mendoza and Cortez found each other, the guitarist was playing in bands around town like the Go, Duende! and the Brothers Cortez. Mendoza had played in a few bands in Santiago, Chile (her mother's homeland), where she lived for seven years before coming to Michigan. Once here, she was squeaking out a living as a street busker. Cortez earned a few bucks that way too. "We just played on the streets because we were poor," Mendoza says. "In downtown Ann Arbor, on a Friday night, you could make a lot of money. Jorge jammed with a couple of blues guys on the street, but we just did covers really. Songs that people knew. I played my acoustic and I would sing, leave my case open and the money would hopefully come pouring in. If you can grab that audience, that's an accomplishment in itself because they're not looking to go hear some music. You're just playing on the street. If they're walking by and they have a meeting in 10 minutes, and you can stop them, then you've done something. It's gratifying."
With Mendoza's Chilean roots added to the fact that Cortez's ethnicity is Paraguayan, it would almost be weird if some Latin influence didn't find its way into the White Shag sound. "We're really tied to our Latin roots," says Mendoza. "What we take from that is the passion. That's the big thing. That's how Latinos do it, man. They love their rock 'n' roll. They love it balls-out. You've got to give it all or nothing. There's no point being on a stage if you're not gonna do that."
"I always liked Santana," Cortez adds. "He's an influence. Actually we're working on some Latin language songs right now."
As Mendoza suggests, passion is not something that White Shag is lacking in. Mendoza manages to perform extravagantly and almost salaciously, all sweat and skimpy clothing, all the while retaining the air of the strong, in-control woman. Far from being objectified, Mendoza celebrates her femininity every time she performs, and she does it on her terms. She's like Iggy Pop in Cherie Currie's body. Frankly, she's a badass.
"It's who we are," she says. "Sensuality is a very big part of Latin culture. It comes back to the passion. We're just naturally sexy bastards. There's no sense in being something you're not. I am being who I am. I want to put that image out there. Yes, a woman can be sensual and sexy without being a sex object. She can still rock out. I think that's something that lacks in a lot of female performers. They're sexy but they don't know how to be sexual or sensual. They just wear very few clothes, then they dance around and shake their asses. That's my personality — it's important to be strong woman, but I want to be equal to my male counterparts too. A lot of women are feminists, but feminism can be just as bad as sexism. Really what matters is equal-ism. I want to be treated equal. As a woman I've fought a lot. In Chile, it was bad down there. They discriminate against women in music. I was the only woman in the music class I took. I had to deal with professors who said that women didn't have the mental capacity to be musicians. I had to prove myself. It was not fun, although a lot of that had to do with the culture."
Mendoza doesn't have to prove anything to anyone but herself, and she aims to do that every time she sets foot on stage. "I feel like, if we don't get done with a show feeling like it was the best show ever, then we need to work on something," she says without the slightest hint of irony sarcasm. That's how this band thinks. The next show will be the best.
White Shag put out a self-titled EP last year, and will follow that with a single and maybe an album this year. They don't intend to take any rests. These guys know what hard work is, and they're not afraid of it. See for yourself this weekend at the Lager House. "Think of the power of the MC5, just minus two people," Cortez says. "We try to go for the Detroit energy and rock sound from the '70s. No influences have been greater from my end than the Stooges and MC5 live show. Rock 'n' roll with soul."
"We want to bring rock 'n' roll back to where the live show is everything," Mendoza adds. "You shouldn't be recording if you can't back it up on stage. That's the biggest problem that's been occurring. Everybody can record now, so everybody records first and then plays live. No, you play live, then you record."
It's that attitude that tells you that you won't ever feel short-changed after a White Shag show. Even better, the guys are planning on doing this for a long time to come. "I personally love what we're doing with this band, I feel like it's pure and comes naturally," Mendoza says. "I would play with this band 30 years from now. I want us to go through it all and take over the world. I want us to bring back rock 'n' roll and I want us to be one of the greatest rock 'n' roll bands ever."
And you know what? They just might do it.
White Shag plays with Circus Boy, Nuke & the Hellriders and the Farleys on Saturday, March 16, at PJ's Lager House, 1254 Michigan Ave., Detroit; 313-961-4668.
Brett Callwood is a staff writer for Metro Times. Send comments to [email protected]