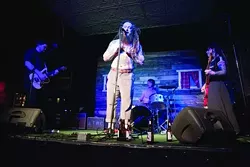 Take former members of bands like Sharky & the Habit, the Bobby Electric and Marco Polio & the New Vaccines, and the result is the bluesy punk noise extravaganza that is All the Wild Children. We won't call them a supergroup, but this band has a rich enough local indie underground pedigree to fuel its "cool" fires for a lifetime. Frontman Paul Clos is intense onstage. During interview, he's a little more likely to crack a joke. You'll see what we mean.
Metro Times: Who are these wild children and what brought you guys together?
Paul Clos: We were all on a champion dodgeball team, and since we worked so well together, we decided to form a band. We are Paul Clos [vocals], Mathias Aduke [guitar], Liz Clos [bass] and Scottie Stone [drums].
MT: What happened with Sharky & the Habit?
PC: After a horrible incident involving a pizza and a fire, we had no other choice but to leave our tree house and separate.
MT: How does the ATWC sound differ from Sharky?
PC: It's rock 'n' roll with our personalities attached. It's what came natural to us.
MT: What are the best and worst shows you've played so far?
PC: The worst show may be our first show. I had just come from a bank robbery, so I was worn out. Our best show may have been the last time we played. It seemed like we really found our groove and we totally went ape shit. It was great!
MT: Any past Blowout memories that you'd care to share?
PC: I remember playing at Kelly's [with Sharky]. Light Show Bob [resident lights-and-gadgets man at Kelly's Bar] was all set up. It was pouring rain outside, so people were packed in tight. I broke, like, four microphones. When we were done, the bartender told us we changed the smell of the bar from barf to B.O.
MT: Sweet … B.O. is much better than barf. Given the showcase atmosphere at Blowout, care to plug any bands that have nailed it in years past?
PC: The best set that I have seen at Blowout was when the Jehovah's Witness Protection Program played at Baker Streetcar. The crowd picked up [frontman] Anthony Anonymous and passed him around like a trophy or a victorious hero.
MT: What can we look forward to from ATWC this year?
PC: We have surprises, a ton of surprises!
MT:: Are there any bands you're looking forward to seeing perform this year?
PC: This year is going to be crazy, due to the Ferndale-Hamtramck thing. I am going to try and see as much as I can, but I really want to see the Bobby Electric, Disinformants, Eleanora, Caveman, Duende, J. Walker & the Crossing Guards, Carjack, Child Bite, My Pal Val, Nice Hooves, the Counter Elites and the Cosmic Light Shapes.
MT: What's the plan, post-Blowout?
PC: Outside of playing rock 'n' roll, I am teaching puppies sign language. Liz really wants to learn how to cartwheel. Mathias is building a cyborg, because he is a genius. And Scottie is most likely going to be spreading love.
MT: When will we see you adolescents show up on iTunes?
PC: We are working on an EP now at Red Wiggler Studios
All the Wild Children play Friday, April 26, at the Whiskey in the Jar.
Brett Callwood is a staff writer for Metro Times. Send comments to [email protected]