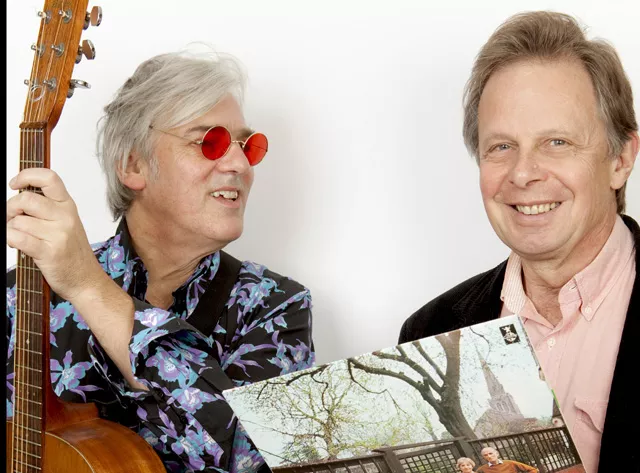 He's something of an odd format, but we've come to expect the unusual from Robyn Hitchcock. The quirky British rocker joins famed American record producer Joe Boyd in revisiting some of the music and events from Boyd's colorful life: He tour managed Muddy Waters, stage managed the '65 Newport Folk Festival (where Dylan went electric), and helped launch the British psych-folk scene of the late '60s and early '70s, producing early Pink Floyd, Fairport Convention, Nick Drake and the Incredible String Band.
Boyd will share his memories of that time captured in his lauded autobiography, White Bicycles. Hitchcock and Boyd met through Peter Buck when Boyd was producing R.E.M.'s Fables of the Reconstruction. He'll be playing songs from across Boyd's production career on acoustic guitar between reading segments, helping transport the audience back in time. We spoke to Hitchcock in London about his participation in these performances.
Metro Times: What first attracted you to this project?
Robyn Hitchcock: Joe produced, discovered and nurtured a variety of acts in the mid- to late '60s ... that were part of my musical DNA. Robyn Hitchcock grows directly from that compost. That music really sent me off the way I went, as much as the books at school, or the friends I had, or even my mother and father.
MT: How does the format work?
Hitchcock: We discuss beforehand which segments to read so we don't overdo anything. Certain things get covered every show. In Detroit we're doing two 45-minute segments, which will probably go by really fast. We will probably get three to four episodes into each one. It usually works out to about seven to eight songs in the course of an evening. It has a natural pace because Joe's stories — there's a point to them, if you like. They all have a punch line.
MT: What's it like to perform songs that trace your first music inspirations?
Hitchcock: They're beautiful. They've been in me longer than any song I've written. ... Some of the songs I've been singing all my life, and some of them I've had to work out more recently. But, on the whole, they're really good songs, so it's a pleasure, really.
MT: Richard Thompson told me in an interview a few years ago that the secret of his success (as far as making consistently great music) was his persistent failure. What's your perspective on success and how it relates to commercial popularity?
Hitchcock: I'd agree with Richard Thompson, basically. On the other hand, I don't know how much of it is failure. Did he plan to be a Top 20 artist or be Eric Clapton? ... There's probably an urgency to Richard Thompson that people like Eric Clapton and Van Morrison don't have. He's probably a bit cooler. ... I think the same probably goes for me. I wanted to be an album artist. I came of age at a time when album culture started, which of course is very much what this show pivots on. Joe was part of that time when the focus of the music industry moved from 45s and hit singles, or nothing at all, to whole LPs. A group that based its career on selling millions of 45s, the Beatles, put out an LP in the middle of 1967 with no single on it, and it went to No. 1. That was the gauntlet of album culture being flung down hard on the shop counter of commerce. ... I suppose if you see Richard Thompson and me as folk artists, we're extremely successful. If you saw us as rock artists, who knows? I mean he's Richard Thompson. I'm Robyn Hitchcock. We've both succeeded in being that, and both became involved with Joe Boyd.
MT: You grew up with album culture but it seems, with the MP3, that culture is going away.
Hitchcock: ... Richard Thompson and all of us from Paul McCartney and Lou Reed through Colin Meloy of the Decemberists, we all still think in album terms. But that is dissolving — and it's all technology. Technology gave us the album and it's going to take it away in the end. ... Now it's downloads. Who knows how long that will go on? I think people will always want music as along as they're human. That's probably the fact worth facing. ... [Record stores] are like old phone boxes really. A beautiful, iconic old template. I have a dial phone. It's that kind of thing. That's not surprising is it? I'm making this call from 1987.
Joe Boyd & Robyn Hitchcock: Live & Direct From 1967 happens at 7 and 8:30 p.m. on Friday, March 18, at the Detroit Institute of Arts, 5200 Woodward Ave., Detroit; 313-833-7900. Free with admission. For more info, see dia.org.