From the time the shows were announced, Kid Rock has been promising "special guests" as part of his "Rock 'N' Roll Jesus" tour, which hits Joe Louis Arena next week, Friday and Saturday, February 8th and 9th. But the secret is finally out of the bag and at least one of those "special guests" holds a lot of significance to Detroit rock from a historical perspective.
Although they were based in Boston, the J. Geils Band always considered Detroit their second home away from home. They even recorded their classic Live: Full House album — one of the greatest high-energy live documents of all time — here at the Cinderella Ballroom in 1972. In fact, to this day, many people still believe Geils was a Detroit band. The fact that the Rockets opened shows for them in the late '70s only added to the confusion.
Peter Wolf, that band's long out-of-action charismatic lead singer, will be joining Kid Rock onstage at Joe Louis for both shows. They promise duets on some of J. Geils' most famous songs, including "Love Stinks," although nothing is written in stone yet. "The Kid said, 'Pete, whatever you want to do,'" Wolf recently told the Boston Phoenix. "So there's some Geils stuff, and I might throw in a couple of solo things, and we're also working up a Motown tribute where we'll be doing some Temptations stuff. And since we both love country, we might also be doing a Hank Williams tune."
The singer also had some choice things to say about our area and many of the Motor City acts the Geils Band rose to fame alongside in the late '60s and early '70s. "They still value and love rock 'n' roll," he told the Phoenix's Matt Ashare. "The Midwest was always such a great supporter of the Geils band. It's different from the East or West Coast because it's all blue-collar. They don't have much money, so when they spend it on something, they're expecting something in return. When we first got into Detroit with the MC5 and the Stooges and Mitch Ryder, there were just a lot of great bands. And there was a thing about Detroit that embraced the Geils Band because we just worked so damn hard. I'm not saying we were better than other bands. But energy-wise, we worked like five times harder than most of the bands we played with.
"In that era, when we started performing, they had these package tours. I think one of the first ones we were on was with the MC5, Iggy Pop & the Stooges, Alice Cooper, Bob Seger. And when we hit the stage in Detroit, the crowd just went crazy. It was like an instant love affair. They just got it. It was a very powerful thing. There was something innocent and honest about it."
Wolf — who was introduced to Rock by late Atlantic Records founder Ahmet Ertegun — is returning to that aforementioned package revue format during this tour. In other words, there is no "opening act" for the "Rock 'N' Roll Jesus." All the "special guests" — who also include Reverend Run of Run DMC and former Allman Brothers Band guitarist Dickey Betts — will be joining the Kid onstage during the course of the show to perform their set with the tour band, which features such Detroit studio musicians as P-Funk percussionist Larry Fratangelo, David McMurray on saxophone and Rayse Biggs on trumpet, each of them Was (Not Was) veterans.
Say what you will about Kid Rock, but the dude obviously revels in Motor City musical history. After Wolf's part of the tour concludes on February 16th, by the way, he's heading back into the studio to work on a new album, which will feature his own "special guests," including Merle Haggard, Neko Case and Shelby Lynne. Don't be surprised if the man formerly known as Bob Ritchie makes an appearance there as well.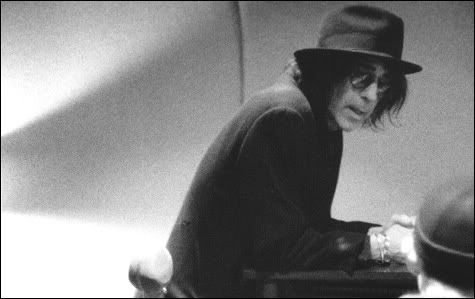 Peter Wolf: no relation to B'rer Rabbit