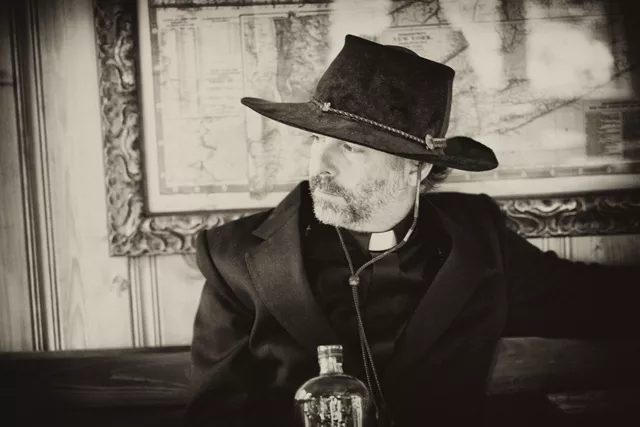 Ethan Daniel Davidson celebrates the release of Silvertooth with a show on Saturday, Sept. 15, at the DSO Music Box, Max M. Fisher Building, 3711 Woodward Ave., Detroit; 313-576-5111.
It's hard to believe, considering the backstory, but singer-songwriter Ethan Daniel Davidson has had to struggle to get his music heard and, perhaps more pertinently, to get it taken seriously. Davidson, you see, is the son of the late billionaire businessman and Pistons owner William Davidson. It's fair to say that Davidson Jr. has not had to scrape by in life. Indeed, our interview takes place at Davidson's extraordinarily beautiful home in Birmingham. The yard seems to stretch back forever; the pool is so inviting that I very nearly strip and dive in; and a cook is making something that smells incredible in the kitchen. "I'm going to have to take the pool vacuum back in," yells an employee. "It's stopped working again."
These are not the problems that most folk musicians face.
So many people look at Davidson and see a rich kid who plays at music because he can afford to do what he wants. It's kind of understandable too — many musicians sleep in cold vans and go days without a proper meal because they have to. It's a bit different if you're doing it for the experience, because you want to. This writer saw Davidson perform at Small's in Hamtramck back in 2003, and heard the soundman make a snarky comment about Davidson "not having to worry about anything." That's what he's had to face and that's been his challenge — how does a musician who happens to have an extremely rich family prove to the world that he's the real deal?
One gets the impression that now, after years of internal conflict, he's simply decided to stop trying, and certainly to stop apologizing for something that he never had any control over. And seriously, why the fuck should he feel guilty anyway?
Davidson, now in his early 40s, is about to release Silvertooth, his first album in seven years. He was forced into a bit of a hiatus after his father passed away in March 2009 and he took a controlling role in the family business (which includes architectural and automotive glass company Guardian Industries).
"I've gotten much more involved in the family business than I ever thought I would be or than my dad ever thought I would be," Davidson says. "It's really a function of the way the estate was set up. I came back to Detroit about six years ago to work in this family foundation that he was setting up. Then he died, and just with the estate and the way everything's tied together, I had to take an interest in some of the other family businesses. There's a group of us that run them, and I'm just the little guy."
Davidson seems slightly uncomfortable wrestling with his dual roles as high-powered businessman and folk-rock troubadour, but necessity has forced his hand. He looks much the same as he did back in 2003, just a touch older. He still has shaggy hair, goes unshaven and wears clothes that could have been found at a thrift store. He's a mass of contradictions, and that's what makes him such an interesting dude.
To suggest that Davidson has nothing to worry about, however, is short-sighted and slightly ignorant. He admits that, sure, he knows he has a roof over his head and a meal when he needs one. But this is a guy who was adopted by Bill Davidson at a young age, and struggled to feel worthy of what life gave him. It was also around 2003 that he finally met his birth parents.
"We were in contact for a number of years," he says. "It didn't turn out so well, so we're not in contact anymore, although I still speak with one half-brother and a couple of cousins. They were part Cherokee Indian, mostly Irish, and had lived in Burma, what was then British India, for more than half a century. I guess that's why I kept driving around aimlessly. It was in the blood. It's a strange thing. As somebody who grew up upper-middle class, suburban and for all intents and purposes white, even though I grew up Jewish, I think that there is a tendency among white suburban kids that everybody's got an Indian princess for an ancestor somewhere, and I wonder if it's a white man's guilt thing. I noticed that when I toured Germany for the first time and people found out that I was Jewish, a lot of German kids also had a Jewish princess as an ancestor, and I started to wonder if that's the same sort of thing?"
Davidson says that guilt is something he's had to deal with his whole life.
"I've gone through a lot of emotions with all that stuff," he says. "I was adopted into this. My birth parents are at the financial opposite end of the spectrum. I've always known that I was adopted, so why should I deserve anything like this? I explored a lot of different things. I was always interested in spirituality and philosophy. I thought that what I had to do was burn all my possessions, give everything away — you can't have both. I think that was the wrong way to do it. It's about being in a proper relationship with the wealth, making sure that you don't become owned by the things that you own."
That's the key, and it's how Davidson seems to have found some peace with his situation. Money and possessions don't define you, but he needn't feel embarrassed either. It is this seed of inner peace that has helped make Silvertooth a far better album that any of its predecessors, all of which, impressive as they were, seemed to see Davidson chasing something beyond his own existence. He had to make peace with himself before he could make a record like this.
"Don Quixote de Suburbia album — there's some good stuff on there but it was certainly planned out and maybe in some ways lacks spontaneity," he says of his 2003 release. "I've learned a lot about music, songwriting and performing since then so I hope that comes into this. I think the songs have gotten better."
Davidson's last album was Free the Ethan Daniel Davidson Five in 2005, released on his own, now defunct, Times Beach Records label (which also had Gold Cash Gold, the Deadstring Brothers and Man Inc. on the roster, among others). That album was preceded by Don Quixote de Suburbia. His debut, Alaska 11 North, was released in 1999.
So why now for the new album? After all, he's facing a constant struggle at the moment, with numerous parties desperate to get their paws on his father's money. It seems an odd time to drop an album.
"It just sort of happened," he says. "I talked to Warren Defever [of His Name is Alive] about five years ago. We drove to New York. He said he wanted to do something, and my wife, Gretchen, wanted to put the two of us together. He was busy with things, as was I, and it just never happened. A year and a half ago, Gretchen said that I have a recording session booked for that night. I had the attitude that at some point it would happen, but I was thinking about so many other things, so Gretchen really made this all happen. It happened by itself, almost. It's the easiest record I ever made. It goes to show what happens when you're not trying."
Indeed. And it's a great record too — a bit of Tom Waits darkness has been injected into the old Ethan poetic folk rock sound. Davidson sounds smoother, more confident and less desperate to prove his chops.
Ethan Daniel Davidson finally sounds happy to be Ethan Daniel Davidson.
Brett Callwood writes City Slang for Metro Times. Send comments to [email protected]