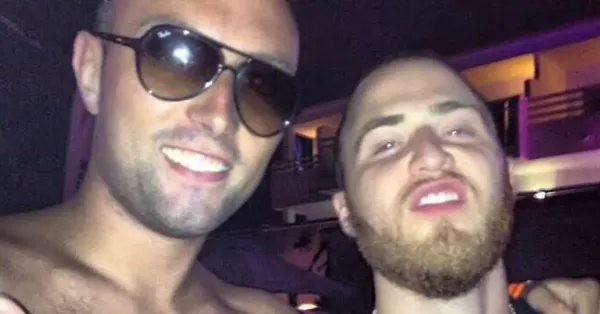 On his 2015 hit "I Took a Pill in Ibiza," Mike Posner recounts the time he did exactly that:
"I took a pill in Ibiza/ To show Avicii I was cool/ And when I finally got sober, felt 10 years older/ But fuck it, it was something to do."
But beyond those autobiographical details, we did not know exactly what kind of pill Posner took, or who gave it to him. On
Genius.com
's annotated lyrics to the song, Posner described it as "sort of a mystery pill" and said it was given to him by a fan who recognized him at an Avicii show:
"We were at his show and I was drinking at the time. (I don't drink anymore, but I wasn't playing and I had no responsibilities except for enjoying myself so I was taking some vodka shots and probably some whisky if I know myself.) And I just sort of moseyed out into the audience to watch Avicii spin from their point of view. I would go back and forth between the backstage and the VIP area and then where the actual kids were. And most people didn't know who the fuck I was in Ibiza except for this one guy who recognized me. He was like, 'Are you Mike Posner?' and he was all excited. He holds up this little bag of pills and is like, 'You want one?' And drunk Mike Posner was like, 'Fuck it, yeah.' So I took one and I had never done that before, and I felt amazing. Then when I came down I felt ten years older."
Now, three years later, we finally know who gave Posner the pill in Ibiza.
According Twitter, it was this guy, one Bren Dunne from Dublin:
@MikePosner member that pill I gave you in Ibiza at avicci 😂😂😂😂😂😂😂😂😂😂😂😂😂😂😂😂😂😂😂😂😂😂😂😂 pic.twitter.com/tDGY6nTIXA

— Bren Dunne (@Bren_Dunne90) April 4, 2018
Posner's memory seemed foggy at first, but he confirmed in a tweet that the man was in fact the guy who gave him a pill in Ibiza:
Yes mate 😂😂😂😂😂😂😂

— Bren Dunne (@Bren_Dunne90) April 4, 2018
Why'd it take u so long to reach out bro!!! Of course I remember haha

— mikeposner (@MikePosner) April 5, 2018
When Posner asked why it took him so long to come forward, Dunne said he didn't realize how big the track had become, and was inspired to come forward after Posner had described the origin of the song:
Never thought u would remember it 😂😂😂😂 didn't realise how big the track went man then my cousin sent me a interview we're u describe it I was like that's mad 😂😂😂😂😂😂

— Bren Dunne (@Bren_Dunne90) April 5, 2018
Here's "I Took a Pill in Ibiza (Seeb Remix)":
Stay on top of Detroit news and views. Sign up for our weekly issue newsletter delivered each Wednesday.