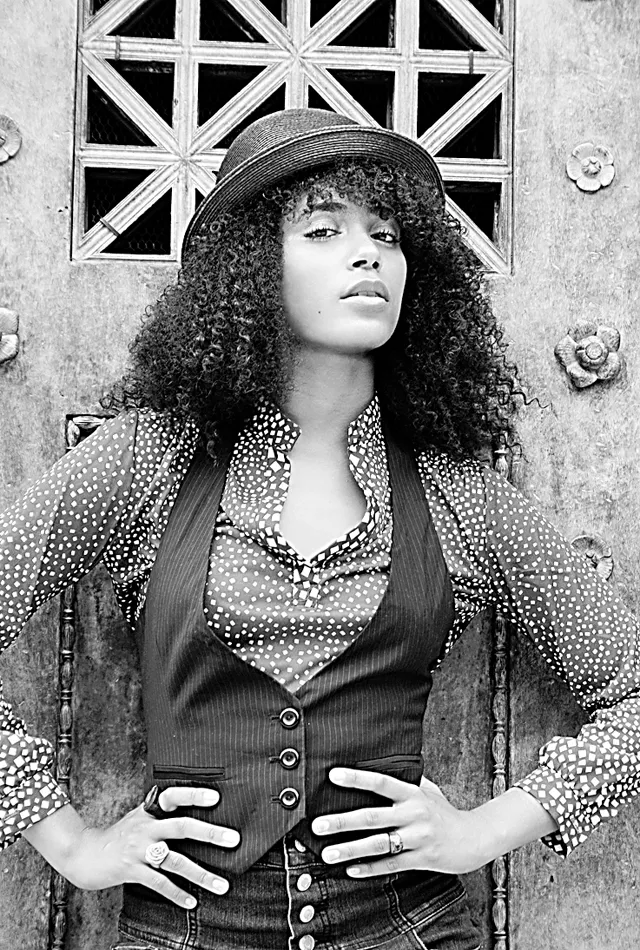 Sean Forbes 
At 7 p.m. Friday, Aug. 31, Michigan Lottery National Stage
Forbes is a deaf rapper who has not only overcome the potential difficulties that life set before him, he has kicked their ass and come out on top. There's no novelty here, no sense of patronizing, just fat beats and a talented dude who knows how to lay shit down. 
Mayer Hawthorne 
At 8 p.m. Friday, Aug. 31, Michigan Lottery National Stage
Soul music on the radio largely sounded like sewage before Mayer Hawthorne came along and reminded everyone that, by definition, the genre of music should come from our very soul and mean something, rather than being about superficial bullshit. Hawthorne has dragged trad soul into the new millennium, and the world is all the better for it.
Annabelle Road 
At 9:30 p.m. Saturday, Sept. 1, Soaring Eagle Casino & Resort Stage
Proving that a country band can be shiny and rhinestone-y, but still good (take that, Garth Brooks), there's really nothing "outlaw" about Annabelle Road, yet the songs are well-written, well-produced and well-performed.
Waycross Georgia Farmboys 
At 3:30 p.m. Sunday, Sept. 2, Soaring Eagle Casino & Resort Stage
The stellar lineup of Jennifer Westwood, Dylan Dunbar and the one and only Jackson Smith make up this old-timey, bluegrass-influenced country folk trio. The sound is gritty yet pretty, and the musicianship is superb. A must-see.
Doop & the Inside Outlaws 
At 6:30 p.m. Sunday, Sept. 2, Soaring Eagle Casino & Resort Stage
Thanks to his Inside Outlaw Songwriting Collective (involving the likes of Katie Grace, Pat V and Matt Dmits), Doop has tirelessly helped foster the outlaw country scene in Detroit. It shouldn't be forgotten that his own band is awesome, and the Inside Outlaws will likely perform some of the most heartfelt music of the whole festival.
Black Irish 
At 2 p.m. Monday, Sept. 3, Soaring Eagle Casino & Resort Stage
Black Irish's riffs are thick and sludgy, intoxicating and really heavy, sort of like a pint of Guinness Extra Stout.
Dutch Pink 
At 5 p.m. Monday, Sept. 3, Soaring Eagle Casino & Resort Stage
Since Dutch Pink formed a few years ago, the band has gone through a couple of lineup changes, but the most impressive was the addition of Serene Arena on vocals. Suddenly, every song has that awesome, rock 'n' soul vibe (think "Gimme Shelter" or any Black Crowes tune). Arena has turned Dutch Pink from an already-cool but standard rock band into something very special.
I Love Lightning Bugs
At 12:30 p.m. Sunday, Sept. 2, Ford Escape Alternative Stage
It's pop, but not as we know it. The melodies are super-hooky, but the mood is dark. Think Depeche Mode, but on a good night. I Love Lightning Bugs has already wowed Blowout audiences, and it'll be fascinating to see how they fare at an outdoor festival.
The Infatuations
At 9:30 p.m. Sunday, Sept. 2, Ford Escape Alternative Stage
The Infatuations were designed to play festivals. The band's disco-funk-rock will have the most miserable of passers-by dancing like a loon because it's really impossible to do anything else. You hear the bass guitar set the groove, you hear the gorgeous riffs and you hear the singers wail, and your body does all the work for you. Don't fight it.
The Polish Muslims
At 9 p.m. Saturday, Sept. 1, International Stage
What better way to end Saturday night than by listening to a bunch of classic songs by the likes of the Beach Boys and the Beatles performed in the style of Polish polka — with lyrical hat-tips to Polonia. It's ludicrous, but it's so much fun that it makes complete sense.
Mayaeni 
At 9:30 p.m. Friday, Aug. 31, Budweiser Rock Stage
Like a more soulful version of Sheryl Crowe, Mayaeni has traveled the world performing her music and also dancing. She's a multitalented singer-songwriter, and she should be a lot bigger than she is. Wake up, world!
The Cult Heroes
At 5 p.m. Saturday, Sept. 1, Budweiser Rock Stage
As former Stooges roadies, the Cult Heroes, fronted by the inimitable Hiawatha Bailey, have learned from the very best. There will be no frills in this set, just attitude-laden, rough-as-fuck, beautiful punk rock.
Broadzilla
At 8 p.m. Saturday, Sept. 1, Budweiser Rock Stage
Rachel May can sing any kind of music she puts her mind to, and she has a bunch of different projects to prove it. For this year's festival, however, she's returning to the hard-riffing, beefy, Motörhead-inspired all-girl hard rock machine Broadzilla, and she will surely kick all of our asses. Now be a gent and show the lady those devil horns.
The Howling Diablos
At 9:30 p.m. Saturday, Sept. 1, Budweiser Rock Stage
Tino's Diablos will likely swagger onto the stage, sunglasses in place, and then teach everybody in the audience what it means to be truly cool. Like, Sam Jackson in Pulp Fiction cool. The bluesy soul rock will raise some demons and Tino's husky rap will have us all shaking along. 
Kaleido
At 5 p.m. Sunday, Sept. 2, Budweiser Rock Stage
Kaleido, fronted by the teen-poster-girl-in-waiting Christina Chriss, is a radio-friendly pop-rock band that will appeal to fans of Paramore and the likes of Seether. The riffs are chunky but the melodies are bouncy. Beware though — there just might be a pit at the front for this bunch.
The Ruiners 
At 6:30 p.m. Sunday, Sept. 2, Budweiser Rock Stage
One of the best live bands in Detroit, the Ruiners are a trashy, sleazy glam beast and they will likely pull out all the stops for this festival set. It'll be interesting to see the band perform in the daylight — they are used to the gloriously fitting surroundings of Detroit's many dive bars. But don't make the mistake of thinking that Rick Ruiner, Nina Friday and the rest will go all posh on us. They'll spit and set fires, and by the end we'll all be shell-shocked. Fucking YES.
Amanda Morgan
At noon Saturday, Sept. 1, Made in Detroit Stage
Teen singer-songwriter Morgan has been winning national awards thanks to her poignant tunes, all of which seem to be about boys and the trouble they get her into. She means what she sings, which is refreshing for someone so young and, hey, it saves her buying a diary.