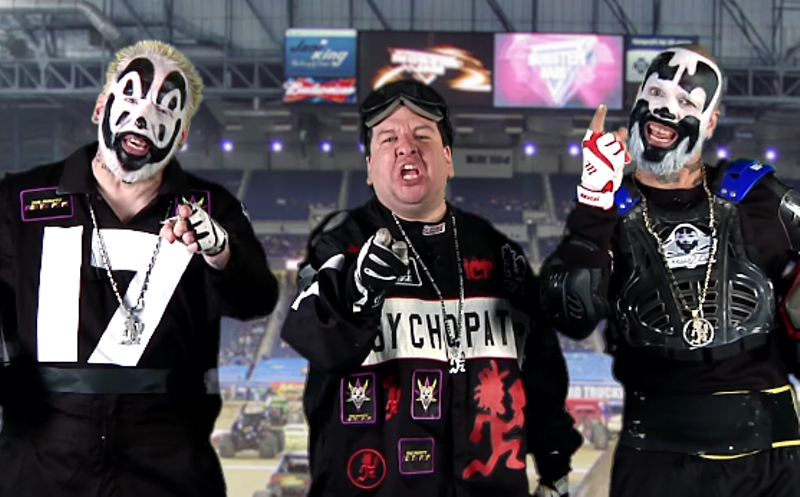 The new commercial heralding this year's Gathering of the Juggalos was released two days ago — and it's a wild ride.
Done in the style of those TV ads announcing a monster truck rally, a funny car drag race, or an extreme motocross event, with those repetitions for words such as "SUNDAY!" — it has to be seen to be believed. It's a comedy skit aimed right at the greasy funny bone of the rural underclass. It's designed to crush their blues like Bigfoot crushing a 1980 Datsun 210 under its wheels at the Silverdome before 68,000 screaming fans.
And it goes on — for an astounding 23 minutes — extolling all the various events that will take place in and around the Lost Lakes Amphitheater in Oklahoma City: art shows, pageants, live radio broadcasts, wrestling, rap battles, volleyball, trivia competitions, and a raging roster of shows to bob your big-ass head to. And then there's the water park where it all goes down, where you can enjoy "more water sports than R. Kelly."
It's over-the-top stuff, taken to the extreme and then lacquered on extra thick — and then set on fire and clubbed over your head again and again. It just goes to show why we have so much respect for ICP and their ilk. They were able to build up their empire on their own, giving them the ability to do whatever they please. (Even Kid Rock can't put out a 23-minute commercial riffing on monster trucks.)
But the magic ingredient? These guys don't take themselves too seriously. And if there was any doubt about that, this video ought to dispel it.

The Gathering of the Juggalos takes place July 26-29 in Oklahoma City, Okla.; tickets are now available at juggalogathering.com. The actual event will not feature monster trucks.