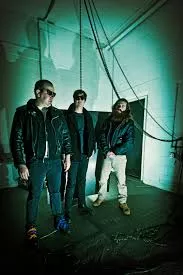 It's amazing this band has been around as long as they have and still remain so vital. Cycling through a range of heady sounds which recall elements of the Doors, SWA, Suicide, the
Liquid Sky
soundtrack, your uncle's Sun Ra tapes, the live clip of Throbbing Gristle doing "Discipline," that dream from last week which really freaked you out but you still don't know why, and a subway train pulling into a station way too fast, Detroit's favorite loungecore trio the Wolf Eyes mesmerized fans at this past weekend's Moogfest, the experimental music festival in Durham, N.C. which seems to get better and bigger each year.
One kind soul posted this clip of the first twenty minutes of their set. The music is melting, it's goopy; all the notes are bendy all the time.
Our Instagram feeds spilled over this last weekend with photos of these guys in Durham, striking poses to look both like impossibly stylish space pirates and goofy dorks on Canadian cough syrup at the same time. Don't forget to catch these cool noise Dads at their own
Trip Metal festival, this coming holiday weekend over at the El Club
.