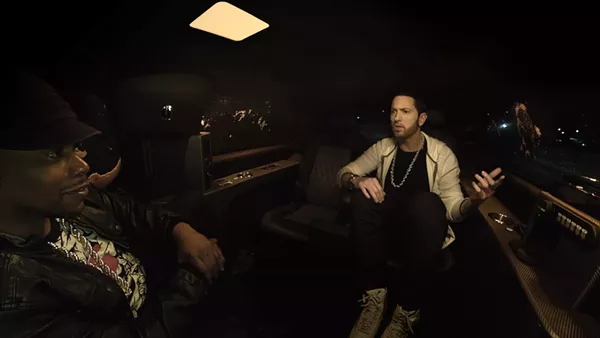 For those who have long wondered what it would be like to cruise around with the real Slim Shady — your time has finally come.

The teaser trailer for Marshall From Detroit was released on Tuesday ahead of the documentary's premiere at the Sundance Film Festival this weekend. The 21-minute-long virtual reality film offers an interactive, 360-degree view of Detroit as Eminem tours his hometown with interviewer Sway.
The trailer, which gives a taste of the film's interactive features, reveals Em in the backseat while a wintery and seemingly empty downtown streams past the windows.

"We used to think like man nobody comes to Detroit they look at us like a ghost town," Em says. "We want to be somebody. We want to stand up."

The film is in collaboration with director Caleb Slain and the Emmy-Award winning Felix & Paul studios, which specializes in "immersive" storytelling.

"Our idea was to extend the blanket of intimacy offered by VR beyond the once-in-a-lifetime ride with Marshall and introduce you to a more mystic version of Detroit you could never see for yourself," Slain told Variety. "We wanted to take the 'reality' out of VR and cook it down into something more unreal, but also truthful."

Marshall From Detroit is not Eminem's first VR-driven experience. Last year, the rapper launched an augmented reality app in conjunction with his live festival performances. The app allowed users to dodge a menacing hockey mask and ax during "Kill You" and stare up at a larger than life Eminem standing over a virtual, burning city.

Take a spin through Eminem's Detroit tour with the interactive trailer below:



Stay on top of Detroit news and views. Sign up for our weekly issue newsletter delivered each Wednesday.