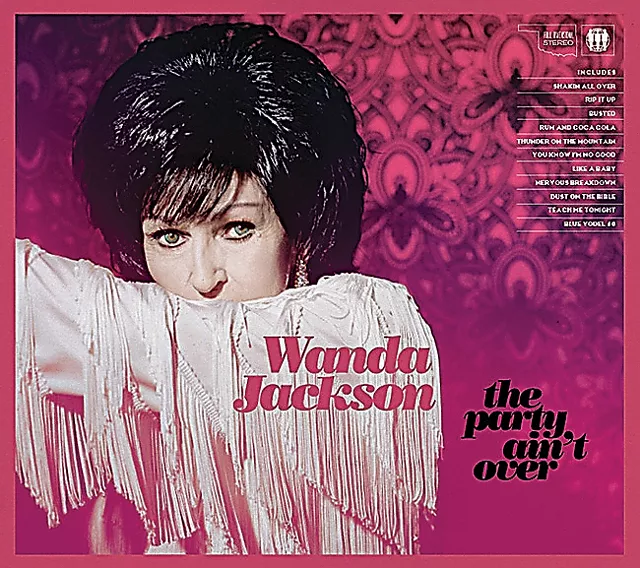 Wanda Jackson - The Party Ain't Over
Third Man Records
Whether it's sexism or her conversion to Jesus and country, Wanda Jackson has long been the most underappreciated rockabilly pioneer. Singles such as the 1960 near-hit "Let's Have a Party" have never been oldies radio staples, but when her voice is heard erupting and scattering like a firework, their stature as inexhaustible classics only grows. Still, Jackson has come to suffer from the reductive cycle of rock 'n' roll's first wave — the collapse into a niche, the oldies circuit, the inevitable European revival. Now 73, her importance to pop music sealed, she seeks a gratification that her messy discography has yet to offer. Enter Jack White.
White's 2004 production of Loretta Lynn's celebrated Van Lear Rose caught Jackson's attention. Predictably, White was a fan, and set to work on a Jackson album for his Third Man label, enlisting the aid of Karen Elson, Jackson Smith, Carl Broemel of My Morning Jacket, and two Raconteurs. Invariably, White infuses his projects with genuine affection, and this has already done wonders for Jackson's career and recognition; the collective lavished Jackson with professional attention she likely hasn't received in decades.
It's nonetheless difficult to forget that this is the second concerted attempt in recent years to modernize Wanda Jackson. In 2003, producer John Wooler hooked her up with the Cramps and Elvis Costello, among others, for the uneven affair Heart Trouble; as on so many late-period comeback bids, the supporting players' contributions came off mostly as sympathetic charity. That the new album, The Party Ain't Over, neither builds on nor acknowledges that effort exposes the hollow gesture of self-consciously replicating and supplementing the past.
So it goes with another set of expertly chosen covers, most of which are weighed down with bombastic arrangements from White's band, who seldom come across a lick or a groove they don't underline excessively. Jackson herself is in fine voice, her aging only apparent in the most beautiful, idiosyncratic ways. Her nuanced readings of the Johnny Cash chestnut "Busted" and the Andrews Sisters' "Rum and Coca Cola" place her against a sparse accompaniment before washing that magnetic intimacy away with gratuitous horns and squealing electric guitars. The tendency is insufferable by "Nervous Breakdown," which buries one of Jackson's grittiest, raunchiest vocals ever in an inexplicable wall of sludge, to no great effect, while the punishing guitar solo on "Thunder on the Mountain" notches it up to a bloated five minutes.
In its best moments, the band steps respectfully into the background to allow Jackson to home in on a performance. The Amy Winehouse cover and advance single, "You Know I'm No Good," is just stark enough to click, and because Jackson's voice allows the song to sound so much more ragged and lived-in, it improves on the original. Better yet, straightforward renditions of Jimmie Rodgers' "Like a Baby" and "Blue Yodel #6" simmer without undue embellishment. It's unfair to classify the LP as a missed opportunity on the basis of White's sonics when he also coaxes far stronger singing from the artist than Wooler could. On those tracks and the Kitty Wells classic "Dust on the Bible," Jackson belts and coos from the heart, sometimes on the intriguing dichotomy between her image and her personal life. As she told Michael Hill, "[T]he young girls think I'm this hard gal that gets her way and storms in."
By exploiting that conflict, Jackson opens a door to a new recording career; she may be strongest when she's feeling a song in her bones, but the discovery of the playful tease of "You Know I'm No Good" adds dimension and life more interesting than a desperate grappling for the sound and emotion of rock's first decade. On this album's first track, a deconstruction of Johnny Kidd & the Pirates' "Shakin' All Over," White distorts Jackson while the band obnoxiously trudges along with an oversized Stray Cats-like stomp behind her, all in a bid to re-create the excitement of the world turned upside down in Jackson's halcyon days. Those can never be duplicated, and it's a pity that when Jackson's immense flexibility as a singer gives White so many other avenues to explore, he spends the bulk of his time on the most futile.