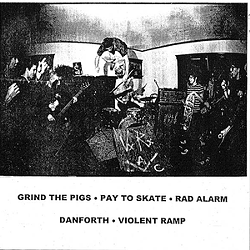 Ok, not literally violent, like the shit we're numb to seeing on the TV, but sometimes we happen across a video that takes us back and makes us feel all kinds of rage-y.
In today's installment, we've got an
archival video of Ann Arbor skate rock supergroup Violent Ramp, recorded at the Elbow Room in Ypsilanti on New Year's Eve 2002.
Violent Ramp was Aaron Dilloway, John Olson, (both members of Wolf Eyes) and Michael Troutman (Lovesick, Awesome Color). The group was known to set up a half pipe at gigs, and in this clip, they dedicate the set to "all the Ann Arbor fuckin' skaters"while also encouraging the crowd to shout "Fuck the cops!"
Happy Monday!
VIOLENT RAMP Live at The Elbow Room New Years 2002 from Hanson Records on Vimeo.