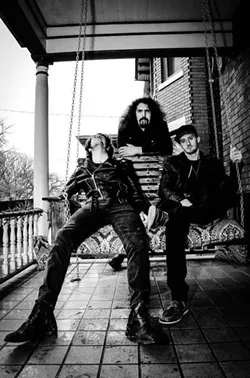 Instruments aflame! Scary people wearing Guy Fawkes masks! Slow motion heaving rocking! Leather jackets! Tasty, loud jams! Strobes!
Okay, enough with the exclamation points already, but if the Erer's video for their tune "Not What It Seems" doesn't get your heart pumping, we don't know what will. Good Pals shot this video, and Lauren Primeau edited it.
The Erers are a three piece from Detroit. They are resident musicians over at Assemble Sound. They released their EP "I Can Do Anything" last February, and
this Friday, Feb. 10 are playing a headliner at Small's with Native Howl
. It's their first show in a few months.
Over the past year and half, they've played a few crazy shows, from a sold-out show at St. Andrew's opening for The Kills to a sold-out gig at Lincoln Hall in Chicago with Black Pistol Fire.
This is easily one of the best, and heaviest, bands in the Detroit area right now. Enjoy the video.