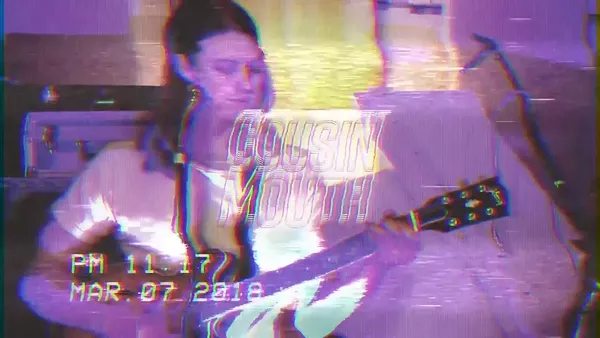 Detroit-based experimental R&B duo Cousin Mouth, Alex Burns and Donald Roland, have released a live recording and video for "Daughter," a song off their June LP release,
Medusa
.
The live version brings different layers to the song's originally sparse soundscape, featuring otherworldly background vocals from SUPERCOOLWICKED (Morgan Hutson), SALAKASTAR (Aja Salakastar Dier), and CJay Hill, in addition as horn players Rafael Statin and Jake Shadik. This fuller, lush arrangement not only brings forth more sonic textures, but also opens up doors for different interpretations of Burns' lyrical matter.
Burns (guitar/vocals/songwriting) paints a story of a lost young woman navigating her place in the world, making mistakes, and trying to clean them up. "Maybe we should talk about this with your mother/ my madonna/ which side of your face looks most like your mother?/ You're her daughter," Burns sings in the song's first verse. The song then ponders the question of how much of us are pieces of people that came before us, and what, if anything, do we owe them? "Does she haunt you too?/ Or is that ghost in you," Burns asks in the song's refrain.
Roland (production/percussion) says that experimenting with the live performance of this song has been particularly eye opening for him. "It's showing me a different way of making music, where it can transform," he says. "It's not just a static piece of art, but it's something that's continuously growing."
The video, filmed by Derek Swanson of Formerco, is a perfect visual representation of this creative continuum. Rather than just shooting a still of the band performing the song, it shows the group as lo-fi, ghostly figures set over a mirage of landscapes that seem to transcend space and time.
"We wanted to give it an extra push on the visuals," says Roland. "It's not someone just holding a camera and recording the song, but also something that can be visually transformative as much as the music."
You can watch the video, released by Paramita Sound today, below.
Stay on top of Detroit news and views. Sign up for our weekly issue newsletter delivered each Wednesday.