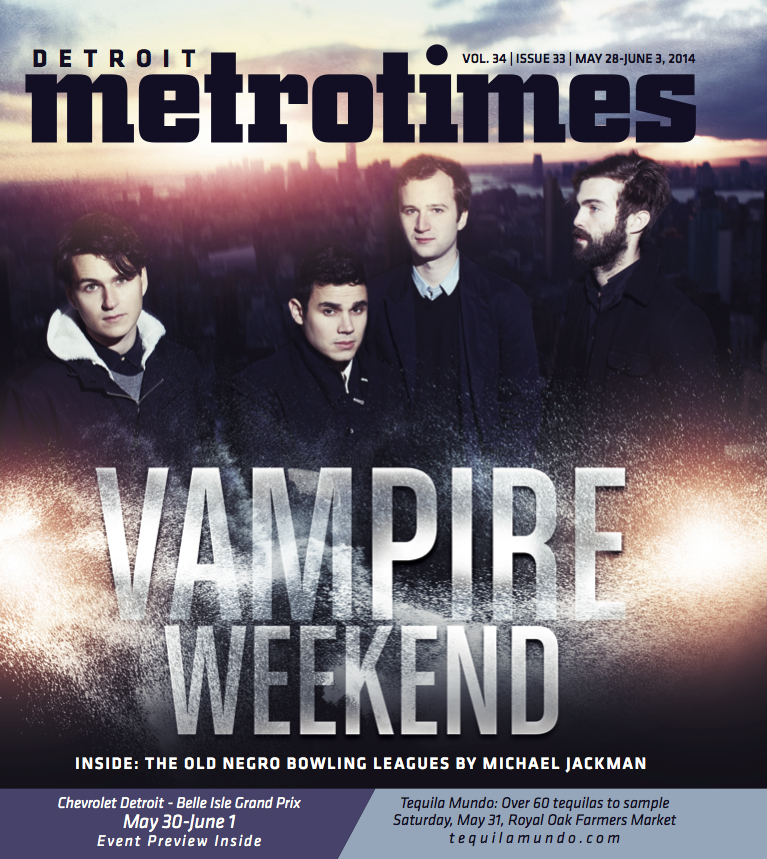 When we saw Vampire Weekend at the Fillmore last year, the place was packed. Their latest album, Modern Vampires of the City, had just dropped, and you couldn't get near the front of the main floor. People were ass-to-elbow, soaking up the bouncy, East Coast, Afro-infused vibe, and we had to smash ourselves up against the railing that separates the mezzanine from the lower level just to get a decent view. The scene was a far cry from when the band first started coming to Michigan in 2007. Back then, they played smaller rooms at the Crofoot, then, later, the Blind Pig in Ann Arbor.
We called up drummer Chris Tomson last week and asked him if he remembered those smaller shows (and if the rumor was true that Real Detroit Weekly was the first publication to feature them on the cover back in 2008). While memories were a bit hazy, Tomson did recall a few facts about those early days.
"I couldn't remember which paper was first, but I do remember the first Pontiac show," Tomson says. "That was the first time we played in Detroit and I remember we played that show in December 2007, and that was before our first album had come out, so we were still touring in the van."
In the band's early days, hitting those smaller clubs like the Blind Pig was partially for exposure, but also to fulfill their childhood rock-star fantasies.
"As a kid growing up, you look at tour schedules and that's one that seems to pop up fairly often," Tomson says. "I remember we were excited, and I remember it was snowing and the town had a nice vibe going on. I remember it being a pretty classic, sweaty club show, if I'm not mistaken."
The show also brings back a pretty specific memory for Tomson, though it has little to do with the concert itself. "The funniest thing about that show is that my uncle used to teach at U-M," he says. "He had come to the Pontiac show and lived in Ann Arbor, and then when I asked him to come to the Ann Arbor show, he said, 'No, no, that's cool.'"
Now, it's nearly impossible for Vampire Weekend not to pack a venue to the gills, with fans clamoring to see the band live. But Tomson says, really, not much has changed about the band. They're still the same four guys.
"We're in a bus now, we've got more crew, and we've got more production and lights and all that, but essentially it's still just the four of us trying to play the songs the best we can. I still think the show has stayed true to what we did initially."
It was certainly easier to get an interview with them back in 2007, though.
A year after the release of Modern Vampires, fans are wondering when they'll hear something new from the band. Their last record did well and saw an evolution in sound for the group, which fans seemed to gobble up. They've become more commercially recognizable and their songs can be heard in ads and TV shows, plus the album won a Grammy for Best Alternative Music Album last year. So how long before we see a fourth addition to their discography?
"After this tour we have the longest stretch since the album came out," Tomson says. "It'll be two months off and then we have two shows coming up in England at the end of the summer, and then after that we're going to take a longer break and sort of figure out where we want to go, how we want to approach the next steps. But right now, we're just concentrated on finishing up strong with these shows."
While Tomson vaguely alludes to a new album in the future, it sounds like fans will have to wait awhile. "There has certainly been talk of [an album], but I think it's way too early to say anything past that," he says. "Obviously there has been talk amongst the four of us or in different permutations of the four of us, but it's way too early to say anything even remotely definitive."
They're the quintessential hipsters, Vampire Weekend. The epitome of white-bread. They even wrote part of their albums while hanging out on Martha's Vineyard. It doesn't get more Anglo-Saxon than that. So while there's been some growth, it remains to be seen if Vampire Weekend will get beyond their standard East Coast, albeit somewhat tropical, sound. And they certainly don't seem pressed to talk about what they've got planned next.
"There is neither a rush nor a delay sort of thing," Tomson says. "We're approaching it as it comes. [We'll] see if the album sets up quickly, and if it does, it does; and if it doesn't, it doesn't. I think everyone has things either musically or otherwise that we spend time on or we're interested in. You know, Baio is going to keep DJing, Rostam is into a lot of production stuff, Ezra is doing everything pretty much. So there will certainly be things that aren't Vampire Weekend coming from the four of us, but I still think that another album is something we're planning to work on."
With this stop being the last we'll see of Vampire Weekend for a while, one hopes to hear an amalgamation of favorites from all three records and, according to Tomson, that's exactly what the band will deliver.
"When we came through the first couple times, our entire repertoire was ... about 68 minutes or something," he says. "No, I guess it's a little more than that. Now there are options, and certainly this album has a few more slower songs than the last two, so it's been nice to sort of come up with a narrative arc in the show where there's fast and slow; you're down some, you're up some. It should be a good mix of all three."
Though they've been together for almost a decade, they still haven't quite mastered their art, and the drummer says his favorite song to perform is also the one he fucks up the most. "I think that's sort of a double-edged thing," he says of the song "Step."
"That's sort of the hardest song to play, and you know when we're all doing well and I do the crazy roll things — when I hit them, it goes really good. When I fuck it up, it's definitely not my favorite song."
Well, good luck, guys. And don't fuck it up.
Vampire Weekend plays with Cults at Meadowbrook Music Festival at 8 p.m., Friday June 6. 3554 Walton Blvd., Rochester Hills; 248-377-0100; $26-$50.50.