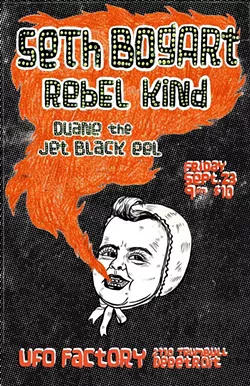 There is a special sheen to all of the events at UFO Factory this weekend, as the current iteration celebrates its second birthday. Happy birthday, UFO!
The world is so much richer with your vegan waffle dogs and your outdoor smoking patio, your excellent shows, and that extra kind staff.
*
Seth Bogart with Rebel Kind and Duane, Friday, Sept. 23 @ 8 p.m.

*
Fleatroit Junk City, Saturday, Sept. 24 @ 11 a.m.

*
Gospel Brunch with Adam Stanfel, Sunday Sept. 25 @ 11 a.m.

*
Jennyoke, Sunday Sept. 25 @ 9 p.m.