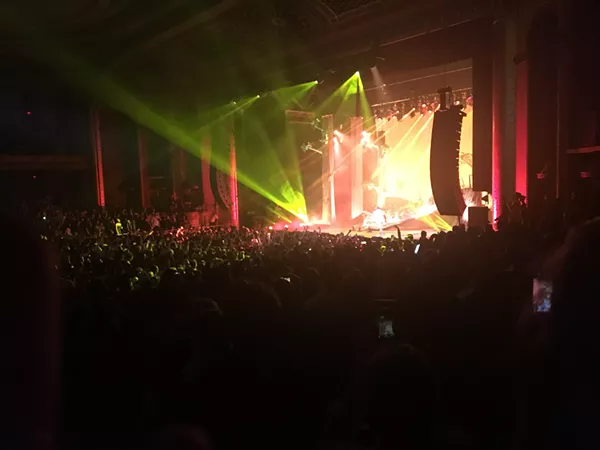 Tyler, The Creator (Tyler Gregory Okonma) vehemently rapping "Watch out for the potholes, bitch," was arguably the most relatable moment of last night's sold-out show at Detroit's Masonic Temple with California-based rapper Vince Staples. While 26-year-old Okonma was metaphorically referencing people or things that will throw him off his path to success, thousands of Detroiters could empathize in a literal sense as well, seeing as our roads are shithoused.
Shitty roads aside, both Okonma and Staples performed sets that brushed on multiple topics the young crowd could relate to, including uncertainty, loneliness, and existential crisis — fun! But actually, it was really fun.
After an opening set by a DJ who goes by "Taco," Staples took the stage in a bulletproof vest backed by a splattering of lights as turbulent as his music. Playing a mix of songs from his last four releases, Staples' set reflected anxieties about his own life and the state of our world as a whole. The lights periodically transitioned to warbled imitation news stories and Staples' bulletproof vest took on a morbid meaning when he raps "Take a ride on the side where we die in the street / And the cops don't come for some weeks/ No, the cops don't come for some weeks," in "Rain Come Down."
Staples' set continued with increasing intensity, layering a heavy cloud of thought and angst on the audience — or maybe that was just all the bad weed in the room. Either way, Staples' presence felt much larger than his 5-foot-8 stature and much wiser than his 24 years. Scores of fans singing back the "Party People" lyrics ("How I'm supposed to have a good time when death and destruction's all I see") brought an eerie awareness and sense of urgency to the crowd, reminding us of the world outside our briefly utopian setting. The set closed with a hyped up rendition of "Yeah Right" as Staples reminded us that nothing and no one is ever what it seems.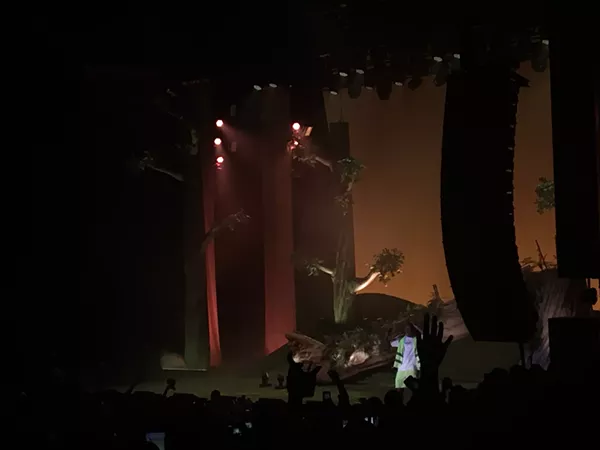 The construction of Okonma's elaborate stage setting gave the audience a much needed refractory period before another emotionally charged set. After about 30 minutes, Okonma emerged atop a majestic staircase surrounded by life-size trees and a formation akin to
The Lion King
's Pride Rock. Opening with a triumphant performance of "Where This Flower Blooms," he reflected on the joys and pains of tremendous success and wealth. While not everyone can relate to millionaire woes, Okonma's anthems about loneliness and anxiety-ridden paralysis struck home with the audience who sang the lyrics back to him word-for-word.
The theater was filled with a deafening roar as the crowd sang the simple mantra in "Boredom": "Find some time to do something" — nodding to the feelings of emptiness that materialize without distractions around. Okonma spoke directly to the screen-obsessed generation by rapping, "Boy's getting' desperate as hell / Cellular not amusing and I hope someone will," proving that not even a massive celebrity can escape the addictive grips of Instagram, or the loneliness that comes with it. "I can't even lie, I've been lonely as fuck," Okonma chanted with the crowd over and over in "911/Mr. Lonely."
The concert's heavy themes seemed to be more cathartic than depressing for the audience, which upheld an impressively continuous buzz of energy throughout both sets. There was something equally beautiful and unsettling about watching our nation's youth crowd surfing to songs about isolation and directionlessness. For a few hours, they could dance the emptiness away.
Get our top picks for the best events in Detroit every Thursday morning. Sign up for our events newsletter.