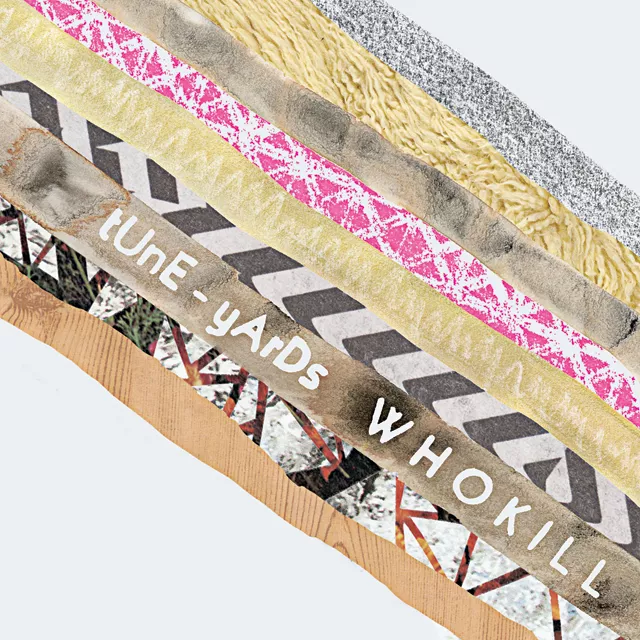 tUnE-yArDs - w h o k i l l
4 ad
When was the last time music made you freaked out? When you slide your chair away from your desk — headphones on, hands in the air, — and were compelled to dance? Yeah, like in Beetlejuice, with the lobsters.
Doesn't happen often, eh? The Internet's onslaught of new music desensitized us to the point where we don't allow ourselves the opportunity to be taken away by music. When we do, it's fleeting. This is the "jaded listener" music writers refer to. We've become gluttons swarming around an all-you-can hear buffet of digital downloads, tasting, barely even beginning to digest, then shuffling onto the next dish. We're disgusting.
Are we still capable of the patience necessary to recognize timeless records?
These are some of the things I was thinking about this week, taking notes to review another band's record, a hard-grime, pre-grunge thing. Dark but derivative. Cool enough. Up for a neutral review.
Then my busied brain was defibrillated, my critical ear sandblasted by the sophomore record from tUnE-yArDs,
w h o k i l l.
It's "soul shaking."
And if there's any justice left in this world, 32-year-old Merrill Garbus should go down as one of the great singers of my generation. She's got Bobby McFerrin's capable inventiveness and Marley's "everyman" chant, but wilder, like Fela.
With collaborator, funk pop bass Nathaniel Brenner, tUnE-yArDs has crafted a ferocious gauntlet of 1990s hip-hop and R&B, modern lo-fi electro pop with stark West African highlife, and whatever else she damn well feels like. But her music feels new in every sense.
Song one, "My Country," sets the tone for the record. It's a cranky but groovy working class holler. Garbus plays the betrayed patriot with vindictive ease: "the worst thing about living a lie is just wondering when they'll find out." Then asks, "If none of this is ours how will I ever know when something's mine?"
The hits commence with "Gangsta." Blunt, over-cranked and brilliantly bombastic, it's everything a track of its name should be. Garbus shouts "What's a boy to do if he'll never be a gangsta?" Then, with a patois tinge, "What's a girl to do if he'll never be a rasta?" Wild, she wants answers. And not even for a second does the Garbus come off as some Hampton brat Afro-Caribbean jingle appropriationist.
Slowing down, "Powa" comes as a chilled out psych-beach bedtime story. We find Garbus crooning like a player and yelping like Prince.
The distressed ukulele-driven "Riotriot" is a Latin-inspired jam that might reference this city of ours. Garbus confesses, somewhat Bjorkian, "There is a freedom in violence that I don't understand and like I've never felt before." The song has a few crazed transitions. Organized noise.
The saxophones blare on "Bizness," the album's standout single. It's pop, sure, but expressive beyond compare. It's a protest song and an Afrobeat dancehall shakedown for the modern day. (The music video is killer.) Infinite playability.
The album's last impression, "Killa," proves w h o k i l l is one of those ever more rare to find badass front-to-back records. The song is a three-minute wrecking ball that makes hits on the foundations Debbie Harry, Marvin Gaye, Peter Gabriel, MC Lyte and Joan Baez were built on.
tUnE-yArDs play the Crofoot's Pike Room on Wednesday, May 11, with Buke and Bass and Detroit's Prussia; $8; thecrofoot.com; tune-yards.com.