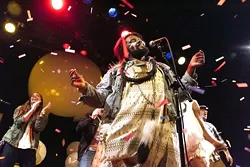 Tunde Olaniran is one of those rare beasts — he's both prolific and mildly mysterious. The electro-pop and R&B magician has toured and recorded with a host of national and international acts. He's been working hard on his own material and puts in the hours attempting to cross cultural and city boundaries — all from his home in Flint.
Olaniran says he started to realize he could make a career in music during the middle part of the last decade. "I was just having this conversation with my mom and we were debating it," he says. "I wasn't one of those kids who came out of the womb knowing I wanted to sing. I had been in a local band pretty young. I had a chance to work with some international and national acts and do some touring internationally in 2008. … I don't want to be Prince or Michael Jackson, I just want to do what I'm doing."
Did Olaniran just casually throw out that he worked with international acts? Please elaborate, sir: "This is so hilarious," he says. "I wrote a song called 'Diamonds in my Grill' with White Gold Princess, and I'm actually releasing it with Passalacqua, but at the time it was just a really silly song about being broke. That was on MySpace, and I got a message from a Berlin producer called Phon.o who was looking for a musician to sing. It was a random message. They wanted to pay me. I was like, 'Oh my God.' I ended up writing and recording three songs on his album. He and his people were popular musicians in their own right. They had worked with Björk and Wu Tang, and they were really established in the European electronic market. They asked if I'd like to tour with them, so it happened really fast. It's not until I was in Paris that I suddenly went, 'Wait a minute.'
"I grew up in Germany so it wasn't as if I'd never been to Europe, but it was a completely different lens, seeing it as an artist. I got to meet a lot of amazing artists and see some really cool stuff. All of that really opened my eyes," he says. "My mom was there — she came in to Germany and drove herself to Switzerland. That was the point when she started taking it seriously."
Unlike many tales one hears about how an artist's parents always backed their child's creative endeavors, Olaniran says his mom wasn't necessarily supportive — at first.
"She's very honest and blunt, and she'd say things like, 'You might want to go back to the job world.' But in Europe she could see that the response was so great. We were playing for thousands and thousands of people. It was a life-changing experience."
Olaniran, whose father is Nigerian and whose name translates as, 'The spirit of the father is gone but will return again to bring back the wealth that was granted to your family,' grew up in Germany before moving to Flint, though he says his upbringing, and the Internet, has more to do with his sound than any cultural collision.
"I'm never really sure because I think that the dynamics of poverty really played more of a role," Olaniran says. "The fact that we moved around so much. My dad was cut off [from his family] because he married my mother. He had to join the military to make ends meet, and that's how we ended up living in Germany for so long. Also, my mom's political background, and [me] being an only child — I was alone a lot. Having a rich imagination comes out in my music more than the cultural aspect. That's my take on it, but then there's also the Internet. You can take so much in, and it changes the way you look at the world. One of my friends called it 'cultural infusion.'"
The singer is keen to close any perceived divide between Detroit and Flint musicians, and to that end he's performing at the Aerosol and Audio Festival on Saturday, Sept. 21 at Flint's Memorial Park, and he's taking some Detroit artists with him, including the Hounds Below.
"I had a friend who was applying for a Kresge Fellowship (and is now a Kresge fellow), and he told me that I should apply too," Olaniran says. "I told him that I live in Flint and he said, 'That's metro Detroit, isn't it?' No, it's not. Other people are like, 'How far is that drive? You came from Flint?' So some people think it's just another part of Detroit and others think it's so far away, it's not worth bothering with. Those are the two things competing against us. For Flint artists, I don't think they realize how powerful and important increasing your connections to the Detroit art community can be. I think people, whenever they come to Flint, seem to really enjoy it. It's got a slightly different flavor while being familiar. I think it can be re-energizing. It gives you a little boost. It's a more manageable scene and you can access things quickly. I think there are so many possibilities and I'm proof of that — of reaching out to Detroit. It really pays off."
This weekend, Olaniran plays the DIY Festival in Ferndale and, following that, has his own headlining show coming up at Ferndale's New Way.
" … It's my first time headlining something by myself where it's not a festival," he says. "I really want people to come and get an idea of what they might see if I had control over my environment. I'm really trying to make something very immersive. I want to introduce some left of center, acoustic elements."
Tunde Olaniran performs Friday, Sept. 13, at the DIY Street Fair in Ferndale, on the Rustbelt Stage. For more information, see diystreetfair.com.
Brett Callwood is a staff writer for Metro Times. Send comments to [email protected].