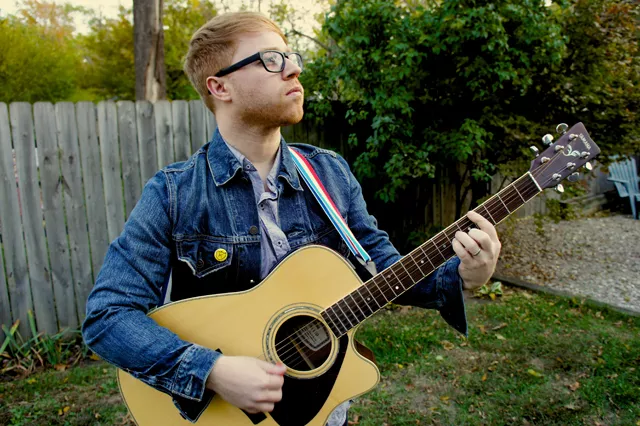 Ryan Allen is an oxymoron. Dude first came to public attention drumming with alt-pop-rockers the Red Shirt Brigade, a band that formed in 1998, earned a healthy following, dashed to Seattle, made a record with Death Cab for Cutie's Chris Walla, then split before they could reap rewards. Later, from 2002, he was fronting Thunderbirds Are Now!, again pulling in a good following, touring the world, nearly winning real success, but instead called it a day a couple of years ago. Since then he formed the Friendly Foes (with future Lettercamp frontwoman Liz Wittman), who splintered last year, and joined the Cold Wave, before promptly quitting that band.
When it comes to rock 'n' roll, Allen finds it difficult to stay settled.
His "normal" life is an entirely different matter: Allen is a family man now who's apparently head over heels in love his wife, Angela. The pair's first child is due July, and Allen spent much of the recent Hamtramck Blowout putting a nursery together in his Ferndale house with his own dad.
It's obvious that Allen doesn't live alone in his home; nothing's out of place and the kitschy fun (there's a plaster giraffe head sticking out of the wall) is balanced with lots of immaculate lightwood and glass furniture, and attended-to cleanliness in the air. Allen goes to work every day at the Apple Store, where he has the unenviable job of telling the general public about computers. It's a gig, he says, that requires an enormous amount of patience, but he claims he loves it.
So why multiple changes of bands and musical directions? It's because he's got nothing to lose. See, Allen has no desire to earn a living from music; it's more important to create and own a catalog that he can look back on with pride than to be scrambling to pay the mortgage with a Thunderbirds Are Now! record that he isn't feeling.
So he's confident. It's admirable, and there's nothing about Allen to suggest that he isn't sincere; hell, his whole personality says, "If you don't like me, fuck you."
Ryan Allen's at home sitting cross-legged on a chair, and he almost looks like somebody's grandfather's high-school yearbook photo. His reddish hair's swept to one side and his face is framed by particularly thick glasses. He's wearing a gray cardigan. He wears his up-to-the-moment geek-chic well. He's sharp, defines things well, and is focused. He's easy to get along with, though it's been said otherwise.
Still, even Allen is surprised when told that the record company press release for his forthcoming debut solo album on Bellyache, Ryan Allen & the Extra Arms, describes him as a Detroit songwriting veteran. The word "veteran" suggests "not young," but sometimes the 31-year-old doesn't look a day over 16.
"There are so many things you can say about aging and playing music," Allen says. "I don't look that old, but I would like to think that comment refers to the fact that I have a catalog of music and you can see an evolution over time. There are a lot of bands that pop up and then disappear. I would rather create something sustainable out of music, not monetary, but to be able to keep putting what I want out."
He is a vet if you consider that Thunderbirds Are Now! toured beyond Mitten borders where people knew the words to the songs. "Describing the success that we had to people who are passive music fans never seems to make any sense," he says. "Like, I get in a van and I tour, and sometimes a couple of hundred people come. The music was always flirting with accessibility, but at the same time pushing it in a completely the opposite direction. We worked really hard touring in the States, Canada, Europe and we even went to Australia. All the way there, as far away as I can imagine, going from where I grew up to playing to 400 people in Australia, and some of them knew our songs. That was everything for me."
TAN! split up, Allen says, for no other reason than members wanting to do other things. With Friendly Foes, who stopped playing last summer, Allen says it was a totally amicable parting of ways: "Sean [Summer, drums] and I wanted to keep playing together but we didn't want to feel like we were holding Liz back, so we decided to stop and remain friends, and we have."
Now Allen is playing guitar in another sideband, called Destroy This Place, which he describes as, "aggressive, but not in a typical way because there's definitely pop songs in there. It pays homage to our 7-inch collection from high school. I describe it as Fugazi making a power-pop record."
He admits, though, that he was mentally preparing for his debut solo record before the end of the Friendly Foes. "I had this pool of songs floating around. I'd throw them at the band, and there were some that Friendly Foes didn't want. The old version of me, maybe five years ago, would've been super offended at that. I really wanted to make a record that nodded to bands like Teenage Fanclub and Big Star, huge influences that didn't always come out in other projects that I've done."
When Allen talks of songwriting, he says he tries to pay attention to what's happening around him, but it's usually just sitting down with the acoustic guitar and seeing what happens. He says that dabbling in music journalism (for the now-defunct Detour, among others) strengthened his storytelling skills. It also hurt from a personal, working standpoint.
"I was a part of [online magazine] Detour ... When it all ended, I was super-super-bummed out. I came home and just totally broke down. That was the last time I cried super-hard. If I could do it again, I would approach it from the aspect of 'how can we make a communal thing out of this and help papers like the Metro Times,' rather than 'fuck you, everybody.'"
It's hard to imagine a guy who'd say fuck you to everybody is the same who'd say his family (and Elvis Costello) are his heroes. He says his greatest achievement is "not dying," and he's a budding dad man whose family has negated any desperation or desire to do anything other than exactly what he wants musically. He's not trying to escape anything other than mediocrity, and his solo album is where he is right now. Ten or even five years from now, he'll be somewhere else. Dude's confident.
Celebrate the release of Ryan Allen & His Extra Arms on Saturday, March 26, at the Loving Touch, 22634 Woodward Ave., Ferndale; 248-546-3644, with Copper Thieves and Big Mess.
Ryan Allen's five life-changing albums
Weezer:
Blue Record
(Geffen, 1994)
Elvis Costello:
This Year's Model
(Radar, 1978)
Sloan:
Twice Removed
(Geffen, 1994)
Paul Simon:
Graceland
(Warner Bros., 1986)
Sunny Day Real Estate:
Diary
(Sub Pop, 1994)