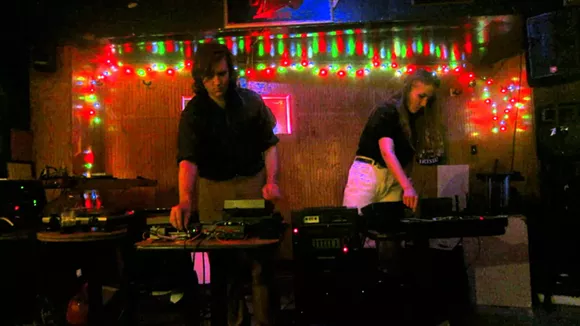 The
lineup has been known
for weeks, and so has the basic sense of when and where things are going down. But just yesterday, the
Trip Metal fest
organizers unveiled the full schedule for the first (hopefully annual) Trip Metal fest.
It looks nothing short of amazing, if you're even the most casual fan of experimental sound. The Nate Young-curated event primarily takes place over the course of the weekend at El Club, with performances by Morton Subotnick, Hieroglyphic Being with Marshall Allen, Lexie Mountain, Andrew WK, Creode, and so much more.
NOTE: TRIP METAL IS FREE
*, but a 3-Day Pass guarantees entry to all events and helps cover additional costs TM Fest will incur. A 3-Day Pass also earns you a Trip Metal Fest T-shirt, drink tickets, poster, and more. There are a limited number left,
here
. *
Everything is Terrible
screenings at Cinema Detroit are $12 each. Fit/Trip Friday after-party is $10. The Effects of Noise on Brunch is $12.
★ FRIDAY / MAY 27
EL CLUB - LIVE - 7:30PM
• 8:00 PM - Rubber O Cement
• 9:00 PM - Morton Subotonick
• 10:15 PM - MV Carbon
• 10:40 PM - Panicsville
• 11:15 PM - Cotton Museum/Apetech
• 12:00 AM - Tarpit/Jesse & The Eels-
• 12:45 PM - Tragg
☆ FREE / DONATIONS ACCEPTED AT DOOR
THIRD MAN - SCREENING - 6:30PM
Canyon Cinema's ACID STRIP: Inzane & Fried Alive 16MM Short Films
• 7/64 Leda and the Swan (Kurt Kren)
• Articulation of Boolean Algebra for Film Opticals (Tony Conrad)
• Black and White Trypps #3 (Ben Russell)
• Invocation of My Demon Brother (Kenneth Anger)
• Mutiny (Abigail Child)
• Take Off (Gunvor Nelson)
• T, O, U, C, H, I, N, G (Paul Sharits)
• 23/69 Underground Explosion (Kurt Karen)
☆FREE
TRINOSOPHES - TALK - 5:30PM
• Morton Subotnick in conversation
☆ FREE
MENJO'S OLYMPUS THEATER - AFTER PARTY
FIT SOUND / EST.83 x TRIP METAL AFTERHOURS
• DJ Sotofett
• Madteo
• Stallone The Reducer
• Especially Good
• Fit Siegel
• Bill Converse
☆ $10
★ SATURDAY / MAY 28
EL CLUB - LIVE - 7:30 DOORS
• 8:00 PM - Caleb Johnston
• 8:35 PM - Pengo
• 9:10 PM - Lexie Mountain
• 9:45 PM - Drainolith
• 10:20 PM - Hieroglyphic/Marshall/Danny
• 11:35 PM - Joseph Hammer
• 12:10 AM - Pod Blotz
• 12:45 AM - VIKI/Magas
• 1:30 AM - Viands
☆ FREE
CINEMA DETROIT - SCREENING - 7/9 PM DOORS
•
Everything Is Terrible (7PM show)
•
Everything Is Terrible (9PM show)
☆ $12
TRINOSOPHES - TALK - 5:30PM
• Hieroglyphic Being + Marshall Allen & Danny Raye Thompson in conversation
☆ FREE
★ SUNDAY / MAY 29 - 7:30PM
EL CLUB - LIVE
• 8:00 PM - Brain Transplant
• 8:35 PM - Sick Llama
• 9:10 PM - Creode
• 9:45 PM - Wooden Highway
• 10:20 PM - Shades
• 10:55 PM - DJ Dog Dick
• 11:30 PM - Nautical Almanac
• 12:05 AM - Andrew W.K. + Nate Young + Twig Harper
• 12:40 AM - Wolf Eyes
☆ FREE / DONATIONS ACCEPTED AT DOOR
TRINOSOPHES - SCREENING - 6:30PM
Andrew W.K. & Trip Metal Fest present DESTROYED HISTORY: Trip Metal Vids From the Vaults
• POLTERGEIST by Aaron Dilloway & Andrew Wilkes-Krier
• WOLF EYES Summer 2000
• MINI-SYSTEMS Cocaine Party
• WOLF EYES Slicer Sessions
• BEACH PEOPLE Live
• VIOLENT RAMP Live
☆ FREE
TRINOSOPHES - TALK - 5:30PM
• Andrew W.K. + Nautical Almanac + Nate Young in conversation
☆ FREE
JAM HANDY - NOISE BRUNCH - NOON
• Full Frontal
• David Shettler
• Viki + Tyler Hicks + Shells
• Joe Wojtoewicz Psych Band
• Moth Cock
• Andrew Kirschner
• Sikk Laffter
• New Toy