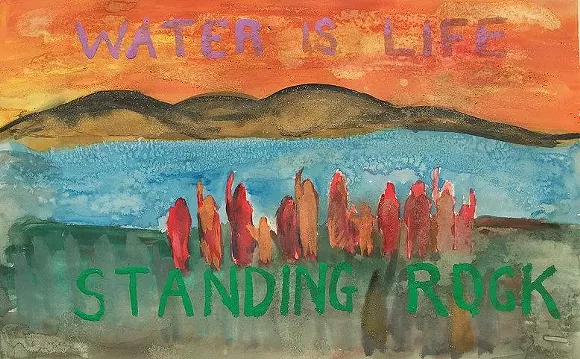 This Wednesday, Nov. 23, you should totally play hooky from work or family obligations to catch "One, Two, Go to Standing Rock."
The event finds your favorite cafe/gallery/performance space Trinosophes in Eastern Market reprising its pre-holiday festival,
"One, Two, Go,"
with concerts all day long in the cafe (from 9 a.m.-5 p.am., and the cafe itself open from 9 a.m.-3 p.m.). Music will actually start very close to 9 a.m.; we understand that none other than Johnny Ill is slated to kick things off.
This benefit is a pay-what-you-can deal, and attendees are encouraged to come and go as they please during the day. "One, Two, Go to Standing Rock."is a fundraiser for the water protectors at Standing Rock. Donations of money, canned goods and as-new winter clothes and gear will be accepted at the counter, and hand-delivered by organizer
Matt Ziolkowski
.
Performers include the Arch Mystics, Tyler Hicks, Warren Defever, Efe Bes, Julian Spradlin, Bridget Micheals, Heath Moerland, Eale Davis, Matthew Smith, Andrew Coltrane, Michael Malis, Marcus Elliot, Johnny Ill, Skeeter Shelton, Viki Viktoria, Sam Hooker, 696 Blues Band, James Cornish, David Shettler, Dave Hurley, One Up Man Ship, Betsy Soukup, Ben Willis, Nick Sternberg, and more as well!
See
www.waterislifedetroit.com
for more details.