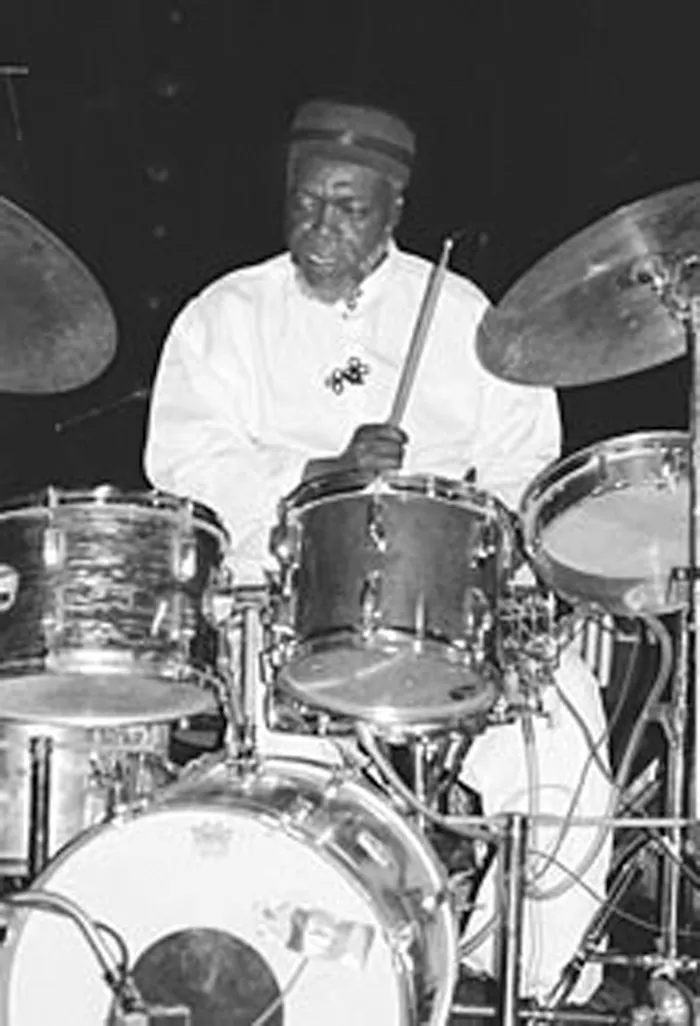 Roy Brooks' composition "Toys" was performed along with a bunch of wind-up toys marching around onstage beating drums and crashing little cymbals. He once performed his "Basketball" piece at Chene Park with a portable hoop and backboard near the stage, where Pershing High School basketball players shot hoops while he played. He invented the breathophone, a sealed tom drum with a tube attached to it that allowed Brooks to change the tone of the drum by blowing into it. He played marimba, steel drum, keyboards and the musical saw by tapping it with a small mallet.
Brooks called himself a "drumist" because he was something other than just a drummer, although his drumming, as evidenced by his work on Horace Silver's classic recording of "Song for My Father," was superb. Somehow he managed to merge myriad cultural influences into a captivating, coherent whole.
"He was one of the most unique players that we've ever seen," says jazz drummer Sean Dobbins. "He was one of the original fathers of the Detroit sound in terms of drumming, He kind of merged styles from African drumming to bebop to modern drumming. He is one of the people who brought all that together."
Dobbins and the Modern Jazz Messengers, along with the Djallo Djakate Quintet will perform in a free tribute concert for the late Brooks on April 4, at the Wayne County Community College District Downriver campus.
"Roy and I were very good friends over a long period of time," says Rev. Dan Aldridge, producer of the event. "Roy was an internationally recognized percussionist and artist, and it's vital that we pay tribute to all of the great Detroit artists and musicians, the whole range of artists that we have produced. It's important that we tell our story. Paying tribute to Roy is part of telling the story."
Brooks was born in Detroit in 1938. As a teenager he played on the city champion basketball team and earned a college scholarship. After three semesters he dropped out to tour with saxophonist Yusef Lateef. In addition to nearly five years with Silver, his career included stints with Barry Harris, the Four Tops, Charles Mingus, Wes Montgomery, Pharoah Sanders and numerous other jazz luminaries. He was a member of drummer Max Roach's M'Boom percussion ensemble. His own groups included the Artistic Truth and the Aboriginal Percussion Choir, and he was known for teaching music to neighborhood youths.
In 1991, he was named a Michigan Jazz Master by Arts Midwest and later toured North Africa and the Middle East with co-Jazz Masters Wendell Harrison, Harold McKinney and Teddy Harris. However, Brooks' later years were marred by a struggle with bipolar disease and bizarre behavior. An altercation with a neighbor at his west side home led to a stint in Marquette State Prison and his early death in 2005 at age 67.
One story that circulated about Brooks was about an incident at Bert's Place on Jefferson across from Cobo Center. It was after the gig and he got into an argument with a waitress. At one point he grabbed a mustard container and squirted it on her. When she screamed in dismay, he said, 'Oh, you wanted ketchup with that,' grabbed the red container and squirted it on her. It may or may not have been true, but that was the tone of tales regarding Brooks' foibles.
"He had serious emotional challenges," says Aldridge. "If the mental health system here really took care of people, he would probably still be alive."
Aldridge tapped Dobbins and Djakate for this tribute because he "wanted to choose musicians who Roy may well have respected. Sean reminds me of Roy in his total enthusiasm and love for what he does. Djallo is a master percussionist. Roy would have respected him."
That may be true, but Djakate remembers, "He cussed me out once; I don't know why. It was down at the Eastern Market."
Djakate's career covers the entirety of jazz history, from African percussion to ragtime, New Orleans parade rhythms, swing, bebop and avant-garde outings. He's worked with Marcus Belgrave, Taslimah Bey, Charlie Gabriel and Spencer Barefield, among others. He's toured in the U.S., Canada, Europe and Japan with Martha Reeves. His quintet includes reed player Vincent Bowens, who played extensively with Brooks. Djakate plans to perform "Forever Mingus," a piece from Brooks' 1989 Duet in Detroit album, with Canadian pianist Phil Whitfield.
Ann Arbor product Dobbins, who lectures at Oakland University, plays drums with a strong melodic sense. He's played with the likes of Frank Morgan, Joey DeFrancesco, James "Blood" Ulmer, Mose Allison, David "Fathead" Newman and numerous others in addition to leading his own groups. His New Jazz Messengers explore the territory and sound pioneered by Art Blakey, and he's expanded the exploration of soulful, funky jazz with his organ quartet.
Dobbins' performance includes bassist Marion Hayden, who was a member of Brooks' Artistic Truth in the 1980s. Hayden is also known to hold a large collection of Brooks compositions. Dobbins' performance will include some Brooks's compositions, a few from Max Roach and some originals.
Aldridge remembers accompanying Brooks to Bowling Green State University once for a concert with pianist Stanley Cowell. "The one thing I remember about him is someone asked what he was going to play. He said, 'I'm not going to play anything because I don't play when I perform. That's my job.' That was his attitude toward being a professional musician."
Roy Brooks was a Detroit original — widely influenced, colorful, controversial and one hell of a musician.
The Roy Brooks Tribute Concert featuring Sean Dobbins and the Modern Jazz Messengers and the Djallo Djakate Quintet takes place at 7:30 p.m. on April 4 at the Downriver Campus of Wayne County Community College District; 801 W. Fort St., Detroit; 734-374-3200; Free admission.