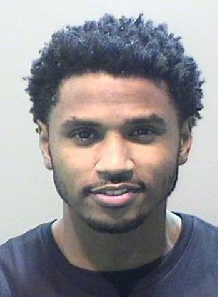 As many media outlets have previously reported,
singer Trey Songz
(real name Tremaine Neverson) was arrested last night after going absolutely bonkers on stage during his show at Joe Louis Arena.
Songz reportedly was upset that his time was up on stage (the Big Show at the Joe had multiple performers) and he threw a hissy fit. Songz reportedly threw objects on the stage, including a microphone that hit a police officer in the head.
Since the incident went down, Detroit Police have blessed the Internet with Trey Songz's mugshot, and we have to say, it's not that bad of a photo as far as celebrity mugshots go. As
BLAC points out
, Trey is serving up "
LOL smiley face
" all day and we couldn't agree more.
Songz was arraigned today and will have to appear before a judge on January 5. He received one count of assaulting a police officer causing injury, and one count of aggravated assault.