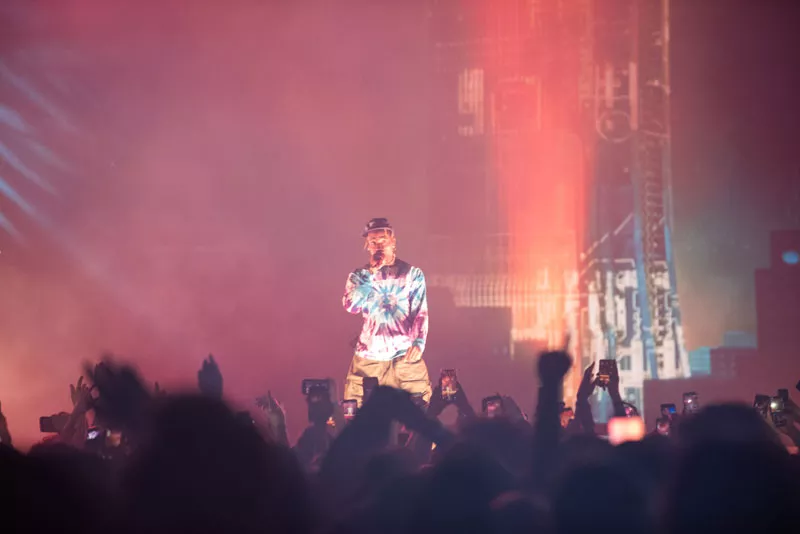 A sold-out show at Detroit's Little Caesars Arena on Wednesday was the 17th stop for Travis Scott's "Wish You Were Here Tour." Scott is hip-hop's current man of the hour, with his platinum-selling album,
Astroworld
being driven by his No. 1
Billboard
single "Sicko Mode."
The stage set-up was unique in contrast to LCA's previous hip-hop shows. There were two stages parked on opposite sides of the arena, and fans who had purchased general admission tickets gathered on the floor for mosh-pitting, crowd-surfing, and selfie-taking.
The show began around 7:30ish with performances by Sheck Wes and Gunna. (Trippie was supposed to preform but was a no show.) At around 9:15, Scott took the stage dressed in a tie-dye shirt and cargo pants.
The visual aesthetics and stage settings were consistent with the festival vibe from the
Astroworld
cover art (named after an amusement park in Scott's hometown of Houston), and pretty mind-blowing. There was an inflatable astronaut that looked like it could be a float from the Thanksgiving Day parade. There was a roller coaster that hung from the rafters Scott performed from, a ferris wheel, laser lights, pyrotechnics, and even a huge 25-foot version Scott's head (that artist David LaChapelle designed from the album cover art as well).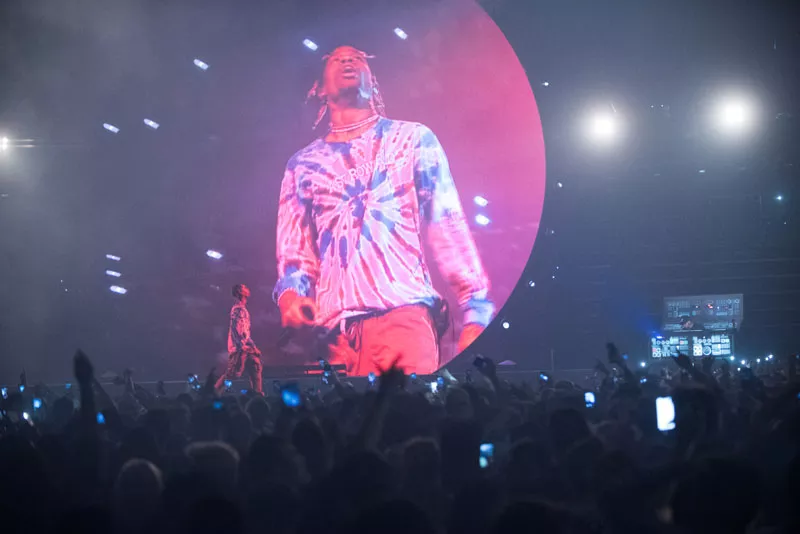 Scott spent the first 40 minutes on material mostly from
Astroworld
and began the show with "Stargazing," the intro cut from the album. To say his energy was dialed up to a million would be an understatement: Scott jumped and glided through performances of "Can't Say," "Drugs You Should Try," "ZEZE," "Yosemite," "Love Galore," and "Carousel."
Despite the over-the-top carnivalesque visuals, Scott's show was truly about the music. There were no speeches or taking 5 minutes to make a personal statement to the crowd, and no appearances from his high-profile romantic partner Kylie Jenner or their daughter Stormi. Just music, and the performance of it.
With the crowd already on their feet, Scott saved what he had left in his threshold of adrenaline and powered through the last twenty minutes of his set with the same energy he started with. First there was "Piss on Your Grave," then "Antidote," "Goosebumps,"and lastly — the payoff moment — "Sicko Mode."
With that, Scott said, "Thank you Detroit" and was lowered beneath the stage.
Get our top picks for the best events in Detroit every Thursday morning. Sign up for our events newsletter.