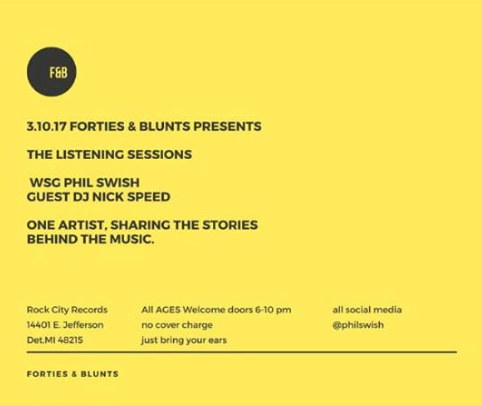 Tonight at
Rock City Records on the East Side
, there's a really cool event that's free and you should totally go (especially if, after Wednesday's wind storm, you need to decamp to a place where the power still works).
The event starts at 6 p.m. and is over by 10
.
In a nod to the 1990s era VH1 series 'Behind the Music,' Phil Swish will perform and Nick Speed will DJ and they both will talk music, listen to music, and there will also be art by Warren Wells.
Swish writes to say: "I will be the master of ceremony for The Listening Session show March 10th. The event will take place at Rock City Records in Detroit. I'll be performing with a live band. It is free entry for all. Nick Speed will be the DJ for the evening."
Sounds excellent to us — see you there!