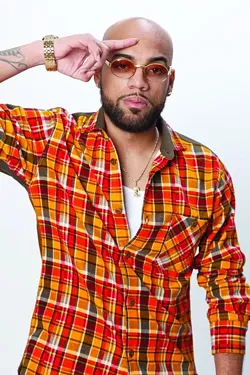 Detroithas long been a breeding ground for young, fresh rap talent. Brave too. From the likes of Slum Village (with J Dilla), Eminem, D12 and Trick Trick to the Psychopathic Records crowd and Kid Rock, Detroit rap and hip hop has always covered all bases, reaching outside accepted genre, city and boundary lines, pulling in people who don't always fit in the cookie-cutter mold. Last week's City Slang star Breezee One, a sassy, heavier white female, is case in point. SayItAin'tTone realizes the artistic and commercial sense in attracting all manner of people to his music. It helps that he's really fucking good, very smart and, in his own words, a lot of fun. The 25-year-old lives on the west side of Detroit, and he describes himself as a "full-time rapper, part-time hustler," though he laughs while making the statement, well aware of the silly cliché and capable of poking fun at himself for voicing it.
"I always had musical background," he says. "All of my friends would help come up for concepts for songs during our high school days, but I started taking it seriously for the last three years, since I was around 22. That's when I started doing it hard. I really like to have fun most of the time, so I can relate to a wider span of people. When I was younger, I was heavy into Cash Money. We have people like Big Sean, Shorty da Prince, Paigion, myself and many other artists that I like to call the 'New Renaissance of Detroit,' and we're here to turn this thang around."
SayItAin'tTone is a name that may well be unfamiliar to many of you, unless you're an avid aficionado of hip hop. However, he has already performed at the biggest venues in Detroit, and in cities across the country, thanks in no small part to his association and work with Big Sean (he performs alongside Big Sean on "My Closet" from Finally Famous Vol.3). Big Sean plucked SayItAin'tTone from obscurity (alongside others) and embarked on an adventure that would see them tread the boards and rap their rhymes at theaters and arenas everywhere. The people might have paid to see Big Sean, but they were getting SayItAin'tTone thrown in for free. Now, he's looking to step out from under Big Sean's big shadow.
This weekend, he headlines the SparkFest at St. Andrew's Hall, a venue he says is still the place to be for up-and-comers and veterans alike, as it has been for a long time and as was seen in 8 Mile. (Hey, if it ain't broke don't fix it.) Both St. Andrew's and the smaller Shelter downstairs have the perfect dark, nostalgia-filled vibe for Detroit rap. "I've performed at the Majestic, at Chrome Nightclub when it was called Plan B, at the Shelter, at the Fillmore, the Fox, everywhere," he says. "The Palace too. Basically St. Andrew's and the Shelter are still the spots though."
This guy is impossible to dislike. He surfs the line between the harder-edged inner-city rap vibe and the new strain of hipster hop quite perfectly. He's undeniably cool, but a lot of that comes from self-deprecation and a lot of humor, rather than tired posturing. Check out the video for "ADBOMD" on his website, shot at a Halloween haunted house, and you'll hear the line "I slap ass, just to make it wiggle, then she giggle just a little, then proceed to make it jiggle." Who could possibly be unappreciative of that level of vividly conjured imagery? You can practically see the jiggle (and the wiggle) and hear the giggle when you listen to the tune.
That song, and more like it, can be heard on SayItAin'tTone's 500 Million mixtape, out now. "I have a mixtape I dropped in February," the rapper says. "It's called 500 Million. I've been around the Midwest passing them out — hand-to-hand combat, I call it. People really like that project."
People sure do, and the numbers will be growing fast if there's any justice. SayItAin'tTone (who won't reveal his birth name) says that Detroit rap has never been healthier than it is right now. "It's better than ever right now," he says. "There's a lot of talent in the city. There are different subcultures in the hip-hop culture here. We've got that Dilla crowd, the true hip-hop heads, the backpack-y hipster rappers, the hood rats. My music is geared up towards all of them. I try to stay between the hoods and the hipsters."
"Backpack rap." You have to love that. All joking aside though, people from all walks of life are embracing rap music, and SayItAin'tTone is displaying maturity and intelligence in wanting to appeal to them all, rejecting any ridiculous elitism and snobbery that might push people away. He insists that there's no good reason that everyone can't mix in a healthy way. "It depends on the type of person and the artist," he says. "On my CD, I have songs for the hip-hop people, songs for the girls — it's not that hard to intertwine. I'm naturally like that. I was born in the inner city, but I was maneuvering through the suburbs, so I have a lot of fans out that way."
So who are the best new rappers in the city? "Besides myself, Jay John Henry is on a Detroit show on YouTube that Eminem produced," SayItAin'tTone says. "He has a good crowd. There are a lot of us, but I don't want to say too many names and then leave people out. I just tell them to keep on pushing."
On Saturday, St. Andrew's Hall hosts SparkFest III, a rap spectacle that the organizers claim is "bringing the Michigan Hip Hop Experience to the heart of the city within the walls of legendary hip-hop venue St. Andrew's Hall for an evening of some of the finest hip-hop artists and brands the state has to offer." SayItAin'tTone headlines, and he's joined by Earlly Mac, Lazarus, Seven the General and Nate Paulson. What can we expect from our man? "I just performed at the Summer Jams, so I'll be bringing my energy and swagger and show people that I'm a seasoned musician who has performed in every major city," he says. "I want to leave them with an experience they'll remember."
Don't expect SayItAin'tTone to disappear after that either. "I'd like to stick around and talk to everyone, take pictures and give out CDs," he says. "After that show, I'll be performing with Big Sean at the DTE Energy, Aug. 31. I have a lot of different shows coming up. I'm looking to push the 500 Million project. I shot two videos over in Hawaii, so I'll be putting them out."
It's impossible to guess the world's music market and predict who will be the next hip-hop artist from Detroit to break big, but SayItAin'tTone has a shot. Cool, funny and sharp, who better to represent?
SayItAin'tTone performs at SparkFest III at St. Andrew's Hall on Saturday, July 27 with Earlly Mac, Seven the General, Lazarus and Nate Paulson; 431 E. Congress St., Detroit; 313-961-8961.
Brett Callwood is a staff writer at Metro Times. Send comments to [email protected]