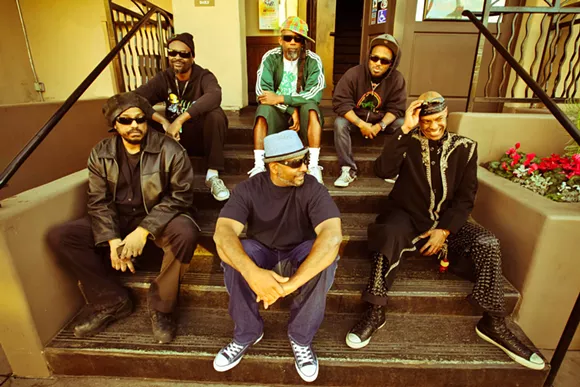 NOTE: A slightly different version of this originally appeared in our sister paper the Cleveland SCENE.
Fishbone plays
the Shelter tomorrow, Friday, June 3
. Tickets are still available
right here
.
There's some hefty weight behind the claim that Fishbone is one of the greatest live acts of all time. Take a spin through their catalog and note the tight, tight musicianship through every era of the band — then check out the vast archive of live video from their incessant touring: It's all of a piece, and it's all awe-inspiring.
Of course, Fishbone has always kept in tune with its fans and with the national context of their work. With a penchant for socially conscious songwriting and a peppy sense of gallows humor about the state of American affairs, Fishbone's music might be needed now more than ever. (And I think we can all agree that the Reagan years were twisted enough.)
Since 1979, Fishbone has built a dynamic career on blending funk, metal, ska, punk and so much more. Bassist Norwood Fisher tells Scene that some of the most important influences that sparked the band's creativity were George Carlin and Muhammad Ali — vocal critics of the political and social status quo.
"Political satire is one of the best ways to get your point across," Fisher says.
It's true: Planting your tongue in your cheek as your point out deep, tragic social ills tends to at the very least attract some attention. Fishbone never grew to the heights of popularity that they might have deserved, but for more than three decades they've had a rapt audience.
"We come in bringing that A-game," Fisher says. "Fishbone has been know for our live shows, and we intend to bring the stomp down. The audience will let us know if we're going it right. We come with the intention of keeping the dance floor hot." The band's catalog runs deep, and the setlists on this tour will no doubt encompass a wide variety of Fishbone classics. (The band is working on new material, too, but don't expect to hear any of that at Friday's show at the Shelter.)
Still, there's work to do. This band is not one to rest on its laurels. On one hand, the world around them might seem to be changing, but, really, these guys are up against the same forces that inflicted the country when they started out.
"How a song like 'Ghetto Soundwave' is still relevant is saddening to me," Fisher says. "It doesn't give me great joy. There was a point when the Cold War was over, and I was like, 'Man, these kids don't know nothing about Russia being a threat,' you know? But right now I'm looking at Syria and Iraq and I'm going, 'It could jump off at any moment.' There is a renewed Cold War."
The only solution? Well, it's time to dance. Fishbone will bring the music.