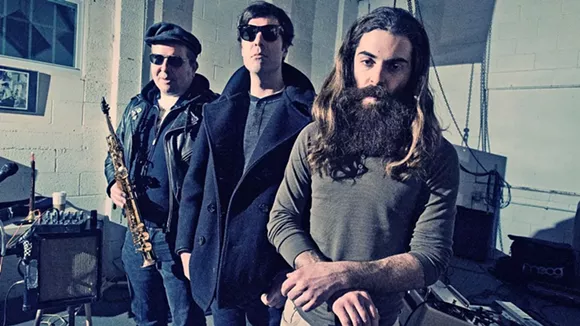 The long-running Michigan noise band Wolf Eyes is donating all sales from its
bandcamp site
— where they have dozens of recordings on offer — to three human rights-based institutions until the early afternoon today in response to the news of Donald Trump's election (this 24 hour sale was posted online yesterday afternoon, but we just caught wind).
They have made all their music available for free, at a pay-what-you-want rate, and then will donate all funds received.
Similarly,
as Resident Advisor reports
, the
local label FIT Sound
is also donating all sales to progressive causes.
As Wolf Eyes posted on their Facebook, "Although many hear Wolf Eyes as an 'end of the world' band, and surely it feels that way for many, our hope is that it too can be some light in the darkness."
The Wolf Eyes website,
www.wolfeyes.net
, has been blacked out save for a single sentiment, perhaps crude but straight to the point, representing the band's support for its sisters, people of color, LGBTQ, the disabled, the poor, and all of our freaks out there experiencing systemic oppression under the white straight male order.
Since Bandcamp allows a "pay what you want" structure when a release is technically made available for $0, Wolf Eyes will donate any money that comes in during the next 24 hours to a number of charities benefiting the groups above, making the transactions completely transparent and available on the website.

FUCK TRUMP, TRIP MENTAL - HERE'S WHERE WE WILL DONATE:

Border Angels, an "all volunteer, non profit organisation that advocates for human rights, humane immigration reform, and social justice with a special focus on issues related to issues related to the US-Mexican border." We will provide an event split among their current five causes.

Ruth Ellis Center of Highland Park, MI which exists to "provide short-term and long-term residential safe space and support services for runaway, homeless, and at-risk lesbian, gay, bi-attractional, transgender and questioning (LGBTQ) youth."

Planned Parenthood, which we will likely choose to donate to a local center so that it may go toward services rather than development if sent to the national level of PP.