Singer-songwriter Seth Bernard has been balancing his creative side with his activist side since he first started releasing recorded music 18 years ago. Throughout the last two decades, this bearded bard from Lake City has been cultivating connections with like-minded artists, as well as with socially and ecologically conscious nonprofits and community organizations.
If you see him perform on Saturday at Music Town with Vespre, Juuni, and Audra Kubat, you'll get to learn about his latest project, Title Track.
Bernard says that Title Track's mission is to engage Michigan's creative practitioners — musicians, poets, storytellers — to come together in "building resilient social-ecological systems that support clean water, racial equity, and youth empowerment."
And Bernard's set up quite a multifaceted team at Title Track, including Kaylan Waterman (the Detroit singer-songwriter known as Vespre), Jenny Jones (an Ann Arbor singer), Wayne Ramocan (produder and drummer of OneFreq), and many more, including Joe Voss, a Kalamazoo-based attorney who's a guru in creative collaborations of artists with nonprofit causes. Bernard has championed several causes throughout the arc of his career as a folk singer (he's released more than a dozen albums to date), and not just by way of his recent contributions to panels discussions and spearheading the Clean Water Campaign for Michigan, but all throughout the entirety of the 18 annual Earthwork Harvest Gathering music festivals that he's hosted up at his family's farm.
"In my experience, there's such a positive and mutually beneficial thing that happens when artists become involved with causes because those causes are invigorated by the creative energy, and those artists are then uplifted by the meaningful work," he says. "It can also onboard more people just by increasing the visibility, by bringing people out to something like a live music event."
Bernard says he's "very excited" about Title Track, noting the individual efforts and causes that members such as Ramocan, who performs as Juuni, have been involved in, such as co-founding the D.Cipher Collective, among many other community and artist-focused projects. "I'm just honored to be working with all of these people who really inspire me and bring unique things to the table," he says.
Waterman, another Title Track teammate, is the operations manager at Assemble Sound; she recently helped bring to fruition a collaborative album of field recordings from Michigan state parks mixed with musical arrangements by local artists for the Pure Michigan campaign.
So what Bernard and his team are working toward is coordinating enriching collaborative programs and educational content designed to bring much-needed attention to troubling and challenging issues that communities across Michigan face — be it clean water, social justice, native issues, climate change, and more. Bernard can sum up their focus as succinctly as possible in three words: "Water. Equity. Youth."
"I've worked with a lot of nonprofit organizations over my whole career, and I realized early on that there are really so many great groups around the state" Bernard says. "More recently, as I was starting to do more targeted touring and a lot more cultural work as a part of that touring, appearing at conferences and panels and events, I realized it was really time for me to step into what had become this clear, unique lane that I'd been working in these past few years."
A connection forged even before the first Earthwork Harvest Gathering in 2001 wound up expediting Title Track's recent online launch on Earth Day. "Sally Van Vleck, a hero and mentor of mine, she formed the Neahtawanta Research and Education Center with her late husband, Bob Russell, back in 1987, and they have been an incubator for so many activists and artists up here in Northern Michigan," he says. "And I invited her to be on the (Title Track) board, but six months in, she told me she would be dissolving her nonprofit and decided it made most sense to give their assets to Title Track. It was a huge blessing, a legacy piece; we could have the torch of their 501(c)(3) nonprofit, bringing our own mission and bylaws and staff, but aligning with their legacy. So essentially, they didn't have to dissolve, and we didn't have to start from scratch."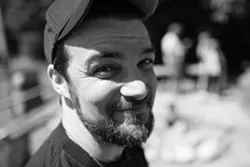 Some of the programs they're preparing include a creative empowerment and ecological education project for teens that would take them on canoe trips with indigenous leaders on the Flint and Saginaw rivers, culminating in a songwriting and recording project. There will also be Anti-Oppression Workshops in Northern Michigan, and later in the summer (July 10), a Detroit version of the Earthwork Harvest Gathering at the Dequindre Cut Greenway, with Will Copeland (aka Will See).
Bernard says that during the last couple years' build up to Title Track, he'd observed more than a few similar nonprofit organizations starting up without having sufficient collaborative relationships set in place. Before Title Track could launch, Bernard made sure he had a sturdy connection with coordinators from groups dedicated to other ongoing efforts, be it youth development, racial equity, or with folks like Chris Good, an Ann Arbor-based singer-songwriter who doubles as a key team member for both Title Track and the Clean Water Campaign for Michigan.
Add to the list of Title Track's community-focused collaborators Joe Short, founder and president of Bellaire-based Short's Brewing Company (who happens to occasionally play in a band with Bernard). Traverse-based indigenous attorney, activist, and singer Holly T. Bird is a board member as well, and Bernard praised Bird for her work providing front-line legal defense and civil representation for the water protectors in the Standing Rock Indian reservation in North Dakota.
And while we're tallying up concordant efforts by Title Track associates, we should mention that singer-songwriter Audra Kubat (who performs this weekend at MusicTown), is channeling her years of educational work into a renovated home where she'll be planning workshops and setting up a studio space. Bernard said that that was just another example of how "involved" his allies are: "There's always a lot going on, because along with her educational work, she also puts on the Detroit Folk Festival," he says. "We just appreciate being in a region that's such a global cultural hub."
Since it just launched, Bernard admits that Title Track "may look like something 'new,' but, really, all of us have been working in these respective lanes for a long time," he says. "And a lot of us have been friends for a long time as well, so it made sense to me for us to come together and make all of our work more cohesive."
Title Track will launch in Traverse City on Thursday with music and spoken-word performances by artists and activists like Flint's Amber Hasan. Then they'll bring the aforementioned lineup of Audra Kubat, Vespre, and Juuni to Detroit's MusicTown Saturday, along with speakers Baldomero Gonzalez and Nicole Lindsey.
Bernard adds that it's also been important to everyone involved with Title Track to bridge advocacy efforts in Northwest Michigan with Southeast Michigan. "In the environmental movement up here, it's important to be aware of what people in frontline communities are facing, to protect the Great Lakes, but then to remember that there are folks in Detroit getting their water shut off and people in Flint paying outrageous costs for water that isn't safe five years after facing the same problems," he says. "So we're looking through the lens of environmental justice, and using music to connect the state."
"I learned early on from my mother and my mentors that the best way to get started is to help the helpers," Bernard says. "We don't have time to be working in competition; we have to collaborate."
Title Track launch party is at 7 p.m. on Saturday, May 11 at MusicTown, 2301 Woodward Ave., Detroit; 313-288-0692; titletrackmichigan.org. $15 suggested donation.
Get our top picks for the best events in Detroit every Thursday morning. Sign up for our events newsletter.