...for music-based benefits to help those less fortunate. Here are a few coming up in the very near future:
In observance of World AIDS Day (WAD) 2008, which took place, as it does every year, on December 1st , the Los Angeles-based humanitarian organization, NextAid, is uniting North American dance music communities from coast to coast, including the scenes in Los Angeles, San Francisco, Phoenix, Omaha, Denver, Syracuse, New York, Brooklyn, Boston and Detroit, to raise funds and awareness for kids in Africa who have been orphaned due to the AIDS pandemic.
The Detroit event take place this Saturday, December 13th, as part of Radio Skool's regular spinning club at the Park Bar, 2040 Park Avenue, Detroit,. The event runs from 10 p.m. to 4 a.m. and will feature DJ's Stacey Pullen and Mike Brown. Tickets are $15 before 1 am and $20 thereafter. For more information, click here.
NextAid's slogan is: "Using the beats of our generation to provide hope for the next.. The organization is hoping to raise its minimum goal of $29,000, which will be used to complete NextAid's pilot project -- namely, the construction of a home for children orphaned by AIDS with a Vision Community Center and Children's Residential Village in Dennilton, South Africa. It's a great cause, folks.
*****
We also heard from Howard Hertz, whose son Ryan Hertz is now the executive director of HOPE Hospitality and Warming Center, a homeless warming shelter in Pontiac. A fundraiser -- presented by On the Rocks Detroit and sponsored by the Detroit Music Awards, Billboard.com and 93.9 The River -- is being held at the Crofoot in Pontiac next Thursday, December 18th, as the shelter is in need of funds for sleeping mats and to get through the cold winter ahead. An all-star lineup of local singer/songwriters will be on hand, including Vinnie Dombroski (Sponge, Crud, the Orbitsuns), Ty Stone, Whitey Morgan, Brandon Calhoon (Smokin' Moses), Robin Horlock, Don "Doop" Duprie (Doop & The Inside Outlaws), Eliza Neals and Frankie D'Angelo. There is also a fundraiser at AJ's Café in Ferndale (240 W 9 Mile Rd) this Sunday, December 14th during which 25 percent of all ticket sales for the 2 p.m. performance of The Birth of the Baby Jesus (Hay-zeus) will be donated to the organization. The musical comedy, written by AJ O'Neil, tells the story of a homeless couple and an unplanned pregnancy. The $20 tickets include drink, entrée (roll-ups), dessert and show.
*****
Finally, our friend Marcie Bolen alerted us to the Ferndale-based Flip Salon 's hair, fashion, and music show at Cliff Bells this Sunday, December 14th, featuring entertainment from the Hentchmen, the new Skies Above (the "supergroup" featuring members of the Go and the Readies, which we first mentioned here several weeks ago), DJ Anytime (aka Steve Nawara) and MC
Esquire.
Stylists from Flip Salon and clothing from Mother Fletchers, Wounds Menswear, House of Chants and Familia will also be on hand, as well as a raffle for products and services at Flip Salon. The show is a benefit for Freedom House Detroit, which assists those who seek asylum in this country and offers legal representation, food and shelter, referrals, education, job training and transitional housing. Doors are at 8 p.m., with a $10 donation that'll go directly to Freedom House.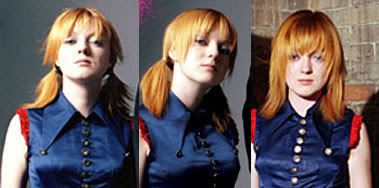 Marcie Bolen: In the spirit of the season...