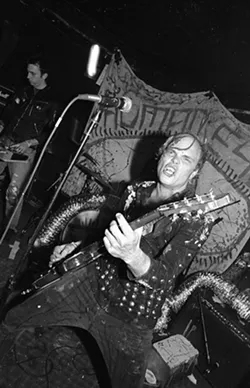 As summer culminates in a burst of festivals, one grungy underdog of that explosion of fun has been the Panic in Hamtramck, which started leaving its psyched-out fuzzed-out musical skid-mark on Hamtramck in 2004. It's more or less a one-man operation, headed by Timmy "Vulgar" Lampinen, and this would be the fest's 14th year — if Lampinen hadn't been distracted by the recent success and touring action of his band Timmy's Organism.
Plus, with the opening of Planet Ant's "Ant Hall" on Caniff, Hamtramck now has a venue that can accommodate hundreds of people instead of the smaller bars in town the Panic would usually try jamming itself into.
"I've always wanted to do it at a bigger venue," Lampinen says. "The Ant Hall is the perfect size. It can hold about 500 people, and they have a bar next door, so I could do a band in the bar and a band in the hall and have more music."
It won't be the first time punk rock has taken over the hall, which hosted at least one punk show in the mid-1980s. In fact, as a show environment, the Ant Hall may even evoke nostalgia for older punks, being a perfect throwback to the days of the Graystone on Michigan Avenue.
"You know," he says, "Panic in Hamtramck is just high-energy, wild rock 'n' roll, all my favorite bands that I've seen on tour or played with. These are the ones I could get to play."
The Panic will run for three nights, Friday, Saturday, and Sunday, at the same time as the first three days of the Hamtramck Labor Fest. "Basically, it's like the afterparty show from Labor Day fest, right down the street from it," Lampinen says. "I imagine everybody is going to be pretty lit and sauced up from that already."
Food will be provided by Dangerously Delicious Pies. Two bars will serve cheap beer, and the Ant Hall provides the space, as well as what Lampinen calls "a really good sound system."
We asked Vulgar to walk us through some of this year's highlights:
The Buzzards
"This is a band that used to play at the Gold Dollar and the Magic Stick back in the day, with Joe Dirty of the Dirties and members of the Detroit Cobras. It's really cool, like, garage trash."
Human Eye
"My band Human Eye is playing with Bill 'Hurricane' Williams, who's on the first three albums. We haven't played with him since 2011." Also, Lampinen says the band, which hasn't played out in about two or three years, will offer some new songs.
Mondo Sensorium
"Nai Sammon, guitar player and visionary songwriter of the Piranhas, one of the most notorious punk bands in Detroit, has a new group called Mondo Sensorium, and it's members of Druid Perfume and Wade Kergan, the owner of Hello Records, and a female singer, kind of like a David Bowie, glam prog weirdo punk. It's progged-out, and there's a lot of cool changes. There's a saxophonist, bass, guitar, and the same drummer of Human Eye, 'Hurricane' Williams, with like a 16-piece drum set. [laughs] They're very original."
Ricky Rat Pack
"Ricky Rat of the classic Detroit glam-pop group the Trash Brats and now a member of Cheetah Chrome's Dead Boys. His solo work is raw glam punk."
Mr. Clit & the Pink Cigarettes
"A three-piece band, and it's a female rhythm section with a dude singing and playing guitar. They're really cool, kind of '70s punk, and they dress all crazy and wild."
Flesh Rag
"Flesh Rag is from Hamilton, Ontario. They're really cool, like a Detroit-sounding hard punk rock, kind of an MC5, Stooges feel, very high energy."
Brainwashed California
"They're a super-entertaining band from Cleveland. The guitar player is some old dude who I think had train-hopped to Cleveland and started playing music with these guys at a bar called Now That's Class. I would say they're the punkest band in the world."
Gary Wrong
"Gary Wrong is flying up from Mobile, Ala. He was also in a band called Wizard Sleeve. He's pretty well-known around here from playing Panic in Hamtramck, in the past, and playing shows in town on tour. It's like synthesizer space punk, outer space shit."
Detroit 442
"It's Lacy [Sterling]'s band, you know he's been around since the late '70s early '80s with Son of Sam and the Hillside Stranglers, and I'm stoked to have him play. He's a living legend, and punk-rock lifer, touring Europe twice a year."
Werewolf Jones
"This is a local younger band, with Adam Hunter from Fake Surfers. They're really cool. I saw them play this year and they reminded me of Bad Brains."
The Beauticians
"Another really good younger band. They're like farfisa keyboard punk, kind of like the Huns or something, just late '70s weird keyboard punk. The singer's got a great stage presence. He's crazy, falls off stage."
Prude Boys
"These guys are friends of mine. They've been touring a lot and their records are kind of like power pop garage surf."
Sui!
"That's Cory Weedon from the Sugarcoats, a solo project, kind of sounds like the Fall or Suicide or something."
The Moonwalks
"Moonwalks are a popular younger band with a good following, playing, like, fuzzed out, pscyh-garage rock and roll. They got a good following.
Trouble Boys
The Trouble Boys are coming up from Austin on Sunday. They're really cool, like, GG Allin-like glam punk."
Doors open at 9 p.m. Friday-Sunday, Sept. 1-3, at the Ant Hall, 2320 Caniff St., Hamtramck. For more information, see Panic in Hamtramck's Facebook page. Wristbands for the whole weekend are $26, available at Planet Ant's website, or admission for one night is $10.