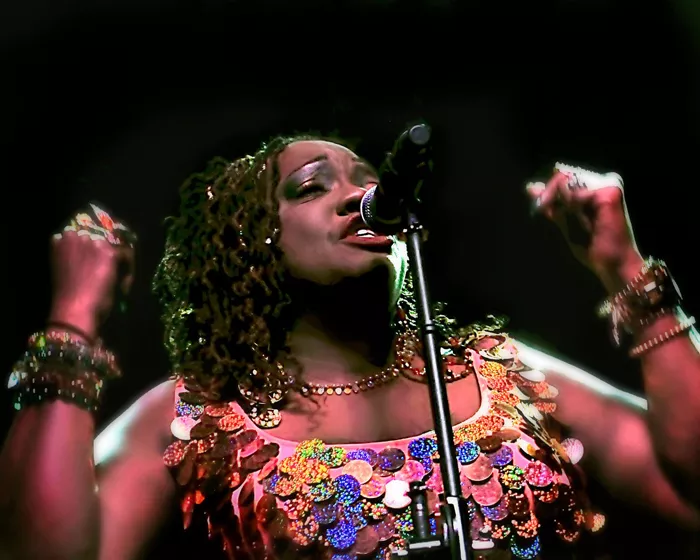 The Detroit area has no shortage of festivals, covering music of all genres. From Dally in the Alley and Arts Beats & Eats to the Detroit Jazz Festival and Stars & Stripes, from Movement and Hoedown to the Hamtramck Labor Day Festival and Metro Times' own Blowout, we have a festival here to suit music fans of all types. That said, there's really nothing quite like the Concert of Colors.
The free annual event was started in 1993 by Ismael Ahmed of ACCESS (Arab Community Center for Economic and Social Services), originally a one-day event at Chene Park. By 1999, 10,000 people were turning out for the festival. It expanded into a three-day event in 2001, pulling in 100,000 music fans.
The festival celebrates the diversity on offer in Detroit — the melting pot of culture that we have within reach year-round, even if we sometimes need that little nudge before throwing ourselves into it. It's not just lip service either; there will be artists at the Concert of Colors of all races and nationalities, playing many different styles of music. Many of them will be based in Detroit; some of them will be coming in from out of town.
You can hear jazz, rock 'n' roll, country, blues, R&B, electronic, hip-hop, and folk. You'll see artists from (or with roots from) Africa, the Middle East, India, and South America. The lineup includes Seun (son of Fela) Kuti, the Chicago Afrobeat Project, Latin jazz group PanaMO, Cuban Son band Conjunto Chappottin y Sus Estrellas, French-Algerian group HK & Les Saltimbanks, jazz man Rayse Biggs, Arabic techno group Wisaal, and the MC5's Wayne Kramer performing with soul man Melvin Davis.
Meanwhile, local R&B singer Thornetta Davis will be singing with the Detroit Symphony Orchestra, an oddball pairing that promises some fascinating results. "I'm looking forward to it," Davis says. "Ismael called me and asked me what I think about singing with the Detroit Symphony Orchestra. I was like, 'Really? Yeah, I think I'd love it.' We're pulling it together now. I've got a community choir singing with me. It took awhile for it to get approved and when he called me back about four months later, I had already booked a gig that weekend in Ottawa, Canada, so we'll be making that eight-hour drive that night, beelining it back to Detroit. I couldn't turn that down. It's one of my dreams come true."
Davis is a big fan of the "coming together" element of the event, particularly in a city that's seen as very divided. "I think it's a wonderful event where we can see all different types and styles of music," she says. "People come together, and wherever there's music, there's love. I just enjoy the whole thing. Here I am, Detroit's funky rock-and-blues diva, singing with a 60-piece orchestra. When I say that, people's eyes open wide and their eyebrows raise up. Like, wow. I feel that every day, knowing that it's about to happen."
---
Seun Kuti is sure to be one of the big draws. Fela Kuti remains an iconic figure in the world of Afrobeat, and Seun, from Nigeria, has been carrying on Dad's work since his death in 1997. This isn't Seun's first time in Detroit though. "I've been to Detroit and I saw two people get shot," he says. "Oh, my goodness. I had a great time — a great gig in Detroit, we were about to leave and we were playing in Toronto the next day. We didn't have a hotel in Detroit, so I said to my tour manager, 'Let's get in the tour bus and cross the border tonight.' That way we can check in early and have a bed to sleep in. He wanted to wait until the sun came up. This was about 10:30 p.m. At about 1 a.m., 'bang, bang!' Cops and everything. He comes to me and says, 'I think we should go now,' and I said, 'Fuck you, we're staying here till the morning.' The motherfucker got scared. I said, 'Now we're staying, I want to see what happens.'"
Great, another story about a visitor hearing gunshots in Detroit. The fact that Seun was fearless in that situation shouldn't be too surprising — he has been known to take on the Nigerian government with the Occupy Nigeria movement. "The government tried to impose world prices on petroleum in Nigeria," Kuti says. "That's a big plus for the common people in Nigeria — they're not paying world prices. We have it in abundance, and we pay the highest already, compared to every other petrol-producing nation in the world. Our government refuses to deal with our own refineries. They choose to import petroleum to Nigeria for huge sums of money."
Fela Kuti is adored around the world, and Seun has continued his work with the band Egypt 80. Isn't that kind of weird though — carrying on your father's musical legacy? "For me it's not strange, no," Kuti says. "It's natural to continue to spread the message. It's not strange, just natural. My father created a musical movement for the emancipation of the black man. It's a message that we believe in. That's why we continued after my father left the physical state. We believe in what he was saying, that vision of music and people — representing the majority. It's a real form of expression."
Still, you would have to think that, as an artist, Seun Kuti would want to stamp his own identity on the music. Apparently, it's a little more natural than that. "For me, there's never been an effort to try and stamp," he says. "I'm an individual, but being my father's son is part of who I am. I move my music forward, staying true to the music that we believe in, evolving to where it is today."
---
One of the most popular elements of the Concert of Colors is Don Was' All-Star Detroit Revue. Every year, Was convinces a bunch of local musicians to join him onstage, usually for one song each. This year, the talent includes Blaire Alise & the Bombshells, Scott Morgan & the Sights, Spyder Turner, the Detroit Cobras, Liz Larin, Nadir, Doop & the Inside Outlaws, and Luder, among many others. The theme of this year's jam is Bob Seger's Live Bullet, with each artist and group performing one song from that famous album with Was. Blaire Alise, who is having an incredible year so far thanks to some successful tours and a great album, can't wait.
"My bandmates went last year and they said it was totally fun," she says. "I think Wayne Kramer was playing last year and they said it was great. Don Was is playing bass for us. OK, we're borrowing him from Ringo Starr for a little bit. That's not bad at all. I'm not complaining."
Alise and her Bombshells will be performing "Get Out of Denver." "I was listening to that song and I was like, 'OK, this song is great. It'll totally work well for us, I'm gonna do it,'" she says. "Then I listened to it again and I was like, 'Oh my god.' There are so many words. It's basically a rap song. I'm really going to have to work this out. So I've been listening to it nonstop for the past month, practicing it and trying to make it become second nature, because I really do not want to mess up in front of Don Was."
You can be sure that she'll be ready though. "Oh, yeah, we've been practicing," Alise says. "I'm really excited. [The Sights'] Eddie Baranek's going to be playing guitar with us. It's been good. We're practicing with Don the night before and I'm really excited to meet him. Of course, I'm a fan of his work. It's pretty amazing — he produced the Rolling Stones. I'm excited, I can't believe I'm getting the opportunity to play with him."
Similarly, Thornetta Davis is getting pumped and prepared for her set with the DSO. "I'll be doing some original stuff, stuff that I'll be releasing on my next CD," Davis says. "Also, a couple of gospel tunes that I've always loved, and one of my favorite songs, a Ray Charles version of a tune. I hope to get people off their seats, dancing around. I've got one rehearsal scheduled with the orchestra, coming together with the band and the conductor. This is my first time with a full orchestra. I've done some big band, but this is major. It's a big deal."
Meanwhile, Seun Kuti says that his new album, A Long Way to the Beginning, will basically be the set. "It's a very powerful set that we have," he says. "It's a new show from the last time we were there. I'm looking forward to it."
Blaire Alise is certainly thrilled. "I'm excited to see everybody else play at the revue," she says. "I love the Cobras, and I'm really excited to see the Sights backing Scott Morgan. That's going to be really cool. It's just a great mix of people, and I'm excited to hang out with people that I haven't seen in a while, meet some new people. I'll be hanging out for the rest of the festival too. I love seeing bands play the DIA, so I'll definitely be seeing that. It's a very cool venue for bands, and I love world music."
Well then, you, dear Blaire, are in for a treat.
The Concert of Colors takes place on Thursday, July 10 to Sunday, July 13 in Midtown, Detroit, and it's free. For more information, go to concertofcolors.com.