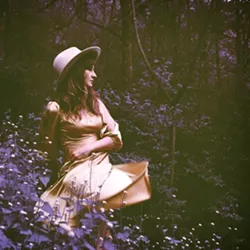 After a successful showing at this year's SXSW music festival in Austin, Texas, Third Man recording artist Margo Price will make her SNL debut this Saturday, April, 9, with actor Russell Crowe tapped to host.
Price is a country artist who sounds like she should have been making music 40 years ago. Her debut album
Midwest Farmer's Daughter
was released through Third Man a little more than a week ago. Price played at the newly opened Cass Corridor store last month.
This booking is not only exciting for Price, but also for Third Man, as SNL rarely books unknown artists who come from independent labels. Make sure you tune in to see alt-country's next big thing at 11:30 p.m. on Saturday, April 9, on NBC (or watch it the next day on Hulu if you don't have cable).
Check out Margo Price's latest single, "Hurtin' on the Bottle."