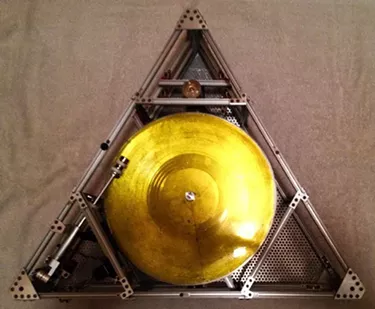 Third Man Records is nothing if not
ambitious
. Tomorrow, Saturday July 30, in celebration of the Nashville-and-Detroit-based label's seventh anniversary, they are going all out (and, also up)!
They've engineered their own record player and balloon-based craft to hit the proper space-y altitude and play the thing all the way up there for our alien friends' enjoyment.
In Detroit and Nashville at the Third Man stores, there will be
special parties with live music and entertainment
(and of course, special merchandise). Can't make it out? You can stream a live webcast of the launch at the link below. It should start working by noon on Saturday, July 30. Fingers crossed all goes as planned!
This is supposed to be the first record to be played anywhere near this altitude. The astronauts brought music with them, of course, but that was in the form of cassette-based media. Also, that was within the atmosphere inside of a space craft; in order for the Third Man player to function, they must also have allowed for some form of atmosphere to remain, or else it will not g up quite so high as to reach the utter vacuum of space.
NOTE: This is not the first playable record to have been sent into space; that's naturally the infamous
Voyager "golden record,"
a project Carl Sagan worked on. That record is intended to be played by extraterrestrials, who to our knowledge have yet to do so — or, if they have, they've yet to tell us how good they thought it is.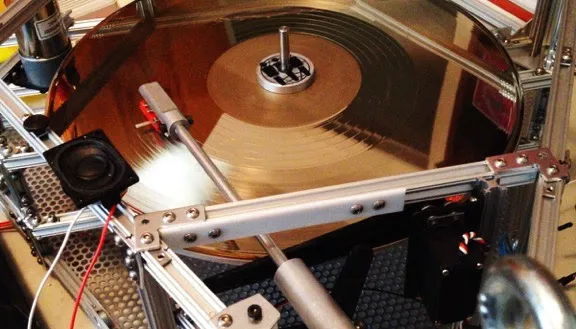 Third Man will reveal their attempt to play the first phonographic record in space - a gold-plated 12" master of Carl Sagan's "A Glorious Dawn" (a moving arrangement of Sagan's sagacious words culled from his magnificent Cosmos series, previously pressed and distributed as a 7" in their first year of operation, 2009). This record marks the label's 3 MILLIONTH RECORD PRESSED! The vessel tasked with the mission - The ICARUS CRAFT - is a custom-built "space-proof" turntable attached to a high-altitude balloon designed by Kevin Carrico, who has NASA in his blood, and is responsible for assisting in the restoration of many of Third Man's machines (Third Man Recording Booth) to working order. Kevin and the Third Man team are aided in their endeavor by SATINS* (Students and Teachers in Near Space).

To celebrate the occasion, Third Man Records will be hosting (literal) launch parties at both its Cass Corridor and Nashville locations, where the viewing of the mission, as well as live bands, exclusive, commemorative merchandise, and limited edition, 12" gold vinyl copies of the 3 millionth pressing, "A Glorious Dawn" will be available for purchase, as well as a few other limited, exclusive LP offerings. In Detroit, the ICARUS CRAFT will be on exhibit with its creator Kevin Carrico answering questions, and in Nashville, the gold-plated record will be displayed. Visitors can take Third Man Impossible Project instant-photos with the ICARUS CRAFT, Gold-plated record, or with designer Kevin Carrico, if you ask him nicely.

Both parties will feature live music and DJ's (to be announced this week) and will begin at 11am EST/ 10am CST with a takeoff time of exactly 12pm EST / 11am CST.

The pre-recorded launch will be shown at both locations AND streamed online (details to follow) however, exclusive records and merchandise will only be available at Third Man's physical locations. To avoid waiting in line and be a part of the party at Third Man Cass Corridor and in Nashville's Blue Room, Third Man Records will offer a limited number of the STELLAR TICKET, which grants access to entertainment and guarantees a bag set aside with your name on it containing each exclusive merch item and a copy of the record. STELLAR TICKETS are not yet for sale, and further details will be announced mid-week.

Those who opt not to purchase a STELLAR TICKET will still be able to purchase the record and merchandise in each respective storefront (the Carl Sagan Record will not be available until after the screening), but will not be guaranteed accommodation to watch the launch on-site or admission into the launch party.

Also in celebration of Third Man's 7th anniversary, customers both in-store and online will receive 30% off their entire purchase!!! (Bundles and exclusive items do not apply.) The discount will be taken at checkout.

Third Man Records is over-the-moon with excitement to pursue and share with you the ICARUS CRAFT's mission to spin a record further from Earth than a record has ever been spun...Plan to join us and witness history in the making! You got something better to do?