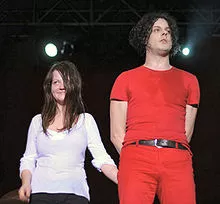 Any White Stripes fan knows that the day Jack and Meg decide to bury the hatchet and reunite for an album or tour will be the day that the Earth stops spinning, but considering Donald Trump made the duo come together may actually mean that the Earth could be at a standstill very soon.
The co-founders of the band released a joint statement regarding Donald Trump's use of the song "Seven Nation Army" in a campaign video.
"Regarding the use of 'Seven Nation Army' in a Donald Trump campaign video, The White Stripes would like to unequivocally state that they have nothing whatsoever to do with this video," the band said in a statement issued through Third Man Records. "They are disgusted by this association, and by the illegal use of their song."
The White Stripes are
not the only band
to tell Trump to stop using their music. The Rolling Stones, Adele, and R.E.M. are just a few artists who have told Trump to cut the shit.
Will this coming together against Trump inspire The White Stripes to give it another go? Probably not — but we can always hope!