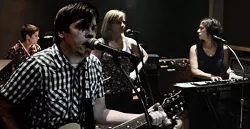 John Nelson knows he has to get to the point, otherwise he risks losing his audience — any audience: the stiff-shouldered, fidgety bar crowd or the students he instructs in his art class. Nelson gets it because, if you're not engaging enough, play too many songs or lecture for too long, neither assembly — scholarly or rambunctious — will stay tuned in.
Nelson, New Girlfriends' frontman, has been writing and performing in the Detroit area's music community for 10 years. Starting bands with friends he'd made while studying at the College for Creative Studies, he's steadily honed his own signature blend of indie rock and punk. The art teacher's songs are softhearted, but can snarl a bit too; edgy with angst, but sweetened with a bit of freewheeling pop sugar.
Nelson, who lives in Royal Oak, is a bit of an outsider on the scene: a grown-up suburbanite with a day-job who just happens to have a knack for exuberant two-minute, whirlwind rock songs.
He's quite busy these days, splitting time between three groups, including revved-up rock outfits Destroy This Place and Copper Thieves. We only asked Nelson about the New Girlfriends.
Metro Times: Was this band a way to play the songs from your solo album [Things in My Mind] live?
John Nelson: Yeah, I met Erin [Ginger], who sings on the record, actually, through another friend, Shannan [Hibbard-Melkonian], who, herself, plays keys and sings in the band. Shannan's a longtime friend and Laura [Witkowski], the drummer, we'd also gotten close over the past few years, so this was all kinda natural for us to start playing together. The record came out, so I asked them if they wanted to play. They agreed. We rehearsed. We had fun.
MT: What'd it mean for you to put this record out?
Nelson: We tried keeping it as authentic as possible. I've been in bands where I've written the majority of songs but never put out anything under my own name. My marriage had recently ended and I wasn't in a good state of mind. I started writing all these really personal songs that didn't feel right for any bands I play in. I was into the Louvin Brothers, Gram Parsons, Townes Van Zandt and Kitty Wells and Norma Jean too, and the songs reflect that. I didn't want to overthink any of the songs — if they only clocked-in at a minute-and-a-half, whatever.
MT: What's songwriting and performing like having to keeping three separate bands in mind?
Nelson: I don't write in any conscious style. The louder, faster ones end up in Destroy This Place and the more rock 'n' roll-feeling ones seem more like Copper Thieves; and then there's the more personal, lyrically inward songs. Performing with the New Girlfriends is a different thing; everything is exposed. You can hear all the parts, I have to show some restraint, turn my amp down. Erin and Shannan are great singers, so I try harder to sing with them. There's no hiding behind a wall of guitars.
MT: They say music scenes can sometimes feel like glorified high schools. What have you learned from rocking in Detroit's melodious study halls?
Nelson: I have a song, "Gold Dollar," about my experience coming up in the late '90s Detroit rock scene. Nostalgia! But, now, I don't even try keep up like I did when I was in my 20s — with lots of new bands getting attention for a minute and then going away. Bands can barely put out a second record, let alone have a career. So, I like finding out about older stuff, going to record stores and flea markets. And now, I just write songs that have heart and mean something. People relate to it if it's honest. And, it doesn't hurt to have hooks and cool riffs. Play music with your friends, people you get along with. Egos are dumb. Play lots of shows, but not on weeknights! Don't sweat everything.
MT: Finals are coming up. Are all your bands turning in term papers, soon?
Nelson: I've gotten used to the balancing act. Destroy This Place has a record coming out next month and so we'll do some weekend touring. Copper Thieves has a 7-inch single out and I hope to record more with the New Girlfriends this summer.
John Nelson and the New Girlfriends are performing at 10:30 p.m., Friday, May 3 at Found Sound Records, 234 W. 9 Mile Rd., Ferndale.
Jeff Milo writes for Metro Times. Send comments to [email protected]