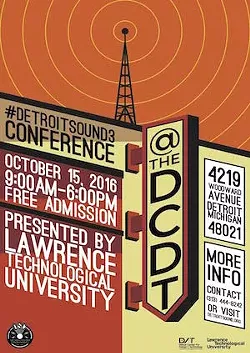 The Detroit Sound Conference
starts at 9 a.m. (and runs until 6 p.m.), tomorrow, Saturday, Oct. 15 in midtown. It's presented by Lawrence Tech and the Detroit Center for Design and Technology and is being held this year at 4219 Woodward Ave.; attendance is free, but participants are encouraged to
RSVP here
. A benefit concert will be held later in the night and details for that are
right here
.
The Detroit Sound Conference is a music conference unlike any other, and was put together in a way that really reflects the region in spirit and substance. We are lucky to have it, and it remains more obscure than it should be. The thing "exists at the intersection of grassroots activism, scholarship, preservation, design, and sheer love of Detroit music," and is rightfully billed as a great opportunity "to weigh in on and get involved in Detroit's sonic legacies and futures."
We've attended the first two years, and been blown away by the scope of the event, and its general liveliness. This really is one of the best things happening in Detroit if you are a music head — whether you lean to the scholarly side of things or you just like stuff. Seriously, get on over there.
We're particularly excited about what Marsha Music has to say, and to hear Melvin Davis' keynote speech, and to hear Thomas Calkins' presentation "Down on the Street: Detroit's shifting record store landscape, 1970-2010." Also, Alyssa Mehnert's "A Constant Stream of Requests: McKinney's Cotton Pickers on the Radio 1927–1931" has to be excellent. It's hard to pick, and maybe silly to, as well. Also, John Sinclair is gonna be there!
What looks best to you?
Heck, you might even be able to score a copy of
Heaven Was Detroit
(though, we're not promising anything — we just know they're floating around out there already/finally).
The full schedule follows:
9:30 Introductions, Gallery
Welcome
Carleton S. Gholz, DSC Executive Director
Introduction
Paul Schauert, Conference Chair
10:00 – 11:15: Panel 1, Gallery
Alyssa Mehnert, A Constant Stream of Requests: McKinney's Cotton Pickers on the Radio 1927–1931
Veronica Johnson, What About Us? Community Archiving and Documenting the Legacy of Detroit Female Jazz Musicians
Marsha Music, On Land of the Blues
Leo Early, Tuning the Grande Ballroom
11:30 – 12:45 pm: Panel 2, Gallery
Heaven Was Detroit: An Anthology of Essays on Detroit Music from Jazz to Hip Hop & Beyond
M. L. Liebler, Moderator & Editor
Panel: Jim Gallert, Melba Joyce Boyd, John Sinclair, and Robert Jones
11:30 – 12:45: Panel 3, Conference Room (2nd Level)
Nominating Detroit's Recording Legacy: The Preservation, Restoration, and Revitalization of Recording Studios on Detroit's West Side
Panel: David Goldstein (National Park Service), Ariel Schnee (Colorado), Kat Slocum (Wayne State), Valentin Pulido (Eastern Michigan)
11:30 – 12:45: Studio B (2nd Level)
An "Open Masterplanning Session for the North End" led by ONE Mile / D.A.M.I., the Detroit Sound Conservancy, SDG Associates, and DetroitWiki.
LUNCH 1:00 – 2 pm
Popup by NOODL / Sponsored by The Detroit I Love
2:00 – 3:15: Panel 4, Gallery
Howard Hertz, Reclaiming Our Title as a World-Class Music Capital
Respondents:
Lamont Robinson, Rhythm & Blues Hall of Fame
John Collins, Exhibit 3000 at Submerge
Bryce Detroit, Detroit Afrikan Music Institution / ONE Mile
Chair: Adriel Thornton, DSC Adviser
3:30 – 4:45: Panel 5, Gallery
Towards the 100th Anniversary of Detroit Radio
Kathleen Battles, Radio Preservation Task Force
Mike Sheppard, Northern TV & Vacuum
Ed Wolfrum, Audio Graphic Services
Jeff Lilly, Michigan Antique Radio Club
Karen Samuels, WGPR-TV Historical Society
Scott Gordon, Deep Space Radio
Chair: Craig Maki, DSC Adviser
3:30 – 4:45: Panel 6, Conference Room (2nd Level)
Alia Benabdellah, Détroit, a French Vision of the American City
Andrew Normann, Art is Not a Crime: The Raiz Up, Conuco Southwest Detroit, and Political Community Building Through Music and Art
Thomas Calkins, Down on the Street: Detroit's shifting record store landscape, 1970-2010
5:00 – 5:45: Keynote, Gallery
W. Kim Heron, For James T. Jenkins
Kim Schroeder, Introduction of Melvin Davis
Melvin "Detroit Soul Ambassador" Davis, Keynote and Q&A
5:45 – 6:00 Conclusion, Gallery
Nandi Comer, Techno Poetics