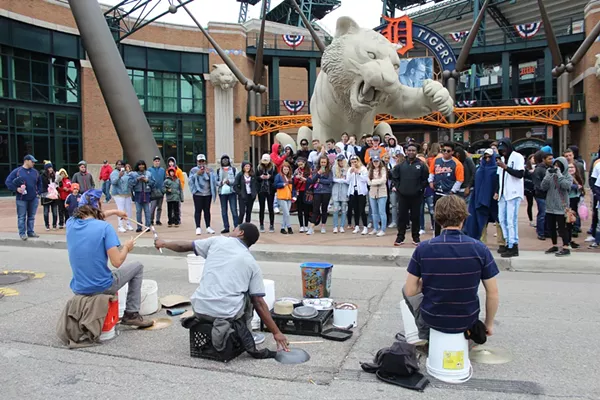 Three drummers are set up in the middle of a closed-off road in front of Comerica Park, sitting on milk crates above plastic buckets, pots, pans, and old cracked cymbals of all sizes. Walking toward the park on any big event day, you can hear them from blocks away: the boom and crack of drumsticks on five-gallon buckets across Woodward Avenue.
The drummers are Miles Hubbell, Phil Dage, and Deon Forrest, who goes by "Trap." If the Tigers play, they are known as Heat, Sizzle, and Flame. Since 2010, these drummers have supplied the soundtrack to Detroit sports — their sounds are synonymous with a day at the ballpark.
"We're here to make the people dance," Hubbell says. He also plays in the Vonneguts, a very fine Detroit garage band who combines the energy of the Black Lips with the psychedelic cynicism of Country Joe and the Fish. "What we try to do is get people to loosen up a little bit and be comfortable with being themselves around music."
Hubbell, Dage, and Trap have an undeniable internal cadence beneath all of their playing. Each drummer plays a different pulse on their own buckets and pots, and they come together to form a collective polyrhythm. The drummers drop in and out of different patterns, change tempos at the drop of a dime, and cater to their hometown crowds with "Here we go, Ti-gers!" chants.
Rarely do they miss a beat.
On Thursday, April 13, the group meets in front of the big tiger statue in front of Comerica and begins to play around the fourth inning. Inside, the Tigers are getting shelled by the visiting Minnesota Twins in the midst of a four-run Anibal Sanchez pitching meltdown, eventually losing 11-5. Outside, Heat, Sizzle, and Flame set out three buckets for tips and dive into their drum ditties.
The sky is gray and the wind blows — the temperature reads 50 degrees, but it feels colder. Despite the chill, the bucket men continue to bang out in T-shirts and tank tops like the team has already made it into the dog days of summer.
The cold doesn't deter a Detroit bucket drummer. "[When the temperature drops] we go harder," Trap says.
In the middle of the fifth, a group of teenagers on a high school trip gather to watch the drummers. Many of them whip out their phones with haste, hoping to capture a quick Snapchat. A few dance but keep a safe distance from Heat, Sizzle, and Flame so as to not knock over any buckets.
This quick burst of percussive street performance breathes life into a gray weekday, creating a momentary dance party in the midst of a Tigers blowout loss.
"That is what keeps me going as a performer," Dage says. "It's not about the weather or the team winning. When the [crowds] look at you, smile, and dance, it becomes a more global experience that people are sharing in."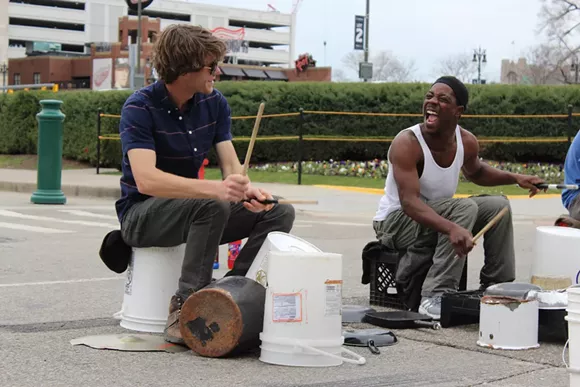 After 10 minutes, the drummers end their segment. The teenagers clap, and some even throw their spare change into one of the tip buckets. They load into a school bus. Just like that, the crowd is gone.
Dage says that asserting themselves into their spot below the giant tiger at the front entrance of Comerica Park is crucial to making money. "Every game, we try to be there," he says. "We've been at that spot since the summer of 2010, playing in front of the tiger."
In order to balance their game day drumming around the Detroit sports calendar, the drummers work jobs with loose schedules — Dage as a substitute teacher and Hubbell as a contracted home improvement worker.
"I've definitely lost a job from drumming," Hubbell says. "I could go leave and make way more money in an hour than I would [washing dishes] in a whole day."
Street drumming is not always an easy gig, and not all passersby are impressed. "You get heckled sometimes," Hubbell says. "People will kick over your money bucket or yell, 'Get a fucking job!'" But the good days are what keep the trio coming back to play.
During a Friday night home game against a Central Division rival like the Chicago White Sox, the drummers can pull in upwards of $500 for a few hours of paradiddles and "Let's Go Ti-gers!" chants. It's not a bad gig for a side hustle with no boss, no dress clothes, and no early-morning meetings.
The leniency of law for Detroit's street artists also makes downtown a ripe spot for performance. Many other major cities require a formal permit, known as a busking license, to play for money. In Detroit, however, musicians do not need legal permission to perform in public places for tips.
Their downtown drumming has also lead to more lucrative performance offers, including high-class bat mitzvahs and weddings. Hubbell said the hosts are willing to pay top dollar to have the "Sound of Detroit" at their events.
Dage does get a taste of the professional working world as a student teacher, but he uses his experiences drumming on the streets of Detroit to teach his students about pursuing their creative passions. He has even gone as far as showing high schoolers footage of him performing in the city to inspire them.
"Bucket drums have become a part of the fabric of the Detroit experience," Dage says. "If you have a talent, you can go out there and begin your craft. You don't have to go to Hollywood to do what you love. If we're able to do this, who knows what else is possible for someone who has a creative mind."
Dage, Hubbell, and Trap can be found in their usual spot at Comerica Park on any given game day; just outside of Eastern Market on the weekends; or at Campus Martius Park during the week around lunchtime, playing for the Quicken Loans lunch crowd.