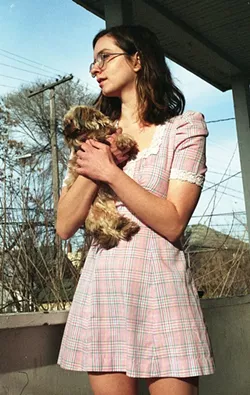 Native Michigander Stef Chura has her debut album in the can, and it's easily the best new rock record I've heard in months. It's called Messes, the culmination of seven years of playing around town (in various bands plus on her own) and working meticulously on her craft. Somehow, Messes avoids the retro trap, despite strong resemblances to Bettie Serveert, Halo Benders, Rodan, and Autoclave — all the best drowsy, weird, and anthemic indie-rock of the 1990s.
It's tough to write about Chura's compulsively addictive music without using the phrase "killer hooks." Because holy frijole, there are so many hooks on the record (and, they're killer). The music, sure, it's really accessible and sounds like these things you already like. But it's really distinctive, from Chura's delightfully weird unmodulated twang to obsessive, personal lyrics like "Why can't I watch you/ Growing in slow motion." And while Messes has no release date or label, yet, it's far too vital to stay under lock and key for much longer.
We spoke with Chura, 27, before she performs twice in one day, in two different cities on Saturday, March 5 (first at the Hamtramck Music Fest, and later at the Lampshade in Ypsilanti) before heading out of town to tour for three weeks.
Metro Times: From your earliest recordings, your voice seems to have had a lot of "twang" to it; where does that come from?
Stef Chura: The vibrato comes naturally: I actually have to go out of my way to not sing like that. Also, from an early age my dad's record collection was a huge source of inspiration for me. I listened to Devo, Patti Smith, Lene Lovich, Jim Carroll Band, and even Teenage Jesus and the Jerks. Buffy Sainte-Marie, Kathleen Hanna, and Cat Power all made a huge influence on me as well.
MT: What's it like where you're from? I heard that you're from some small town up north, right?
Chura: Yes, I grew up in Alpena — but that's not in the U.P., y'all! At my high school, there was an entire hallway christened "the farmer wall." The hallway is lined with windows on one side and viewable from outside the school, a sea of tan Carhartt jackets lining the whole thing.
As a child, I grew up in the sticks. My parents' house is in the woods, and along the Thunder Bay River. I spent a lot of time there playing in those woods. Maybe that's why I'm a weird kid. Alpena is a small town in the northeast part of the Lower Peninsula about an hour from the Mackinac Bridge. Everything closes at 6 p.m. there; it's conservative and very white. Such a boring place to grow up, but I had some really great friends. So, we got to be bored together, and I got pharmaceutical drug abuse out of my system.
MT: Can you list every band you've been in, and when those combos were around?
Chura: I started playing solo in 2009, but since 2010 I've played in three separate lineups of the Stef Chura Band. The first one was 2010-2011, with Amber Fellows on bass and Shelley Salant on drums. They both currently play together in Rebel Kind, but with opposite roles. I played a handful of shows with Brad Potts (bass) and Johnny Weeks (drums) in 2013. I also played under the moniker Diskette for about six months in 2014, both solo and backed by Lauren Moll (bass) and Alex Lee (drums). My current lineup has been a duo, backed by Ryan Clancy on drums. More recently, we've added the fantastic bassist Mack Partin, who made his debut appearance at our UFO shows two weeks ago. Oh, and I played bass in Long Whisker, from 2011-2012.
MT: How do you feel your own work has changed/progressed since you first started to play out?
Chura: I have a lot more control over my voice now. I'm much more confident when performing live. I have experimented with "strumming," and even wrote a song with a solo.
MT: Who is this Ryan Clancy guy, and why is he your drummer?
Chura: Ryan Clancy! Lover. Drummer. What more can I say about the guy? You may know him from such local bands as Jamaican Queens, Dale Earnhardt Jr. Jr., the Silent Years, Rescue, and Wafflehouse. He has been touring regularly since 1998. He loves charcuterie plates. His brother Sean plays bass in Child Bite.
We met in 2014, and were hanging out a lot when I was offered a solo show, and we decided to play together for fun. We meshed and I really saw some of the songs take shape in a way I'd never heard them before.
MT: You tend to sing along with the guitar lines that you play a lot of the time, and it's awesome. How did you arrive at that?
Chura: It took me a lot of practice to be able to sing with the guitar line at the same time. Especially with the song "Thin" that's on Messes; I felt like I was really experimenting with that there. Honestly, I don't know how I arrived at it, but it just seemed right with that song.
MT: This batch of songs, Messes, is awesome. How did you record this stuff?
Chura: I'm fortunate that during the time it felt right to record these songs, we could also work with Fred Thomas while he had his studio in Ann Arbor. Fred is a good friend and someone I met almost immediately when I started playing shows in the Ypsi/Arbor area.
Most of the tracking took place last summer and into the fall, these sessions spread out over a few months. Fred plays bass on nine out of the 12 songs on the album. On "Human Being" and "Speeding Ticket," he does all other instrumentation. He moved to Montreal in the fall, so over the winter we finished up a tiny bit of tracking and most of the mixing with Ben Collins, who has a home studio in Ypsilanti.
MT: Some of these songs have been played and recorded by you for years both solo and with other bands, right?
Chura: Half of the songs on the album are older, and have been recorded on various tapes, but I felt deserved a proper recording. I've been releasing demo tapes and Bandcamp uploads starting in 2010. But those were all live takes, no overdubs — just guitar plugged in directly to a four-track and vocals.
MT: And why did this come about, why now?
Chura: When my close friend Dylan Bailey passed away at 24 in 2013, it made me do some reflecting. I thought to myself, "What do I need to do before I die to feel accomplished? What would I regret that I hadn't done if I was on my deathbed?" I realized that I needed to properly record the songs I have written in order to feel right about my life.
Pursuing a creative endeavor can be terrifying. We live in a world where creative people are marginalized. It's supposed to be your hobby while you go and pursue some more conventional career that pays well and looks good on paper.
MT: Your guitar style is pretty unique ­— "lots of fingerpicking, open-stringed high-capo'ed or otherwise airily rendered chord choices," to quote Fred Thomas. Anything to say about that?
Chura: I play on electric guitar, and most of the songs on the record features heavy fingerpicking. I'm never thinking about what key I am in, or the time signature. I play by intuition. I never realized I wrote in odd time signatures until Clancy mentioned it. I started fingerpicking in high school. Guitar has always been something cathartic.
I also find playing against typical song structure to be freeing. Sometimes I'll get stuck when I feel like a song is "supposed to be a certain way." But you don't have to have a bridge or a solo; you don't have to do anything. Some songs feature a lot of repetition. "Human Being" has the same guitar line all the way through.
MT: What is your songwriting process like?
Chura: Writing is partially therapeutic for me. I write pretty regularly, but I definitely have spurts followed by long periods where I don't write. I used to get freaked out and depressed when this happened — thinking that I was broken, or that I'd never write again. A lot of my song ideas are recorded on my phone or computer. I have like hours and hours of voice memos; it's messy.
MT: Earlier, you mentioned Buffy Sainte-Marie. Why her? That's not a name one sees dropped very often.
Chura: It's funny you mention this because she came to mind first when you asked about the vocal thing. I found her in high school, kind of on accident as I was trolling MySpace profiles.
When I first heard her, I was so consumed. She is a powerhouse vocally, and also as a songwriter, and as a guitar player. For those who don't know her, she has an incredible and mesmerizing fingerpicked guitar style, and has written some hard and painful tunes. She wrote that anti-war song popularized by Donovan, "Universal Soldier." Her music was basically banned in America after writing that song. Shipments of records went missing, and she wasn't able to sell anything at shows in the U.S. at a crucial time period for her to make her music career happen.
Her album Little Wheel Spin and Spin had a huge impact on me. The song "Rolling Log Blues" is forever imprinted in my heart. I saw her play two summers ago at a bandshell in Windsor for five dollars on a whim (a friend texted me that day), and I cried. I guess she felt more like a figment of my imagination than someone I could actually just go and see play live. She is Native American and Canadian, and her current band is a bunch of badass old men dressed in black leather.
MT: Who are your musical compatriots in the Detroit metropolitan area?
Chura: Rebel Kind! And Shells (guitarist Shelley Salant solo) — all good buds that go back to me first moving to Ypsi in 2008. I've toured with Shells, and with Shelley and Amber in our 2010 band.
Anna Burch for sure; we have done a few solo weekend tours together and her music is rad. Her main musical gig is co-singing in Frontier Ruckus, but check out her solo stuff; she is doing cool things! Jim Cherewick: I've played so many shows with him, it's sick. For two shows he played in 2010's Stef Chura Band lineup on lead guitar. And we played in Long Whisker together.
Other great local bands we fuck with are Blood Stone, Prude Boys, Fred Thomas, Double Winter, Deadbeat Beat, Jamaican Queens, Izzy Johnson, and Jeremy Waun.
MT: Anything else at all you want to say — future shows, apocalyptic visions?
Chura: Next week, we embark on a three-week tour, and are going to Austin during SXSW. Other than that, we hope to have our record out in the spring, and right now are looking for a label to release it!
Stef Chura plays a solo set as part of the Hamtramck Music Festival on Saturday, March 5, at Cafe 1923; starts at 3:15 p.m.; 2287 Holbrook St., Hamtramck; 313-319-8766. The Stef Chura Band performs as part of their tour kickoff on Saturday, March 5 at the Lampshade; Doors at 8 p.m.; 206 W. Michigan Ave., Ypsilanti; 415-676-7483.