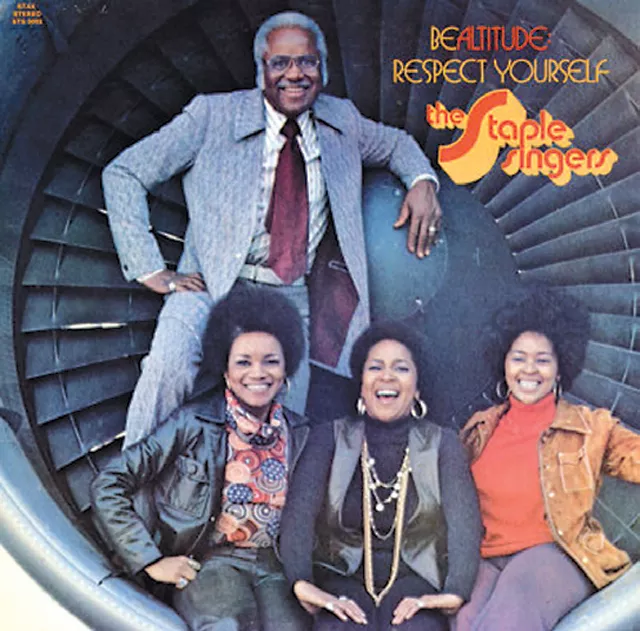 After shifting from true gospel to their own "soul-folk" in the mid-'60s, covering Dylan and hanging with Martin Luther King, the Staple Singers hit a skid until signing with Al Bell's Stax Records in '68. A pair of Steve Cropper-helmed underachievers ensued and it was Jesse Jackson who suggested Bell produce Be Altitude, the group's third LP.
The record became a genre signpost that also signaled the group's return, rising on the back of self-empowerment ode "Respect Yourself," which was mostly written by Detroiter Sir Mack Rice. It's hard now to imagine a tune with such graceful adianoeta hitting No. 12 on the pop charts: "You the kind of gentleman that want everything your way/ Take the sheet off your face, boy, it's a brand-new day."
The love-is-a-battlefield theme of "I'm Just Another Soldier" nearly equals the beauty of the reggae-scented "I'll Take You There"; album bests "We the People," ("Hot pants in style/ Don't let our world go wild") and "Are You Sure" sweetly reveal positivism and social commentary that aren't appeals to black (or white) resentments — they're humanist sing-alongs and the best the '70s had. The whole album's like that.
It's beautifully recorded too, with the Muscle Shoals rhythm section and underappreciated guitar hero Eddie Hinton backing Pops, Mavis, Cleotha and Yvonne.
The remastering is great, not compressed to death, and the two unreleased bonus tracks make this — alongside Booker T. & the MGs' McLemore Avenue and Johnnie Taylor's Taylored in Silk — a killer first set of many forthcoming Stax reissues by the Concorde Music Group. —Brian Smith