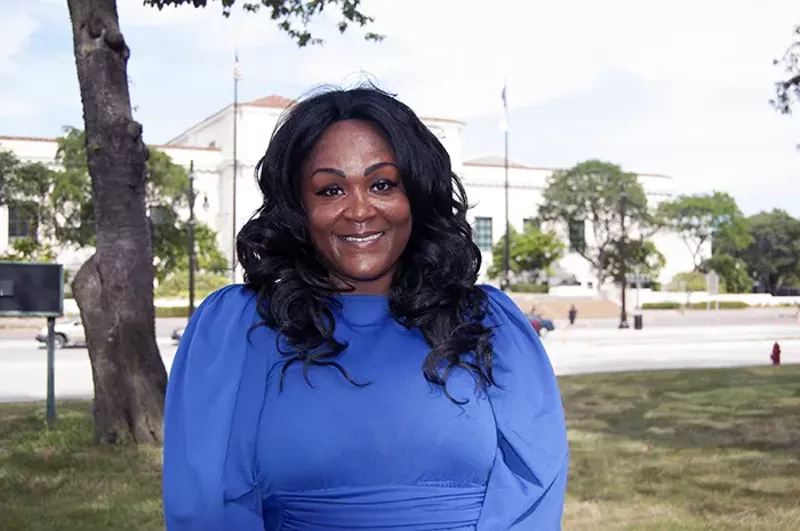 Detroit once had a "hip-hop mayor" who was nicknamed such for reasons that had nothing to do with music. We all know how that story ended.
But on Aug. 8, Detroiters will have a chance to vote for a mayoral candidate with an actual music background in songstress Articia Bomer, who, if elected, could very well earn the title of Detroit's "R&B mayor."
Bomer, a 45-year-old who says she's been singing since childhood, has vowed to "put the music back in Motown" if she manages to
unseat Mayor Mike Duggan
in November. Unfortunately for music lovers, though, she probably won't make it that far: A
recent poll
of likely primary voters in Detroit found Bomer (along with 9 other long-shot candidates) registering zero support, meaning she has a slim chance of making it past the Tuesday primary.
But that doesn't mean Bomer can't bring music to what's left of her trek along the campaign trail, and she's done just that, with a series of bangers inspired by her mayoral bid and released exclusively to
Metro Times
.
"Welcome to the mayor's ball" by Articia Bomer
The first track, "Welcome to the Mayor's Ball" — which would probably be the single off the album, if this were indeed, an album — tells the story of the party Bomer would throw for the public upon moving into the Manoogian Mansion.
The lyrics offer a message of acceptance and inclusivity, and reflect Bomer's desire to represent people of all political affiliations:
Welcome to the mayor's ball/I'm invitin' all of y'all
I'm tryna get involved/come one and come all

Welcome to the mayor's ball
it's free admission/you don't have to pay at all

Welcome to the mayor's ball/I had a dream of all of y'all
white suits, red suits, blue suits I seen ya all
"Freedom 2017" by Articia Bomer
The second track has a movie-soundtrack quality about it; we like to imagine it playing out during a montage depicting the struggles of average Detroiters. Maybe someone finds a boot on their car in one scene, or a foreclosure notice on their door.
How can you escape and go to Hollywood/if you can't even escape from out your neighborhoods

Ridin' 'round town thinkin' things are good/but you can't even escape from out your neighborhoods
But don't get it twisted, Bomer is not advocating that anyone move out of Detroit. She takes a break from signing to clarify this point:
Detroit, we're at a critical time and if we don't get our act together, we'll never able to escape — escape to have a vacation, escape to just travel the world and the seven seas.

... We must leave our city to understand how our city really is.
"Bomer Train" by Articia Bomer
The third and final track from Bomer is a remix of a campaign song used by Detroit's first African-American mayor, the late Coleman A. Young.
"The Bomer Train" is the most musically dense song of the bunch. In it, Bomer sings in a falsetto to "beg" folks to vote for her.
They say there's no more democracy/they say the justice system just ain't just
I say there's too much hatin' from we/ that's why we walk around in bullet proof vests

I'm begging you to get up on the Bomer train with me
I promise you there's no other place you'd rather be
You can learn more about Bomer and the dozen other candidates vying for Mayor Duggan's job
in this week's cover story
.