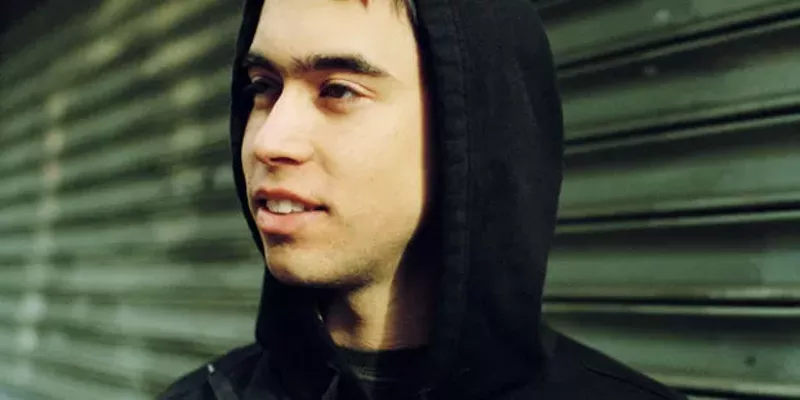 "I would just focus on making the best stuff you can make, and if it's good and you put it on the internet, I mean if it's good enough, stuff will just fall into place, ya know?" Alex Giannascoli, known as (Sandy) Alex G in the DIY music world, explains while describing his unexpected success. It's as simple as that.

For his first five albums, while on the road to his happened-by-chance popularity, Giannascoli was flowing through people's ears as Alex G, minus the Sandy. But, once the world caught wind of his talent to blend indie, lo-fi, folk, and country into individual pop songs that shoot you into a dream, some events followed that resulted in Giannascoli changing his moniker to (Sandy) Alex G, but he doesn't want to talk about them.

The amendment to his moniker was something of a natural move, as Sandy has been a sometimes-nickname for Giannscoli's, as well as a title of one of his singles, and his bandcamp page.

Giannascoli has been in his own mind and in his own bedroom writing, recording, and releasing his own music on bandcamp since 2010. At the age of 19, Giannascoli had four albums uploaded to site that gained him some recognition from the Brooklyn label, Orchid Tapes, who decided to take the breath of his LP DSU and press it into a physical piece of music in 2014.

Shortly after, Giannascoli released his much-praised Beach Music under his current record label, Domino Records. In those short years he was noticed by Frank Ocean and laid down some tracks with the influential R&B artist. But, this attention hasn't tainted Giannascoli's gift to hop genres within a two-minute-long sweet melody and to create a genuine, honest piece of music. His growing songwriting skills are emphasized in his latest release, Rocket, which dropped in May.

"I'm trying to keep myself interested, ya know? I'm just trying to do what my impulse is telling me to do, you know?" he says during a phone interview with MT. "Instead of grounding myself in one [sound], and I think that's why it ends up jumping around all over the place. There's no bigger statement than that. I'm just sort of impulsively doing this thing [laughs]."

Regarding the sounds on his new record, they bring the ambient sounds from his 2013 record Paint together with the soft lo-fi coos of his 2015's Trick, and everything in between.

And, though Rocket is an ethereal experience in itself, there is something new and fresh about hearing it live. "When we play it live, everyone just learns each song, ya know? There's no, like, special flow, but everyone in the band brings something really cool to the table, which I guess makes it sound a little different when we play them live," he says.

Back in 2015, Giannascoli performed at the Magic Stick with Ann Arbor-based Pity Sex, and he'd let out a visceral, primal scream in the middle of any song, just because he felt like it — just because it felt real — which seems to be the reason why he does anything.

"It's hard to say why I like stuff. I guess I like things that strike me as being honest, and things not being pretentious, ya know?" Giannascoli says, and each of his albums, each of his live shows, each of his bedroom-blues-melodies grows out of his honesty.


"There's a song called 'Horse' on the album that I think is going to be fun to play live. It's one that I've practiced a lot and it's pretty cool," he says.


Listening to the chaotic nature of "Horse" paired with Giannascoli's impulse to let his emotions climb out of his skin, ensures that performance at El Club will be unimaginably wild.

But, even though Giannascoli is touring for one of his most critically acclaimed albums, he remains humble as ever and thinks this new recognition was just rolling the dice. "I got lucky because someone heard it who showed it to someone else who posted it, you know what I mean? It's so much luck. I wouldn't think about the career side of it too hard, I would just make music because you love it. That's that," he says. "That's all I was doing."
(Sandy) Alex G performs at El Club with special guests Japanese Breakfast and Cende on Saturday, July 1; Doors at 8 p.m.; 4114 W. Vernor Hwy. Detroit; elclubdetroit.com; Tickets start at $14.